Volendam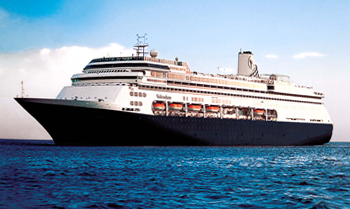 158
Starting Price, Per Night*
Volendam Cruises
The beautiful garden theme of Volendam is reflected in an artful floral motif throughout the ship's spacious public rooms and elegant staterooms. Flowers are found in abundance in floral fabrics and tapestries, as well as huge vases of fresh floral arrangements. Guests aboard Volendam enjoy wide teak decks, elegant dining rooms and spacious staterooms — many with private verandahs.
While on-board, choose from an array of onboard activities that allow you to pursue new interests or relax and rejuvenate. Explore the wonders of our world through exclusive BBC Earth natural history content through onboard activities, concerts and films. Enjoy onboard cooking shows and hands-on workshops in partnership with America's Test Kitchen. Learn how to edit, display and share your vacation videos and photographs through our Digital Workshop powered by Windows®.
The Greenhouse Spa & Salon offers spa treatments, a thermal pool and lounge and a variety of salon services. Our fully equipped Fitness Center includes state-of-the-art cardio and weight machines, as well as classes in Yoga, Pilates, indoor cycling and more. On deck enjoy two outdoor pools, along with basketball and practice tennis courts.
Dining
Enjoy exquisite dining across a range of venues on Holland America Line cruises
We invite you to dine "As You Wish" To savor Italian cuisine one night and a perfectly grilled porterhouse steak the next. To take your place in the Dining Room at a specific seating time or be spontaneous, following your desires. On board, there are restaurants to suit every mood, along with the flexibility to choose the dining style you prefer.
The Pinnacle Grill
Refined and luxurious, romantic and intimate, the Pinnacle Grill represents the pinnacle of exceptional dining. Make reservations for an intimate meal graced by luxurious appointments such as Bvlgari china, Riedel stemware and Frette linens.
Canaletto Restaurant
"Spartire" is the Italian word for sharing; our new menu is designed around this authentic Italian experience and offers a variety of dishes to enjoy and share with family and friends.
Volendam Dining Room
Features impeccable service and an extensive wine list. Five-course menus include continental cuisine, vegetarian and low-carb options.
Lido Market
Lido Market provides a fresh, new approach to casual dining for breakfast, lunch or dinner, with a panoramic view of the sea. A modern marketplace with different themed stations, the Lido offers a curated selection of delicious options to grab on the go or to have quickly made to order.
Dive-In
Dive in to a grilled burger on brioche or a Nathans Famous gourmet hot dog. For alfresco dining by the pool, Dive-In has it all, including lighter fare like our grilled chicken breast sandwich and vegetarian-friendly portabella mushroom stack.
Services
On Holland America Line cruises, your every wish is our pleasure to fulfill
Always at the heart of the Holland America cruise experience is our warm and award-winning style of service that is never in the way and never out of reach. We sail with nearly one crew member for every two guests, providing the intuitive, gracious service that has long defined classic cruising. Our extensive onboard services, from special dining requests to full service laundry and dry cleaning services, are designed with your comfort and convenience in mind. Our specially trained crew takes pride in anticipating and fulfilling your every wish. From our waiters and bartenders to our chefs and wine experts, our spa technicians and fitness instructors to our officers and housekeeping staff, everyone is dedicated to providing you with the gracious and personalized service that will make your cruise vacation memorable. On board the ships of Holland America Line you'll discover a cruise experience that is modern, fresh and appealing – in an ambiance that is timeless and refined.
Activities
Each New Day, a Wealth of Cruise Activity and Indulgences
America's Test Kitchen: Holland America Line is teaming up with America's Test Kitchen to offer an enticing selection of live onboard cooking shows and hands-on workshops where guests will learn foolproof techniques and user-friendly recipes to make delectable dishes with confidence.
BBC Earth Experiences: Enjoy exclusive BBC Earth Natural History content on board. Learn about the ocean and natural world through amazing concerts, films, shows, children's activities and featured cruises.
Club HAL: Kids ages 3 to 17 can enjoy an array of exciting activities, supervised by full-time staff with professional degrees.
Digital Workshop, powered by Windows: Learn how to edit, display and share your vacation videos and photographs through our Digital Workshop powered by Windows®.
Greenhouse Spa & Salon: Choose the blissful pampering of a facial or let the trained fingers of a massage therapist soothe your muscles while working fragrant oils into your skin.
Fitness Center: For rejuvenation through exercise, we offer fitness classes in yoga, Pilates and more, as well as a professionally staffed Fitness Center equipped with the latest cardio and weight machines. Two refreshing outdoor pools also await, along with basketball and volleyball courts on deck.
The Loft: For teens ages 13 – 17, they will have their own places to hang out in The Loft for late-night sporting competitions, yoga and dance classes, cooking demos and teens-only nightclub events.
Signature Shops: Enjoy a wide variety of duty-free shopping in the Signature Shops such as Merabella, a luxury jewelry boutique featuring high-end watches and pieces from noted designers.
Dining & Activities
Rotterdam Dining Room: features impeccable service and an extensive wine list. Five-course menus include continental cuisine, vegetarian and low-carb options.
Pinnacle Grill: This intimate reservations-only venue offers an elegant, sophisticated dining experience. Featuring premium Sterling Silver beef, inspired seafood dishes and many select wines rated "Excellent" by Wine Spectator – as well as distinctive Bvlgari china, Riedel stemware and Frette linens.
Canaletto Restaurant: Named for a famous 18th-century Venetian artist, Canaletto is your destination onboard for an intimate Italian dinner. The evening begins with the chefs selection of antipasti with a taste of the delicious fare and personal, polished service to follow.
Lido Restaurant: offers a relaxed ambiance for all three meals and features a variety of fresh, cooked-to-order specialties.
The Culinary Arts Center, presented by Food & Wine Magazine: our state-of-the-art demonstration kitchen offering interactive gourmet cooking lessons taught by our own Master Chefs or culinary guests.
Explorations Cafe, powered by The New York Times: a comfortable, coffee house environment where you can browse through an extensive library, surf the Internet and check email or simply read the morning paper.
Greenhouse Spa & Salon: features heavenly beauty and wellness rituals. Enjoy a facial, hot stone massage, steam in a thermal suite and have your hair and nails done for a special evening.
Frans Hals Show Lounge: features talented vocalists, dancers, illusionists, comedians and variety acts.
Crow's Nest: offers sweeping 270 degree views during the day, and a hip, fashionable nightclub each evening.
Club HAL: our dedicated youth facilities and activities for kids ages 3 – 12; activities are supervised and age appropriate.
The Loft and The Oasis: designed exclusively for teens (13 – 17) to have fun, socialize and hang out with people their own age.
Entertainment
Spectacular Shows, Live Music, Diverse Lounges, Movies and Casino Gaming
Casino
From perennially popular slot machines and blackjack tables to the latest in sophisticated gaming, our casino is well-equipped and staffed with professionals eager to help guests learn new skills.
Frans Hals Show Lounge
Mix
Explore a lively mix of three specialty bars – Champagne, Martinis, and Spirits and Ales.
Movies in the Wajang Theater
Complimentary films and popcorn are waiting for you in your ship's movie theatre.
Ocean Bar
Enjoy cocktails and ocean views while listening to live string music.
Pinnacle Bar
Winetasting Bar
Facts
Ship"s Registry: The Netherlands
Passenger Capacity: 1,805
Crew Members: 615
Gross Tonnage: 61,214 grt.
Length: 686 feet
Beam: 106 feet
Maximum speed: 23 knots
Dedicated: November 1999, by tennis professional Chris Evert