Rotterdam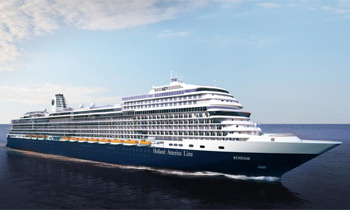 119
Starting Price, Per Night*
Discover the world with a Rotterdam cruise
Honouring the timeless tradition of cruising whilst simultaneously integrating new and necessary innovations, a Rotterdam cruise pushes the boundaries while cherishing the foundations it was built upon. Holland America has brought back the celebrated name with Rotterdam in order to highlight the immense progress of the cruise line while bringing new life to an acclaimed series of ships. Rotterdam is the third ship in the distinguished Pinnacle-class, the ship will feature exciting new inclusions in addition to all of the passenger favourites from Koningsdam and Niew Statendam.
Having one of the highest guest repeat rates for cruises across the industry, Holland America has a noticeably loyal base of patrons who frequent their ships. As such, Holland America's Rotterdam will keep a multitude of hallmarks that make their voyages special including outstanding live-music performances, well-appointed interior design, and an inviting and warm ambience throughout the ship. Start planning your next wonderful Holland America Line holiday today by sailing on a spectacular Rotterdam cruise!
View all Rotterdam voyages on the cruises tab, or alternatively click here for all Holland America Line Cruises and to learn more about Holland America ships.
Maiden Voyage departs in
Accommodation on Rotterdam
Holland America has spared no expense when crafting the marvellous Rotterdam staterooms and suites, each beautifully designed with plenty of space plus a multitude of convenient amenities and services available in every lodging. Each room is carefully tailored to suit the needs of different kinds of travellers on the ship.
The Inside stateroom is the perfect match for adventurers who love a cosy and private space to wind down for the night after exploring their destination or taking part in the many onboard activities and events. The Ocean View stateroom is magnificent for those who enjoy a fantastic view of the sea but want to do so in the privacy of their own room. Enhancing this view is the Verandah stateroom, which is fitted with a wide private balcony and floor-to-ceiling windows affording guests with an unbelievable view of their surroundings. Every style of stateroom also has a spa variant, which features calmer coloured furnishings, a yoga mat, a spa concierge to book treatments, and much more!
Rotterdam suites, similar to her staterooms, are broken down into distinct variations, each with elevated levels of sophistication vital for travellers who want more peace of mind during their holiday. The Vista suite is amazing for guests who desire extra space and a living area to socialise with a loved one or a newfound friend. The Signature suite expands upon this space with an even larger living space, a lengthy balcony, and a full-size whirlpool bath. For the executive level explorer, the Neptune and Pinnacle suites are easily the apex of elegance and luxury on are the pinnacle of elegance and luxury on Rotterdam, with a commodious living area to entertain multiple guests, an expansive private balcony boasting the best views on the ship, and access to the exclusive Neptune Lounge.
Dining
Pinnacle Grill
Spend a lovely dinner or beautiful lunch in the romantic and inviting Pinnacle Grill to experience quality cuisine prepared by experienced chefs. The Pinnacle Grill offers a menu inspired by America's Pacific Northwest, with a selection of signature recipes from renowned chef David Burke. Accompanying with each meal, guests are offered a range of boutique wines from the region that often harmonise with the dish being served. Reserve a table on your Rotterdam cruise for delightful cuisine in a charming setting.
Tamarind
For travellers desiring more exotic tastes and unique flavours, Tamarind is the essential place to go during any Holland America cruise. With a host of flavoursome dishes from Southeast Asia, Japan, and China, Tamarind aims to impress and entice every kind of appetite. From wok-seared lobster, specialty sushi, to Vietnamese-style lamb with mint, Tamarind will amaze passengers and keep them coming back for more. Honouring the four elements of wind, earth, water, and fire, make sure to visit Tamarind on your Rotterdam holiday!
Other dining options:
The Dining Room
Lido Market
Canaletto
Dive-In
New York Pizza
Nami Sushi
Rudi's Sel De Mer
23-Hour In-Room Dining
Club Orange
Ocean Bar
Grand Dutch Café
Sea View Bar
Panorama Bar
Explorations Central & Cafe
Onboard activities & things to do
Rolling Stone Rock Room
Proudly presenting the best of classic rock, the Rolling Stone Rock Room on Rotterdam hopes to allure the guest who loves the timeless tunes from the genre. With a live band performing iconic hits from legendary bands and artists, guests will experience the very best of rock throughout the decades and across generations. Step back into the pages of the famed Rolling Stone magazine and head on over to the Rolling Stone Rock Room!
Lincoln Center Stage
Holland America has partnered with the famed Lincoln Center for the Performing Arts to create the unparalleled live music venue Lincoln Center Stage. This venue showcases world-class classical musician's performing stunning chamber music. With multiple programs occurring most nights on any Rotterdam cruise in addition to the occasional afternoon recitals on days at sea, guests are afforded to sublime and awe-inspiring sounds none-like anywhere else on the ship.
Other onboard activities and things to do:
B. King's Blues Club
BBC Earth Experiences
Microsoft Studio
Billboard Onboard
O the Oprah Magazine
Greenhouse Spa & Salon
World Stage
Casino
Explorations Central (EXC)
Shopping
Atrium
Art Gallery
Sport Court
Fitness Centre
Sea View Pool
Facts
Built: 2021
Length: 297 m / 974 ft
Beam: 34m / 112 ft
Passengers: 2668 – 3210