Westerdam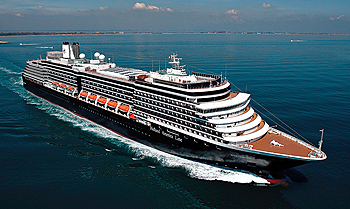 158
Starting Price, Per Night*
Westerdam Cruises
From May to September each year Westerdam cruises the last frontier – Alaska – discovering her icy straits and rugged landscapes as she sails seven nights between Vancouver and Seward (or vice versa).
Westerdam received extensive enhancements as part of a $300 million brand initiative. New bar, entertainment and dining venues, plus completely reimagined suites debuted for the 2017 Europe season.
Enjoy dazzling entertainment from your very first night on board. As part of the updates, new music venues have been added: Lincoln Center Stage, featuring world-class musicians performing chamber music, and Billboard Onboard, rocking the house with 50 years of chart-topping hits. These venues join the already popular B.B. King's Blues Club, completing our new "Music Walk" experience.
Be sure to check out the new Exploration Central located high atop the ship; it's the heartbeat of the Holland America Line destination experience. Plus, Westerdam will be the first to feature the new Rijksmuseum at Sea.
Services
On Holland America Line cruises, your every wish is our pleasure to fulfill
Always at the heart of the Holland America cruise experience is our warm and award-winning style of service that is never in the way and never out of reach. We sail with nearly one crew member for every two guests, providing the intuitive, gracious service that has long defined classic cruising. Our extensive onboard services, from special dining requests to full service laundry and dry cleaning services, are designed with your comfort and convenience in mind. Our specially trained crew takes pride in anticipating and fulfilling your every wish. From our waiters and bartenders to our chefs and wine experts, our spa technicians and fitness instructors to our officers and housekeeping staff, everyone is dedicated to providing you with the gracious and personalized service that will make your cruise vacation memorable. On board the ships of Holland America Line you'll discover a cruise experience that is modern, fresh and appealing – in an ambiance that is timeless and refined.
Activities
Each New Day, a Wealth of Cruise Activity and Indulgences
Every day aboard a Holland America cruise ship brings a wealth of cruise activities and indulgences, along with the freedom to partake in as many – or as few – as you please. It's an opportunity to try something new that surprises you, every day. Dabble, discover, daydream – do everything, or do nothing at all.
America's Test Kitchen:
Holland America Line is teaming up with America's Test Kitchen to offer an enticing selection of live onboard cooking shows and hands-on workshops where guests will learn foolproof techniques and user-friendly recipes to make delectable dishes with confidence.
BBC Earth Experiences:
Enjoy exclusive BBC Earth Natural History content on board. Learn about the ocean and natural world through amazing concerts, films, shows, children's activities and featured cruises.
Club HAL:
Kids ages 3 to 17 can enjoy an array of exciting activities, supervised by full-time staff with professional degrees.
Digital Workshop, powered by Windows:
Learn how to edit, display and share your vacation videos and photographs through our Digital Workshop powered by Windows®.
EXC: Explorations Central:
Holland America Line's exclusive Explorations Central (EXC™) offers indispensable travel resources and engagement opportunities that make the destination experience more engaging, vivid and meaningful for our guests.
Fitness Center:
Take a class in our professionally staffed Fitness Center equipped with the latest cardio and weight machines. On deck are basketball and volleyball courts and two refreshing pools.
Greenhouse Spa & Salon:
Choose the blissful pampering of a facial or let the trained fingers of a massage therapist soothe your muscles while working fragrant oils into your skin.
Rijksmuseum at Sea:
The Rijksmuseum, Amsterdam's grand museum and home to more than 8,000 artworks in 80 galleries, is coming aboard the Holland America Line fleet.
Signature Shops:
Enjoy a wide variety of duty-free shopping in the Signature Shops such as Merabella, a luxury jewelry boutique featuring high-end watches and pieces from noted designers.
Dining
Main Dining Room:
For breakfast, lunch or an unforgettable five-course dinner, the elegant main Dining Room is your destination for sophisticated dining, with menu selections from classic favorites to vegetarian options, to dishes inspired by the regions you'll visit.
Pinnacle Grill: This intimate reservations-only venue offers an elegant, sophisticated dining experience. Featuring premium Sterling Silver beef, inspired seafood dishes and many select wines rated "Excellent" by Wine Spectator – as well as distinctive Bvlgari china, Riedel stemware and Frette linens.
Canaletto Restaurant: Named for a famous 18th-century Venetian artist, Canaletto is your destination onboard for an intimate Italian dinner. The evening begins with the chefs selection of antipasti with a taste of the delicious fare and personal, polished service to follow.
Dive-In: For a perfectly grilled burger on brioche, gourmet hot dog, crispy French fries or a taco bar with all the fixings, there's nothing better than alfresco dining by the pool at Dive-In at the Terrace Grill. Look for imaginative toppings and sauces to enliven classic burgers and dogs, along with veggie-friendly and healthier options, all included in your cruise fare.
De Librije: Offered once per cruise, the Pinnacle Grill transforms into "Taste of De Librije" featuring the cuisine of Culinary Council member and Michelin Star Chef Jonnie Boer. Named after Boer's restaurant in the Netherlands, the menu will showcase a selection of starters, soups, entrees and desserts from his land-based eatery.
Sel de Mer: Sel de Mer ("sea salt," in French) is an intimate seafood brasserie offering a contemporary twist on French seafood classics, with à la carte dishes ranging from fresh oysters to salt-crusted whole fish to bouillabaisse.
Lido Market: Provides a fresh, new approach to casual dining for breakfast, lunch or dinner, with a panoramic view of the sea. A modern marketplace with different themed stations, the Lido offers a curated selection of delicious options to grab on the go or to have quickly made to order.
Dining
Enjoy exquisite dining across a range of venues on Holland America Line cruises
We invite you to dine "As You Wish" To savor Italian cuisine one night and a perfectly grilled porterhouse steak the next. To take your place in the Dining Room at a specific seating time or be spontaneous, following your desires. On board, there are restaurants to suit every mood, along with the flexibility to choose the dining style you prefer.
The Pinnacle Grill
Refined and luxurious, romantic and intimate, the Pinnacle Grill represents the pinnacle of exceptional dining. Make reservations for an intimate meal graced by luxurious appointments such as Bvlgari china, Riedel stemware and Frette linens.
Canaletto Restaurant
"Spartire" is the Italian word for sharing; our new menu is designed around this authentic Italian experience and offers a variety of dishes to enjoy and share with family and friends.
Tamarind Restaurant
Aboard the Eurodam and Nieuw Amsterdam, enjoy the Tamarind for food evoking the rich culinary traditions of Southeast Asian, China and Japan.
Main Dining
The two-tiered Dining Room with its sea views, white linens, sparkling crystal and Rosenthal china, elevates each dining occasion. Whether you choose a pre-set seating and dining time or the freedom each evening to dine "As You Wish".
Lido Restaurant
Lido Restaurant offers relaxed dining featuring a variety of selections. Breakfasts feature pancakes, fresh fruit, omelets and more. Lunch, choices include sushi, pizza, gourmet sandwiches and an extensive salad bar. In the evening, enjoy entrees from both the Lido and the main Dining Room.
Entertainment
Spectacular Shows, Live Music, Diverse Lounges, Movies and Casino Gaming
Evenings on board glitter with choices. Arrive in a lounge to the strains of a lively dance band. Take in a thrilling show on stage. Share a martini flight in Mix; sing along in the Piano Bar. Stay up late into the night.
BB King's Blues Club
Direct from Beale Street, the B.B. King's All-Stars Band brings the best of Memphis music to sea. From funky and fast to soulful and smooth, this eight-piece band performs nightly in the Queen's Lounge.
Billboard Onboard
Guests are part of the show as live musicians rock the crowd with 50 years of chart-topping hits. Between nightly sets, guests can sing and play along with trivia questions presented on screens throughout the room.
Casino
From perennially popular slot machines and blackjack tables to the latest in sophisticated gaming, our casino is well-equipped and staffed with professionals eager to help guests learn new skills.
Gallery Bar
In this unique art-themed bar, order from a menu created by Master Mixologist Dale DeGroff, a 2015 James Beard Who's Who Inductee.
Lincoln Center Stage
In an exclusive partnership with the world's leading center for the performing arts, Lincoln Center Stage showcases outstanding live chamber music performances.
Ocean Bar
Enjoy cocktails and ocean views while listening to live string music.
Pinnacle Bar
Vista Show Lounge
Talented performers take to the stage nightly in the ship's magnificent theatre or in The Showroom at Sea, a contemporary take on a classic nightclub featuring state-of-the-art theatre technology.
Facts
Ship"s Registry: The Netherlands
Passenger capacity: 1,916
Crew members: 817
Gross tonnage: 82,348 grt.
Length: 936 feet
Beam: 105.8 feet
Maximum speed: 24 knots
Dedicated: April 2004, actress Renee Soutendijk