Zaandam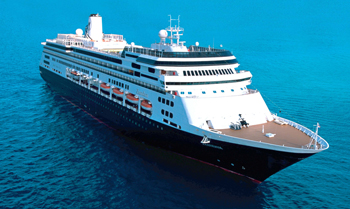 138
Starting Price, Per Night*
Zaandam Cruises
Designed to carry fewer guests while providing more space for maximum comfort, Zaandam is a prize in the mid-size ship category. On the musically themed Zaandam, you'll find musical instruments such as Bill Clinton's saxophone and signed guitars from Queen, Iggy Pop, Eric Clapton and the Rolling Stones throughout the ship. In her soaring three-story atrium: a Baroque-style Dutch pipe organ, inspired by the traditional barrel organs still found on the streets of The Netherlands.
While on-board, choose from an array of onboard activities that allow you to pursue new interests or relax and rejuvenate. Enjoy onboard cooking shows and hands-on workshops in partnership with America's Test Kitchen.
The Greenhouse Spa & Salon offers spa treatments, a thermal pool and lounge and salon services. Our fully equipped Fitness Center includes state-of-the-art cardio and weight machines, as well as classes in Yoga, Pilates, indoor cycling and more. On deck enjoy two outdoor pools, along with basketball and practice tennis courts.
Entertainment
Spectacular Shows, Live Music, Diverse Lounges, Movies and Casino Gaming
Evenings on board glitter with choices. Arrive in a lounge to the strains of a lively dance band. Take in a thrilling show on stage. Share a martini flight in Mix; sing along in the Piano Bar. Stay up late into the night.
BB King's Blues Club
Due to the tremendous popularity of the B.B. King's Blues Club on Eurodam, Holland America Line is pleased to welcome B.B. King's Blues Club to the Westerdam, Zuiderdam, Noordam, and Nieuw Amsterdam. Join these world-class musicians as they create a dynamic energy that will move you to sing and dance along.
Activities
Each New Day, a Wealth of Cruise Activity and Indulgences
Every day aboard a Holland America cruise ship brings a wealth of cruise activities and indulgences, along with the freedom to partake in as many – or as few – as you please. It's an opportunity to try something new that surprises you, every day. Dabble, discover, daydream – do everything, or do nothing at all.
Whether you want to workout in the Fitness Center, learn yoga, pamper yourself with a massage and spa treatment, or listen to music and check your email in the Explorations Cafe, there's a perfect onboard activity for everyone.
In every cruise port, make your cruise vacation even more memorable with our extensive Shore Excursions program of activities. See, explore, discover: arts and cultural activities, athletic expeditions, city tours, shopping and more on our cruises.
Activities
America's Test Kitchen:
Holland America Line is teaming up with America's Test Kitchen to offer an enticing selection of live onboard cooking shows and hands-on workshops where guests will learn foolproof techniques and user-friendly recipes to make delectable dishes with confidence.
BBC Earth Experiences:
Enjoy exclusive BBC Earth Natural History content on board. Learn about the ocean and natural world through amazing concerts, films, shows, children's activities and featured cruises.
Club HAL:
Kids ages 3 to 17 can enjoy an array of exciting activities, supervised by full-time staff with professional degrees.
Digital Workshop, powered by windows:
Learn how to edit, display and share your vacation videos and photographs through our Digital Workshop powered by Windows®.
Fitness Center:
Take a class in our professionally staffed Fitness Center* equipped with the latest cardio and weight machines. On deck are basketball and volleyball courts and two refreshing pools.
Greenhouse Spa & Salon:
Choose the blissful pampering of a facial or let the trained fingers of a massage therapist soothe your muscles while working fragrant oils into your skin.
The Loft:
Designed exclusively for teens (13 – 17) to have fun, socialize and hang out with people their own age.
Dining
Enjoy exquisite dining across a range of venues on Holland America Line cruises
We invite you to dine "As You Wish" To savor Italian cuisine one night and a perfectly grilled porterhouse steak the next. To take your place in the Dining Room at a specific seating time or be spontaneous, following your desires. On board, there are restaurants to suit every mood, along with the flexibility to choose the dining style you prefer.
The Pinnacle Grill
Refined and luxurious, romantic and intimate, the Pinnacle Grill represents the pinnacle of exceptional dining. Make reservations for an intimate meal graced by luxurious appointments such as Bvlgari china, Riedel stemware and Frette linens.
Canaletto Restaurant
"Spartire" is the Italian word for sharing; our new menu is designed around this authentic Italian experience and offers a variety of dishes to enjoy and share with family and friends.
Tamarind Restaurant
Aboard the Eurodam and Nieuw Amsterdam, enjoy the Tamarind for food evoking the rich culinary traditions of Southeast Asian, China and Japan.
Main Dining
The two-tiered Dining Room with its sea views, white linens, sparkling crystal and Rosenthal china, elevates each dining occasion. Whether you choose a pre-set seating and dining time or the freedom each evening to dine "As You Wish".
Lido Restaurant
Lido Restaurant offers relaxed dining featuring a variety of selections. Breakfasts feature pancakes, fresh fruit, omelets and more. Lunch, choices include sushi, pizza, gourmet sandwiches and an extensive salad bar. In the evening, enjoy entrees from both the Lido and the main Dining Room.
Dining & Activities
Pinnacle Grill: This intimate reservations-only venue offers an elegant, sophisticated dining experience. Featuring premium Sterling Silver beef, inspired seafood dishes and many select wines rated "Excellent" by Wine Spectator – as well as distinctive Bvlgari china, Riedel stemware and Frette linens.
Canaletto Restaurant: Named for a famous 18th-century Venetian artist, Canaletto is your destination onboard for an intimate Italian dinner. The evening begins with the chefs selection of antipasti with a taste of the delicious fare and personal, polished service to follow.
Dive-In: The perfect poolside spot for a grilled burger, gourmet hot dog or savory fries.
Lido Market: provides a fresh, new approach to casual dining for breakfast, lunch or dinner, with a panoramic view of the sea. A modern marketplace with different themed stations, the Lido offers a curated selection of delicious options to grab on the go or to have quickly made to order.
Sel de Mer: is an intimate seafood brasserie offering a contemporary twist on French seafood classics, with à la carte dishes ranging from fresh oysters to salt-crusted whole fish to bouillabaisse.
Vista Dining Room: Features impeccable service and an extensive wine list. Five-course menus include continental cuisine, vegetarian and low-carb options.
Facts
Ship's Registry: The Netherlands
Passengers capacity: 1,805
Crew Members: 615
Gross Tonnage: 61,396 grt.
Length: 686 feet
Beam: 106 feet
Maximum speed: 23 knots
Dedicated: May 2000, by actresses Mary-Kate & Ashley Olsen