Noordam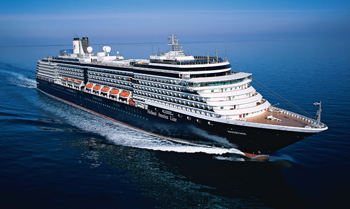 132
Starting Price, Per Night*
Nieuw Amsterdam Cruises
Like her predecessor, the current Nieuw Amsterdam spends the northern hemisphere's summer either cruising the straits of Alaska or navigating the enchanting waters of the Mediterranean.  In Alaska, seven night cruises depart from Vancouver and give you the opportunity to visit the awe-inspiring Glacier Bay and Tracy Arm inlet as well as the frontier towns of Juneau, Skagway and Ketchikan. While in the Mediterranean don't miss out on cruises along the Adriatic coastline or to Greece.
As the weather starts to cool in the north, Nieuw Amsterdam makes her way to the Caribbean, where she spends the winter months chasing the sun in the tropical waters and sandy beaches of the Caribbean islands.  Nieuw Amsterdam's cruises in the Caribbean depart from Fort Lauderdale.  You can either chose to complete a seven day eastern Caribbean getaway, a seven day western Caribbean escape or book one of their back-to-back 14 day eastern and western Caribbean holidays.
Named for the Northern compass point, Noordam features museum-quality art such as an oil painting of the city of Utrecht painted in 1842, as well as contemporary art like the series of photographs of music greats Dizzy Gillespie and B.B. King.
Enjoy onboard cooking shows and hands-on workshops in partnership with America's Test Kitchen. Learn how to edit, display and share your vacation videos and photographs through our Digital Workshop powered by Windows®. Explore the wonders of our world through exclusive BBC Earth natural history content through onboard activities, concerts and films.  Swing and sway in the BB King Blues club and at the fantastic shows presented by Lincoln Centre Stage.
Entertainment
Spectacular Shows, Live Music, Diverse Lounges, Movies and Casino Gaming
Evenings on board glitter with choices. Arrive in a lounge to the strains of a lively dance band. Take in a thrilling show on stage. Share a martini flight in Mix; sing along in the Piano Bar. Stay up late into the night.
BB King's Blues Club
Direct from Beale Street, the B.B. King's All-Stars Band brings the best of Memphis music to sea. From funky and fast to soulful and smooth, this eight-piece band performs nightly in the Queen's Lounge.
Casino
From perennially popular slot machines and blackjack tables to the latest in sophisticated gaming, the Casino offers games for all levels, staffed with professionals eager to help you learn new skills.
Piano Bar
The Piano Bar invites you to socialize with your friends and fellow guests while enjoying live music. Sophisticated interior design, plush leather sofas and armchairs, and an amazing collection of photographs create the perfect setting for engaging in some lively conversation over a few cocktails.
Pinnacle Bar
Organic lines blend with varied textures against a rich color backdrop in the Pinnacle Bar, creating a sophisticated aura that lends itself beautifully to an evening spent enjoying innovative cocktails, tantalizing light fare, and lively conversation with your friends and fellow guests.
Ocean Bar
Enjoy cocktails and ocean views while listening to live music in our luxurious Ocean Bar.
Vista Show Lounge
Talented performers take to the stage nightly in the ship's magnificent theatre or in The Showroom at Sea, a contemporary take on a classic nightclub featuring state-of-the-art theatre technology.
Activities
America's Test Kitchen
Holland America Line is teaming up with America's Test Kitchen to offer an enticing selection of live onboard cooking shows and hands-on workshops where guests will learn foolproof techniques and user-friendly recipes to make delectable dishes with confidence.
BBC Earth Expriences
Enjoy exclusive BBC Earth Natural History content on board. Learn about the ocean and natural world through amazing concerts, films, shows, children's activities and featured cruises.
Club HAL
Younger guests are warmly welcomed on board.
Club HAL provides a wide variety of exciting youth and teen-friendly activities for guests ages 3 to 17, supervised by full-time staff with degrees in education, recreation, childhood development or related fields.
Greenhouse Spa & Salon
Our tranquil Asian-inspired spa is a haven of luxurious beauty salon and spa treatments, featuring thermal pools, heated ceramic lounges and treatment rooms facing the sea.
Digital Workshop, powered by Windows
Digital Workshop powered by Windows, offers fun, free and informative technology advice and instruction. These small-group sessions, designed for all abilities, are conducted by our Microsoft-trained "Techsperts" who translate the latest technology into useful tips everyone can use.
Fitness Center
For rejuvenation through exercise, we offer fitness classes in yoga, Pilates and more, as well as a professionally staffed Fitness Center equipped with the latest cardio and weight machines. Two refreshing outdoor pools also await, along with basketball and volleyball courts on deck.
Signature Shops
Enjoy a wide variety of duty-free shopping in the Signature Shops such as Merabella, a luxury jewelry boutique featuring high-end watches and pieces from noted designers.
Features
Vista Dining Room: features impeccable service and an extensive wine list. Five-course menus include continental cuisine, vegetarian and low-carb options
Pinnacle Grill: This intimate reservations-only venue offers an elegant, sophisticated dining experience. Featuring premium Sterling Silver Beef, inspired seafood dishes and many select wines rated "Excellent" by Wine Spectator – as well as distinctive Bvlgari china, Riedel stemware and Frette linens
Lido Restaurant: offers a relaxed ambiance for all three meals and features a variety of fresh, cooked-to-order specialties
The Culinary Arts Center, presented by Food & Wine Magazine: our state-of-the-art demonstration kitchen offering interactive gourmet cooking lessons taught by our own Master Chefs or culinary guests
Explorations Cafe, powered by The New York Times: a comfortable, coffee house environment where you can browse through an extensive library, surf the Internet and check email or simply read the morning paper.
Greenhouse Spa & Salon: features heavenly beauty and wellness rituals. Enjoy a facial, hot stone massage, steam in a thermal suite and have your hair and nails done for a special evening.
Vista Show Lounge: features talented vocalists, dancers, illusionists, comedians and variety acts
Crow's Nest: offers sweeping 270 degree views during the day, and a hip, fashionable nightclub each evening
Club HAL: our dedicated youth facilities and activities for kids ages 3 – 12; activities are supervised and age appropriate
The Loft: designed exclusively for teens (13 – 17) to have fun, socialize and hang out with people their own age
Dining
Enjoy exquisite dining across a range of venues on Holland America Line cruises
We invite you to dine "As You Wish" To savor Italian cuisine one night and a perfectly grilled porterhouse steak the next. To take your place in the Dining Room at a specific seating time or be spontaneous, following your desires. On board, there are restaurants to suit every mood, along with the flexibility to choose the dining style you prefer.
The Pinnacle Grill
Refined and luxurious, romantic and intimate, the Pinnacle Grill represents the pinnacle of exceptional dining. Make reservations for an intimate meal graced by luxurious appointments such as Bvlgari china, Riedel stemware and Frette linens.
Canaletto Restaurant
"Spartire" is the Italian word for sharing; our new menu is designed around this authentic Italian experience and offers a variety of dishes to enjoy and share with family and friends.
Sel de Mer
Sel de Mer ("sea salt," in French) is an intimate seafood brasserie offering a contemporary twist on French seafood classics, with à la carte dishes ranging from fresh oysters to salt-crusted whole fish to bouillabaisse.
Dive-In
For a perfectly grilled burger on brioche, gourmet hot dog, crispy French fries or a taco bar with all the fixings, there's nothing better than alfresco dining by the pool at Dive-In at the Terrace Grill. Look for imaginative toppings and sauces to enliven classic burgers and dogs, along with veggie-friendly and healthier options, all included in your cruise fare.
Lido Market
Lido Market provides a fresh, new approach to casual dining for breakfast, lunch or dinner, with a panoramic view of the sea. A modern marketplace with different themed stations, the Lido offers a curated selection of delicious options to grab on the go or to have quickly made to order.
Vista Dining Room
Features impeccable service and an extensive wine list. Five-course menus include continental cuisine, vegetarian and low-carb options.
Services
On Holland America Line cruises, your every wish is our pleasure to fulfill
Always at the heart of the Holland America cruise experience is our warm and award-winning style of service that is never in the way and never out of reach. We sail with nearly one crew member for every two guests, providing the intuitive, gracious service that has long defined classic cruising. Our extensive onboard services, from special dining requests to full service laundry and dry cleaning services, are designed with your comfort and convenience in mind. Our specially trained crew takes pride in anticipating and fulfilling your every wish. From our waiters and bartenders to our chefs and wine experts, our spa technicians and fitness instructors to our officers and housekeeping staff, everyone is dedicated to providing you with the gracious and personalized service that will make your cruise vacation memorable. On board the ships of Holland America Line you'll discover a cruise experience that is modern, fresh and appealing – in an ambiance that is timeless and refined.
Facts
Ship's Registry: The Netherlands
Passenger Capacity: 2,380
Crew Members: 800
Gross Tonnage: 82,897 grt.
Length: 834 feet
Beam: 106 feet
Maximum Speed: 24 knots
Dedicated: February 2006, by actress Marlee Matlin