Quantum of the Seas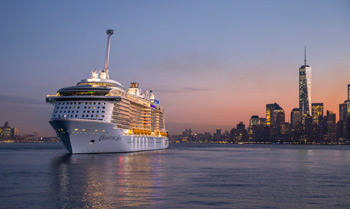 102
Starting Price, Per Night*
Explore Australia and Asia through Quantum of the Seas cruises!
Discover extraordinary the sun-kissed coastlines of Australia and the South Pacific or the wonders of Asia through marvellous Quantum of the Seas cruises! The first of its kind, the magnificent Royal Caribbean Quantum of the Seas has been masterfully created to immerse guests into unending adventure both on the ship and at your destination. With so many ways to play such as the exhilarating Ripcord by iFly and the fantastic FlowRider surf simulator, Quantum of the Seas cruises will keep you busy for hours on end. Food on the Royal Caribbean cruise ship is just as tantalising, with Asian cuisine available from the Main Dining Room or Izumi, or traditional choices such as Jamie's Italian. Gather favourite friends and book a remarkable Royal Caribbean International Quantum of the Seas cruise today!
It was recently announced that Quantum of the Seas will be sailing down under! Embarking on fantastic Australia cruises as well as South Pacific cruises throughout the summer months, you'll be spoilt for choice when deciding on which itinerary suits you best. Sailing exclusively from Brisbane, you'll be able to visit incredible destinations ranging from Sydney to Noumea on this Quantum cruise ship. Grab your best swimmers and pack plenty of sunscreen, as you'll get to experience the very best of Australia and beyond while on any Quantum of the Seas voyage.
Quantum of the Seas is otherwise dedicated to exploring the exceptional Asian region of the globe, visiting unforgettable destinations and exotic cultures. Quantum of the Seas Asia cruises, as mentioned above, typically make return trips from either Singapore or Beijing. Cruises from Singapore generally boasts itineraries through South East Asia, including cities such as Phuket, Penang, and Kuala Lumpur. In comparison, cruises from Beijing usually head eastward to the splendid country of Japan, stopping at cities such as Fukuoka, Okinawa, and Nagasaki. Boasting awe-inspiring temples, innovative technologies, and delectable cuisine, take a phenomenal Asia cruise on Quantum of the Seas!
Looking for a Quantum of the Seas itinerary? Click on the cruises tab to find astounding Quantum of the Seas cruise deals! Or alternatively, click here for all Royal Caribbean Cruises including itineraries for Ovation of the Seas, Symphony of the Seas, and Oasis of the Seas.
Quantum of the Seas Accommodation
Beautifully furnished and packed with plenty of space across all options, Quantum of the Seas rooms have been designed to keep guests comfortable for the entire journey. With so many variations and configurations for each type of Quantum of the Seas cabin, families and friends of all sizes are accounted for. Boasting useful amenities and essential facilities, scroll down to discover what staterooms or suites are on offer right now!
Staterooms
Essential for those who prefer to spend the majority of their cruise adventuring the ship or destination, Interior staterooms are a splendid budget-friendly option fitted with an 80-inch screen for a spectacular view of the sea. Ocean View staterooms enhance a traveller's time on the ship with a well-positioned window offering a pristine look into the horizon. One of the most popular options on Quantum of the Seas, Balcony staterooms come with their own private veranda great for passengers who want a secluded outdoor area to kick back and relax.
Suites
Having expanded space and additional luxurious amenities, Quantum of the Seas Suites are perfect for patrons who prefer a more sophisticated stay on the Royal Caribbean ship. If you want all the luxuries of a suite at a more affordable price, the Junior Suite or Spa Junior Suite is an excellent option, with the Spa variant coming with rejuvenating bath accessories. Whether you want an incredible Royal Caribbean Quantum of the Seas Grand Suite, the lavish Owner's Suite, or decadent Sky Loft Suite, Quantum of the Seas offers an astonishing list of complementary features that will keep you more than satisfied for your entire voyage.
Dining Options
Jamie's Italian by Jamie Oliver
In partnership with world-renowned celebrity chef and best-selling author Jamie Oliver, Jamie's Italian is an outstanding dining venue featuring authentic family-style recipes. Jamie's Italian offers guests a brilliant menu of Tuscan-inspired dishes that promises to wrap your tastebuds in astonishing flavour. Whether you want their famous prawn linguine, truffle tagliatelle, or chicken cacciatore, Jamie's Italian will keep you satisfied with every bite.
Coastal Kitchen
Exclusive only to guests who book into one of the exceptional Quantum of the Seas Suites, Coastal Kitchen is a dining experience that must not be missed! Coastal Kitchen ensures that every dish is as flavour-filled as the next through their scrumptious menu filled with dishes prepared from locally sourced ingredients. Taste some tantalising grilled New York sirloin steak, pappardelle, or some oven-roasted cod on your next trip on Quantum of the Seas.
Other dining options:
Chef's Table
Windjammer
Izumi
Dog House
The Café @ Two70
Chops Grille
Room Service
Café Promenade
Sorrento's Pizza
Hot Pot at Solarium Bistro
Main Dining Room
Schooner Bar
Boleros
Vintages
Two70
North Star Bar
Sunshine Bar
Bionic Bar
Pool Bar
Quantum of the Seas activities & things to do
Royal Escape Room: The Royal Society of Puzzles
Pit yourself and your friends against time itself by taking on the amazing Royal Escape Room! Solve intricate puzzles, unlock hidden secrets, and answer complex riddles as your team seeks to crack the mysteries of the Royal Society of Puzzles. Heart-thumping and riveting, the Royal Escape Room is an excellent team-building experience that keeps you on your toes for the entire time. Book into the Royal Escape Room: The Royal Society of Puzzles when you sail on your next Quantum of the Seas holiday.
North Star
Soar to unbelievable heights by experiencing the unparalleled North Star – Guinness World Record Winner of the tallest viewing deck on a cruise ship. Hop into the spacious observation capsule, take flight, and look over a jaw-dropping 360-degree view of the horizon or dream destination. We highly recommend making a reservation into the astounding North Star while you glide through the seas with Royal Caribbean International. Seeking unforgettable moments on this Quantum cruise ship? The North Star is the place to go!
Other onboard activities and things to do:
Spa & Fitness Centre
Shopping
Original Productions
RipCord by iFly
Bumper Cars
Dance Classes
Seaplex
Outdoor Film Nights
Adventure Ocean
Casino
Solarium
Pools
Rock Climbing Wall
Guest Lectures
Arcade
Archery
Two70
Wine Tasting
Art Collection & Auctions
Laser Tag: Clash for the Crystal City
FlowRider
Music Hall
Frequently Asked Questions for Quantum of the Seas
When was Quantum of the Seas built?
Construction started on the magnificent Quantum of the Seas with a steel-cutting ceremony on 31 January 2013. After a smooth construction period in Meyer Werft, she successfully flouted out on 9 August 2014. Once she completed her sea trials in September, Quantum of the Seas was officially delivered to Royal Caribbean in October 2014!
After many years of unforgettable sailings, Quantum of the Seas cruises have been a match made in heaven with Royal Caribbean.
Does Quantum of the Seas have an ice rink?
Currently, Royal Caribbean Quantum of the Seas does not have an ice rink. Nevertheless, you'll never run out of things to do on Quantum of the Seas. Whether it's the rock climbing walls, the water park, or even the Broadway-inspired shows, there is rarely a quiet moment for you while sailing on this spectacular ship.
What is there to do on Quantum of the Seas?
There are plenty of things to do on Quantum of the Seas. Our number one pro tip for any cruise, especially on Royal Caribbean Quantum of the Seas is to explore the ship! With 16 total decks and at 348m in length, something exciting lies around every corner, you only just need to look.
Here are some exciting things to do on Quantum of the Seas:
Rock Climbing Wall
FlowRider
Water Park
Mini Golf
RipCord by iFly
Where does Quantum of the Seas depart from Australia?
Typically, you'll find Royal Caribbean Quantum of the Seas depart from Brisbane on enchanting voyages across Australia and the South Pacific. This truly marvellous Quantum cruise ship sails from Brisbane and visits various ports of call across the region including local favourites like Hobart, Sydney, and Airlie Beach as well as island escapes such as Mystery Island, Port Vila, and Noumea.
Facts
Guest Capacity: 4,152 double occupancy
Gross Tonnage: 168,666
Length: 1,141 ft
Max Beam: 136 ft
Draft: 28 ft
Cruising Speed: 22 knots