Explorer Of The Seas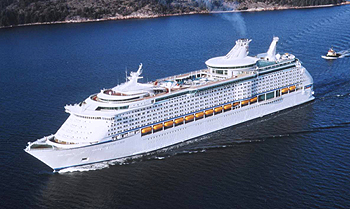 102
Starting Price, Per Night*
Adventure the Mediterranean through Explorer of the Seas cruises!
Excitement knows no bounds whenever you sail on one of the astounding Explorer of the Seas cruises. With so much to see on the Royal Caribbean Explorer of the Seas, it's no wonder families and groups of friends come back for more fun-filled escapades across extraordinary destinations. Whether you want to relax on the pool deck and sip on your favourite beverage or race down an exhilarating water slide, the choice is up to you! Explorer of the Seas cruises also boast some tantalising dining options with a broad range of delightful venues that satisfy every palate and craving. Fitted with entertaining spaces for all ages of the family, there is no better way to sail the Mediterranean than with a Royal Caribbean Explorer of the Seas voyage!
This remarkable Voyager-class ship regularly embarks on enchanting cruises to inviting tropical paradises and stunning sun-soaked islands. She hosts a number of spectacular Mediterranean cruises that typically sail the Greek Isles, making stops at awe-inspiring locales such as Mykonos, Santorini, and Messina. There are also alternative Western Mediterranean cruises that make port at other enthralling destinations in the region including Barcelona, Valencia, and Cartagena. Otherwise, you will often find the Royal Caribbean Explorer of the Seas gliding past vibrant islands and enchanting port towns in the Caribbean. Explorer of the Seas Caribbean cruises feature itineraries with captivating places such as Nassau, Labadee, and Willemstad.
Looking for an Explorer of the Seas itinerary? Click on the cruises tab! Or alternatively click here for all Royal Caribbean Cruises.
Explorer of the Seas Accommodation
Beautifully designed with all the comforts you will ever need, Explorer of the Seas cabins are built to ensure every adventure with Royal Caribbean is as exceptional as the last. With plush bedding, essential amenities, and lovely furnishings, you can book into Explorer of the Seas rooms with peace of mind knowing you'll be taken care of. Scroll down now to discover which stateroom or suite perfectly fits your budget and travel style.
Staterooms
A budget-friendly abode perfect for travellers who prefer to spend their time exploring the ship or touring the destination can book into the fantastic Interior stateroom. The Ocean View stateroom enhances this experience through a well-appointed window offering a sublime view of the sea as they sail to their dream location. Guests who desire a secluded space to kick up their feet can book into one of the marvellous Explorer of the Seas Balcony staterooms, boasting its own private veranda and enlarged space.
Suites
Travellers who prefer to sail in sophistication should book into one of the many Explorer of the Seas Suites available throughout the ship. For families or groups who want all the benefits of a suite on a much friendlier price tag can book the spacious Mini-Suite, with all the conveniences you will ever need and more. All Suites come with an abundance of space capable of hosting a small gathering of fellow travellers for an evening. These Suites also entitle guests to use the Concierge Club, enjoy priority embarkation and disembarkation, priority tender tickets, and so much more. The pinnacle of lodging on Explorer of the Seas comes with the Royal Suite, with a near-infinite amount of space on the ship, a sprawling balcony with panoramic views, and a revitalising whirlpool.
Dining Options
Johnny Rockets
An American diner-style venue with plenty of juicy options to sink your teeth into, Johnny Rockets is a wonderful place for those looking for a bite to eat while on their Explorer of the Seas cruise. Boasting a mouth-watering menu with American classics from delicious hamburgers, charming chilli cheese hot dogs, and satisfying desserts, guests will always be pleased with every visit to Johnny Rockets. Grab a flavour-filled milk shake or some cheeky bacon cheese fries with your family and friends on your next Royal Caribbean cruise!
Giovanni's Table
More than just an upscale dining venue, Giovanni's Table offers some of the most tantalising Italian fare you can possibly have on any Royal Caribbean cruise ship. With a welcoming ambiance great for an intimate evening with a loved one or a small get-together with close friends, every meal at Giovanni's Table promises to be special and filled with lasting memories. Whether you want a flavoursome pasta dish or a fantastic soup, Giovanni's Table will make sure your tastes are accounted for. Make a reservation at this delectable Italian restaurant on your next voyage!
Other dining options:
Giovanni's Italian Kitchen
Playmakers Bar & Arcade
The Lime and Coconut
Starbucks
Johnny Rockets Express
Main Dining Room
Chef's Table
Café Promenade
Windjammer
Izumi
Dog House
Chops Grille
Room Service
Park Café
R Bar
Schooner Bar
Diamond Club
Solarium Bar
Suite Lounge
English Pub
Pool Bar
Explorer of the Seas activities & things to do
Rock Climbing Wall
Aim for the skies one handhold at a time by trying out the heart-thumping Rock Climbing Wall on Explorer of the Seas. Whether you want to stick to one colour, or just mix and match, the Rock Climbing wall accommodates all skill levels and climbing abilities. Chalk up your hands and strap yourself in tight as this 12-metre high wall will have you clinging to every boulder you touch. Nevertheless, while it might be daunting, the jaw-dropping, near-endless view of the horizon will keep you climbing back up again and again. So make sure to scale the Rock Climbing Wall on your next Royal Caribbean Explorer of the Seas adventure!
Ice Skating
A perfect activity for the entire family, Royal Caribbean has fitted the remarkable Explorer of the Seas cruise ship with a chilly Ice Skating rink that comes complimentary for all guests. Adults and children alike – whether you're skating master or a careful glider – can slide along the rink with glee. With plenty of space and a comfy seated area to casually watch your friends, there is no better place to take your friends and family than the Ice Skating rink!
Other onboard activities and things to do:
Typhoon and Cyclone
Adventure Ocean
The Perfect Storm
Teen Spaces
Laser Tag: Clash for the Crystal City
Mini Golf
Spa & Fitness Centre
Shopping
Live Music
Original Productions
Sports Court
Salsa Dancing
Dance Classes
All Access Tour
Whirlpools & Pools
Guest Speakers and Entertainers
Library
Club Twenty
Outdoor Film Nights
Casino
Arcade
Wine Tasting
Facts
Gross Tonnage: 138,000
Length: 1,025 ft
Max Beam: 157.5 ft
Draft: 29 ft
Cruising Speed: 22 knots