Icon of The Seas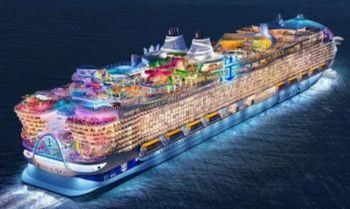 280
Starting Price, Per Night*
World-beating adventure is here on Icon of the Seas cruises
Splash-tastic excitement sailed into port with Icon of the Seas cruises, the first of Royal Caribbean's Icon-Class cruise ships. Boasting the largest waterpark on the seas, Icon of the Seas cruises promises uninterrupted action for all ages. Slide down the six record-breaking waterslides, slice up waves on FlowRider, or take it easy in one of the many pools, every deck onboard Royal Caribbean's Icon of the Seas features an endless selection of terrific things to do. Plus, with innovative new entertainment venues including the sensory experience at the Aquadome as well as the marvellous ice-skating rink in Absolute Zero, there's plenty of non-water-based fun across the entire Royal Caribbean Icon-class ship.
What takes an Icon of the Seas cruise to the next level is their superb offering of staterooms and suites. Featuring an incredible range of family rooms redesigned to truly cater for everyone, every guest will feel more than comfortable throughout their entire stay. Whether you want a budget-friendly Ocean View room or the magnificent multi-level Ultimate Family Townhouse, there'll undoubtedly be a perfect choice for you. Round up the family today and book an unforgettable Icon of the Seas cruise today.
View all Icon of The Seas cruises or view more options for Royal Caribbean cruises.
Maiden Voyage departs in
Icon of the Seas cabins and accommodation options
Staterooms
After a busy day racing down slides and exploring sandy shores, Icon of the Seas cruises welcome you with open arms through their brilliant selection of accommodation options. If you plan to spend the majority of your holiday exploring the ship or ports of call, then budget smart and book into one of the lovely Interior stateroom. For dreamy sights for the entirety of the voyage, nothing beats the Ocean View stateroom, with a wealth of space and all the amenities a guest could need. The most popular choice for Royal Caribbean guests is the Balcony staterooms. Each coming with its own private outdoor space, the Balcony staterooms offer gorgeous ocean views and a quiet area to unwind away from the hustle and bustle.
Want a larger balcony, but don't have the budget for a suite? Need some additional accessibility features? Travelling with a family or friends and need connecting rooms? Have no fear! Icon of the Seas cruises come with a wide selection of different variants that'll suit every particular preference. From additional space to bonus perks, the variants are available on all categories from Interior to Balcony.
Suites
Bringing to you floor-to-ceiling scenic windows, extended open spaces to unwind, and a treasure trove of bonus perks and features, every Icon of the Seas suite aims to go above and beyond. With a bunch of exciting new suite categories specifically catered towards families such as the wonderful three-level Ultimate Family Townhouse, guests will be awe-struck by what's in store for their journey. Sail away on the new Icon Loft with panoramic views right from their beautiful dining area. Take it easy at the (also new) Sunset Corner suite that gives direct sight-lines to Icon of the Seas' wake. Chase the sun while staying at the Sunset suite (again, new!) that'll leave you stunned with trendy décor and spacious lounge area. No matter where you decide to call home, every suite has been masterfully designed to maximise your relaxation.
Dining options
Empire Supper Club
A brand-new Central Park restaurant guaranteed to scintillate the senses, Empire Supper Club embodies the ritz and pizzazz of old New York and is the perfect place to unwind during your Icon of the Seas cruise. Boasting an extravagant selection of American cuisine, wondrous flavour awaits as you indulge in a divine eight-course menu. Pair that with a sumptuous cocktail or beverage and you have a dining experience unlike anything else onboard Icon of the Seas. Make a reservation on the Empire Supper Club on your upcoming cruise.
Coastal Kitchen
While not the first of its kind, the Coastal Kitchen onboard Icon of the Seas will boast the first two-storey version of this popular restaurant. Exclusive to suite guests only, Coastal Kitchen brings lucky patrons a farm-fresh fusion of flavours from both the Mediterranean and California. From Pacific Coast-inspired entrees to Mediterranean favourite mains, the Coastal Kitchen is the perfect combination of familiar tastes and unique artistry. Pair that off with a glass of wine straight from the sun-soaked valleys of Napa or Tuscany, and you'll be having a dining experience to remember.
Other bars and dining options:
Celebration Table
Surfside Eatery
Pier 7
Aquadome Market
Izumi in the Park
Basecamp
Pearl Cafe
Surfside Bites
Dining Room
Sorrento's
Starbucks
Point & Feather
Diamond Club
Giovanni's Italian Kitchen & Wine Bar
Schooner Bar
Boleros
Playmakers Sports Bar & Arcade
Sugar Beach
Izumi Hibachi & Sushi
Chops Grille
Park Café
Vitality Café
Hooked Seafood
The Lime and Coconut
Sprinkles
El Loco Fresh
Cantina Fresca
Windjammer Marketplace
Swim & Tonic
Onboard activities and things to do on Icon of the Seas
Absolute Zero
As Royal Caribbean's biggest ice arena ever, Absolute Zero hosts some of the best skating and performative events you'll be able to see on the seven seas. From superstar performers, to breathtaking double axels, and tear-jerking expressive dance, Absolute Zero enhances each experience with a digitally mapped backdrop. From intergalactic starry skies to underwater Atlantian paradises, Absolute Zero will fully immerse you into every world. An essential for any adventurer onboard Icon of the Seas, be sure to check out Absolute Zero on your next grand journey.
Thrill Island
Scale to death-defying heights and discover first-time delights while at Thrill Island onboard Icon of the Seas! Offering heart-racing excitement for all members of the family, Thrill Island is built for the "bold, brave, and fearless" with experiences that have never been seen before on the seas. As the first "true" waterpark on the ocean, Thrill Island features a selection of ocean-first rides including a family-raft slide, a free-fall waterslide, as well as the tallest waterslide at sea. As the centrepiece of Thrill Island, Crown's Edge is a unique experience where you get to harness yourself on the iconic Royal Caribbean logo then enjoy a rousing ropes course and a portion where you hang off (safely) the ships edge! Add in all the favourites including the FlowRider, rock climbing wall, and sports court, and you have the masterpiece of exhilaration that is Thrill Island.
Other things to do:
Casino Royale
Music Hall
Royal Theater
Fitness Center
Running Track
Spotlight Kareoke
The Pearl
Escape Room
The Attic
Shopping
Adventure Ocean
Social 020
Arcade
Surfside
Splashaway Bay
Water's Edge Pool
Vitality Spa
To Dry For
Aquatheater
Table Tennis
Cove Pool
Royal Bay Pool
The Hideaway
Chill Island
Crown's Edge
Adrenaline Peak
Lost Dunes
FlowRider
Cloud 17
Sports Court
The Grove Suite Sun Deck
Category 6 Waterpark
Facts
Year Built: 2023
Guest Capacity: 5,610
Crew: 2,350
Staterooms: 2,805
Length: 365 m
Width: 1,198 ft.
Gross Tonnage: 250,800 gt.