Radiance Of The Seas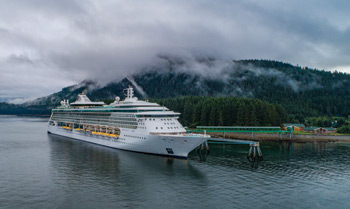 136
Starting Price, Per Night*
Savour the sublime with Radiance of the Seas cruises!
Families searching for an astounding family adventure can book onto one of the remarkable Radiance of the Seas cruises. Wonderfully filled with exciting facilities and amenities for every member of the family, Radiance of the Seas promises to captivate and enchant all who board this Royal Caribbean cruise ship. Head over to one of the countless tantalising Radiance of the Seas dining options available from Giovanni's Table and Windjammer, to the unbelievable Chef's Table, each with chefs who endeavour to make each meal as flavour-filled as possible. Moreover, there are a number of spacious Radiance of the Seas cabins fitted with essential features to keep every guest comfortable for their entire journey.
With a fantastic selection of voyages occurring throughout the year, it's no wonder why so many adventurers choose to sail aboard Radiance of the Seas time and time again. No matter the destination, a Radiance of the Seas cruise is all but guaranteed to be one jam-packed with excitement both onboard and onshore. Plus, with riveting events and activities to take part in even on the sea days, Radiance of the Seas cruises will be fun even on the seemingly 'quieter' days. Gather your closest friends and family and start planning your next Royal Caribbean Radiance of the Seas cruise today!
Looking for a Radiance of the Seas itinerary? Click on the cruises tab! Or alternatively, click here for all Royal Caribbean Cruises.
Radiance of the Seas Accommodation
Royal Caribbean has spared no expense when designing the various Radiance of the Seas cabins on offer with every voyage. Packed with everything you need, every Radiance of the Seas room is a perfect combination of relaxing comfort and convenient amenities. Scroll down and learn more about the astonishing staterooms and suites available on Royal Caribbean Radiance of the Seas now.
Staterooms
The Interior stateroom is a splendid, well-lit abode with the necessities you need for an excellent Radiance of the Seas voyage. Sporting a similar size with the addition of a well-positioned window, the Ocean View stateroom is a great choice for those who want a chance to catch a glimpse of the sea at all points of their holiday. Guests can also book into one of the magnificent Radiance of the Seas Balcony staterooms that come with a beautiful private veranda to lounge in as you glide away to your destination.
Suites
Patrons who want an added level of elegance can book themselves into one of the many Radiance of the Seas Suites. Each of these suites typically come with priority check-in, priority tender tickets, and an attentive concierge service to answer every need you have. Guests who desire all the aforementioned bonuses but an affordable price can book into a Radiance of the Seas Junior Suite, packed with plenty of space and a wonderful balcony with a glorious view. In contrast, executive-level passengers can choose the phenomenal Radiance of the Seas Royal Suite, brilliantly fitted with commodious room to host guests and an extensive list of luxurious amenities.
Radiance of the Seas Dining Options
Samba Grill
With a spectacular view and more exquisite flavours, patrons who spend an evening or lunch at Samba Grill are promised juicy meats and an unforgettable experience. This Brazilian Steakhouse features a marvellous menu with a selection of mouth-watering slow-roasted meats from beef tenderloin to tender chicken breast. For an affordable additional charge stroll over to Samba Grill for one of the best Radiance of the Seas dining options available onboard.
Giovanni's Table
Indulge in some classic Italian dishes with a contemporary twist at Giovanni's Table. A popular choice for many Royal Caribbean regulars, Giovanni's Table offers sumptuous smart-casual dining during your Radiance of the Seas adventure. Whether you want a traditional meat lasagne, tantalising baked ricotta and spinach crepes, or a simple Caesar salad, the chefs at Giovanni's Table will work tirelessly to create a dish that you'll want seconds of. Book into an entrancing meal at Giovanni's Table while on your next Royal Caribbean cruise!
Other Radiance of the Seas dining options:
Main Dining Room
Chef's Table
Café Latte-tudes
Windjammer
Izumi
Dog House
Chops Grille
Room Service
Park Café
Champagne Bar
Schooner Bar
Diamond Club
Solarium Bar
Suite Lounge
English Pub
Pool Bar
Radiance of the Seas activities & things to do
Rock Climbing Wall
With an unbelievable view of the endless horizon at the top, it's no wonder why the Rock Climbing Wall is one of the biggest attractions on any Radiance of the Seas cruise. Reach for the skies and ascend to soaring heights as you climb up the astounding Rock Climbing Wall. Pick a colour or mix and match as you go along, this exhilarating facility is masterfully built to accommodate a range of skill levels and physical abilities. Strap yourself up and start scaling the thrilling Rock Climbing Wall!
Solarium
Perfect for sun-seekers and serenity searchers alike, the Solarium provides a relaxing escape from the vibrant atmosphere prevalent throughout the lively Radiance of the Seas cruise ship. Located right at the front of the ship, the Solarium offers guests a panoramic view of the ocean and outstanding features to help guarantee tranquillity. Featuring comfortable lounge chairs, soothing pools, and whirlpools, and lush greenery, the Solarium is the only place you need for relaxation on your next Royal Caribbean Radiance of the Seas cruise.
Other onboard activities and things to do:
Mini Golf
Spa & Fitness Centre
Shopping
Live Orchestra
Live Music
Original Productions
Sports Court
Salsa Dancing
Dance Classes
All Access Tour
Whirlpools & Pools
Guest Speakers and Entertainers
Library
Club Twenty
Outdoor Film Nights
Casino
Teen Disco
Frequently Asked Questions for Radiance of the Seas
How long is Radiance of the Seas?
Radiance of the Seas has a total length of 293m, capable of having a maximum passenger capacity of 2,501 passengers. What's more, with up to 859 crew onboard at any one time, you can sail away stress-free knowing that you'll be well taken care of no matter where you are on the fantastic ship.
What class is Radiance of the Seas?
Radiance of the Seas is actually the lead ship of her very own Radiance class. With a sleek form factor and incorporating the most environmentally friendly technologies of its time, guests on any Radiance-class ship are welcomed to some of the most advanced ways to sail the seas. Other Radiance-class ships include:
Facts
Passenger Capacity: 2,114 maximum
Gross Tonnage: 90,090
Length: 962′
Max Beam: 105.6′
Draft: 28′
Cruising Speed: 22 knots