Serenade Of The Seas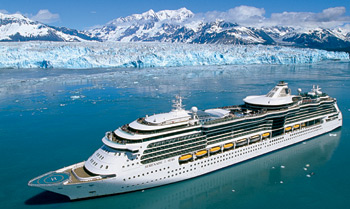 139
Starting Price, Per Night*
Be enchanted through Serenade of the Seas cruises!
Embark on extraordinary adventures throughout the Caribbean, Australia, and beyond on any of the phenomenal Serenade of the Seas cruises available year-round. Boasting a plethora of sensational activities and things to do onboard the Royal Caribbean cruise ship, Serenade of the Seas promises to keep guests excited throughout the entire voyage. Whether you want to go for a splash at one of the various pools, watch one of the many electrifying stage productions such as Stage to Screen and Vibeology, or unwind at the Spa and Fitness Centre, Serenade of the Seas has something for everyone. After spending the day exploring the ship, guests can visit some mouth-watering dining options such as the classic Italian venue Giovanni's Table or grab a drink from the thirst-quenching Schooner Bar. Round up your friends today and start organising an unforgettable Royal Caribbean Serenade of the Seas cruise!
The marvellous Royal Caribbean Serenade of the Seas cruise ship is remarkably versatile, capable of voyaging through a number of different climates without any issue. Sailing from Fort Lauderdale, Serenade of the Seas features a splendid selection of astonishing Caribbean cruises. These itineraries make port at beautiful islands and beach paradises such as Philipsburg, Bridgetown, and Labadee. In contrast, she also embarks on return trips from Vancouver for brilliant Alaska Glacier Experience Cruises that stop at locales such as Ketchikan, Juneau, and Skagway. Otherwise, you will find Serenade of the Seas sailing from Sydney on wonderful Australia or New Zealand Cruises. Locations in Australia include Hobart, Adelaide, and Cairns while for New Zealand this includes Wellington, Auckland, and Christchurch.
Looking for Serenade of the Seas cruise deals? Click on the cruises tab! Or alternatively, click here for all Royal Caribbean Cruises including sailings for fan-favourite ships Ovation of the Seas, Symphony of the Seas, and Quantum of the Seas.
Serenade of the Seas Accommodation
Wonderfully warm and beautifully furnished, Serenade of the Seas cabins have been carefully crafted to maximise comfort for every passenger and guest onboard the cruise ship. Excellently prepared with plush bedding and convenient amenities in each stateroom or suite, Royal Caribbean travellers will have almost everything they need for a riveting adventure on Serenade of the Seas. Learn about all Serenade of the Seas rooms below!
Staterooms
A cost-friendly option for travellers who prefer to explore the ship than stay in their cabin, Serenade of the Seas Interior staterooms give you the right amount space and all the amenities you would need for the entire voyage. The Ocean View staterooms upgrade this experience with a well-positioned window giving guests a direct lookout to sea or their destination. Essential for Royal Caribbean passengers who want a secluded space to escape the bustling atmosphere of the ship, the Balcony staterooms include an amazing private veranda to unwind after a long day adventuring.
Suites
For those who want to splurge or prefer to sail in sophistication, Serenade of the Seas Suites have a commodious amount of space and additional perks to keep guests more than satisfied. Whether you want an affordable Junior Suite, expansive Owner's Suite, or a kingly Serenade of the Seas Grand Suite, the ship offers a wide library of choices to book for any group or travel style. Exclusive to Suite passengers, complimentary benefits include priority check-in, reserved prime seating for live entertainment, VIP pool deck seating, and many more!
Serenade of the Seas Restaurants & Dining Options
Chops Grille
A fan favourite amongst Royal Caribbean regulars, Chops Grille offers guests a delectable dining experience that all Serenade of the Seas passengers need to enjoy on their next dream cruise. Featuring a revamped menu that beautifully adds a contemporary twist to classic dishes, Chops Grille frequently intrigues passengers with its charmingly prepared dishes and tantalising aromas. From the mouth-watering slow-braised short rib of beef, delicious filet mignon, to scrumptious charred beef carpaccio, head on over to Chops Grille on your next Serenade of the Seas cruise.
Chef's Table
For a truly magical culinary journey, nothing beats the incredible Chef's Table on Serenade of the Seas. Meticulously furnished to exude an intimate and exclusive ambiance, Chef's Table is a special evening destined to create cherished cruising memories for years to come. Savour every flavour as the Chef de Cuisine presents each course, educating you and a small group of guests on cooking techniques and the sourcing of enticing ingredients. Perfectly matching every course is a wine pairing presented by an experienced sommelier, with each glass intertwining and enhancing every flavour from the dish. With limited space available, be sure to book in early for this unparalleled evening.
Other dining options:
Giovanni's Table
Izumi
Café Latte-tudes
Windjammer
Room Service
Park Café
Main Dining Room
Vintages
Schooner Bar
Diamond Club
Solarium Bar
English Pub
R Bar
Pool Bar
Activities & things to do on Serenade of the Seas
Rock Climbing Wall
Adrenaline junkies yearning for a place to release the need to look no further than the heart-thumping Rock Climbing Wall. This exhilarating 12m high wall presents brave guests with a chance to reach daring elevations and unmatched heights on the seas. Passengers who do reach the top are gifted with a jaw-dropping panoramic view of the horizon unlike anything throughout the rest of the marvellous Serenade of the Seas cruise ship. Great for ages six and above as well as all skill levels, scale the Rock Climbing Wall on your next Royal Caribbean cruise.
Solarium
A peaceful escape from the lively atmosphere onboard Serenade of the Seas, the Solarium provides guests 16 years and above with a tranquil paradise to unwind unbothered. Fitted with pristine swimming pools, relaxing lounge chairs, and a stunningly designed canopy area, the Solarium is an exceptional sanctuary designed to revitalise the mind, and free the spirit. Perfectly positioned on the cruise ship, spend some time at the impressive Solarium on your next journey with Serenade of the Seas.
Other onboard activities and things to do:
Spa & Fitness Centre
Shopping
Live Orchestra
Original Productions
Sports Court
Dance Classes
Live Music & Guest Entertainers
Guest Lectures
Library & Card Room
Adventure Ocean
Pools
Club Twenty
Outdoor Film Nights
Casino
Culinary Classes
Mini Golf
Rock Climbing Wall
Day-care Centre
Arcade
Art Collection
Wine Tasting
Mystery Dinner Theatre
Frequently Asked Questions for Serenade of the Seas 
How old is Serenade of the Seas?
Serenade of the Seas completed construction and joined the Royal Caribbean Cruises fleet way back in 2003, she has since been refurbished in 2012 with fantastic new inclusions and much-improved accommodation options.
How big is Serenade of the Seas?
Serenade of the Seas measures in at 294m long and is 32.3m wide. Capable of fitting up to 2,490 passengers alongside 891 crew, every adventure on this Radiance-class ship is destined to be incredible.
Where can I find the best Serenade of the Seas cruise deals?
Here at Cruise Guru! We boast a brilliant selection of exclusive offers on a variety of upcoming Serenade of the Seas cruises that we think you'll instantly love. From reduced deposits, massive discounts, great inclusions such as Wi-Fi or dining, plus so much more, start saving and check out the cruise deals today!
Facts
Passenger Capacity: 2,502
Gross Tonnage: 90,090
Length: 962 ft
Max Beam: 105.6 ft
Draft: 27.9 ft
Cruising Speed: 22 knots
Electric Current: 110/220 VAC/1500 watts
Ship's Registry: Bahamas
Refurbished: 2012