Allure Of The Seas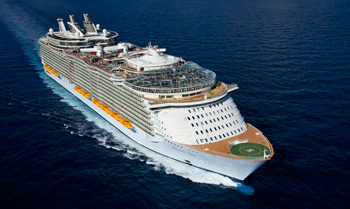 166
Starting Price, Per Night*
Explore the unforgettable Mediterranean with Allure of the Seas cruises!
Launched in 2009, Allure of the Seas cruises have been transforming the industry for years bringing in electrifying entertainment, delightful dining, and extraordinary cruise itineraries. Named the Best Large Cruise Ship, Best Individual Ship, and Best for Entertainment, Royal Caribbean Allure of the Seas cruises have been perfectly designed to leave every guest with a wealth of long-lasting memories. Go for a splash at the nerve-wracking Perfect Storm, quench your thirst at the technologically advanced Bionic Bar, or unwind in paradise at the Solarium – the choices are near endless onboard one of the many Allure of the Seas cruises with Royal Caribbean.
Allure of the Seas has been masterfully built to explore idyllic sun-soaked beaches and enchanting tropical islands across the world. As such, you will often find a plethora of Allure of the Seas Mediterranean cruises or Caribbean cruises happening year-round. The Royal Caribbean cruise ship embarks on extraordinary Western Mediterranean cruises that stop at culture-rich destinations such as Naples, Rome, and Marseille. For the Caribbean, guests can book either a Western or Eastern Caribbean cruise which visits locales including Costa Maya, San Juan, Falmouth, and Royal Caribbean's very own private resort Perfect Day at CocoCay.
Looking for an Allure of the Seas itinerary? Click on the cruises tab! Or alternatively click here for all Royal Caribbean Cruises.
Allure of the Seas Accommodation
Wonderfully furnished and with plenty to space to move around, Allure of the Seas rooms have been gorgeously designed to ensure every passenger on the ship travels worry-free. In addition to this, choosing an Allure of the Seas cabin has never been easier, with a vast library of categories on offer with varying configurations and sizes. This in turns helps accommodate all types of travellers of different group sizes and preferences. Scroll down and discover the types of staterooms and suites that are available to book on any voyage.
Staterooms
Great for budget-wary passengers who prefer exploring the ship rather than staying in their cabin, guests can book an Allure of the Seas Interior stateroom, filled with all the essential amenities and just a bit more. You can also book into Promenade-facing interiors – affordable Interior staterooms that feature a window facing into the beautiful Promenade that is always busy with life. Alternatively, Royal Caribbean passengers may select an Ocean View stateroom, fitted with a superb window facing the sea. Allure of the Seas Balcony staterooms forms the bulk of available rooms on the ship, coming with a range of fantastic variations and all featuring a spacious private veranda facing the ocean.
Suites
Patrons who wish to revel in lavish luxury can book into one of the many suites on offer with every cruise. From priority dining reservations, concierge service, and priority embarkation and disembarkation, having a Suite unlocks exclusive perks and complimentary benefits that greatly enhance the cruise experience. Whether you want a lovely Grand Suite, the commodious Owner's Suite, or an exceptional Loft Suite, every selection grants you a world of decadence and sublime sophistication.
Dining Options
Sabor
Packed to the brim with astounding flavours, Sabor is your go-to place for amazing Modern Mexican during your Royal Caribbean Allure of the Seas cruise. Prepared tableside by experienced chefs, the Sabor menu offers a range of delightful meals from classic quesadillas, chicken and roasted corn empanadas, and charming build-your-own tacos. Savour the superb tastes of Mexico on your next holiday by popping over to Sabor!
Windjammer
Included in your passenger fare, Windjammer is a marvellous buffet filled with a plethora of delicious meals to try out on every visit. With plenty of seating and a whole host of different specialties on offer, every member of the family will have something to appease their palate. From pastas to pastries, steaks to salads, soups to sandwiches, rest assured knowing you can taste something new with each meal. Gather your friends and start loading up your plate at the sublime Windjammer Marketplace on your next Allure of the Seas voyage.
Other dining options:
150 Central Park
Chef's Table
Izumi
Johnny Rockets
Dog House
Chops Grille
Solarium Bistro Restaurant
Room Service
Café Promenade
Giovanni's Table
Sorrento's Pizza
Coastal Kitchen
Main Dining Room
Park Café
Vitality Café
El Loco Fresh
Sugar Beach
Portside BBQ
Samba Grill
Starbucks
Vintages
Playmakers Bar & Arcade
The Lime and Coconut
Dazzles
Champagne Bar
Schooner Bar
Trellis Bar
Boleros
Diamond Club
Solarium
Suite Lounge
Pool Bar & Sand Bar
Bionic Bar
English Pub
Wipe Out Bar
Rising Tide Bar
Allure of the Seas activities & things to do
Zip Line
Soar through unbelievable heights by gliding across the heart-thumping Zip Line on Allure of the Seas. Those without a fear of heights can fly ten decks high diagonally over the open space on the Royal Caribbean cruise ship. With no reservation required to race across the Zip Line, those in love with the activity can run right back across the deck to line up for another! Be sure to try out the Zip Line on your next Allure of the Seas dream holiday!
Ultimate Abyss
Stare into the unknown and take the plunge down the electrifying Ultimate Abyss. Intrepid guests will plummet down an astonishing ten storeys as you race your friends down the exhilarating Ultimate Abyss slide. Only for guests that are 111cm or taller, grab your friends and dive into the riveting Ultimate Abyss on your upcoming voyage with Royal Caribbean!
Other onboard activities and things to do:
Spa & Fitness Centre
Shopping
Guest Performers
Live Orchestra
Mamma Mia!
Broadway at Sea
Oceanaria
Aquatheater Shows
Ice Games and Shows
Original Productions
Sports Court
Merry-Go-Round
Dance Classes
Spotlight Karaoke
All Access Tour
Whirlpools and Pools
Adventure Ocean
On Air Club
Scuba Diving Certification
Club Twenty
Outdoor Films Night
Casino
H2O Zone Water Park
The Perfect Storm
Solarium
Culinary Classes
Mini Golf
Comedy Club
Rock Climbing Wall
Splashaway Bay
Arcade
Art Collection and Auctions
Wine Tasting
Laser Tag: Clash for the Crystal City
Music Hall
Card Room
FlowRider
Royal Escape Room – Apollo 18: The Lunar Landing
Adventure Ocean
Facts
Guest Capacity: 5,400 double occupancy
Gross Tonnage: 225,282
Staterooms: 2,700
Decks: 16 high
Length: 1,187"
Max Beam: 213"
Draft: 30 ft
Cruising Speed: 22.6 knots