Norwegian Jade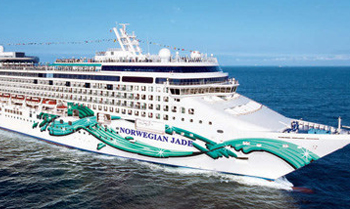 172
Starting Price, Per Night*
Norwegian Jade Cruises
Your dream vacation is waiting on the Norwegian Jade. Sail on a Mediterranean cruise and explore castles, cathedrals, romantic islands and sophisticated cities of Europe. Or toss your schedule to the breeze on a Caribbean Cruise and bask on pristine beaches while enjoying island cocktails. As you cruise from port to port along stunning coastlines, we'll keep you entertained day and night with exciting nightclubs, award-winning restaurants, a grand casino, swimming pools, a pampering spa and so much more. There's tons of fun for kids too, so bring the whole family and enjoy the adventure of a lifetime. It's no wonder Norwegian Cruise Line is the World Travel Award winner for "Caribbean's Leading Cruise Line" and eight-time winner for "Europe's Leading Cruise Line."
Dining
Alizar
Dine in this intimate and inviting Main Restaurant offering the beautifully crafted Main Dining Room menus showcasing a variety of entrees and the freshest ingredients.
Garden Cafe/Kid's Cafe
Our buffet serves up complimentary breakfast, lunch and dinner – and the floor-to-ceiling windows provide picturesque ocean views. Action stations include meat-carving, made-to-order pastas, omelets, waffles, soft-serve ice cream and more, including specialty dishes from around the world – satisfying your every craving.
Grand Pacific
Stunning in design with ocean views, enjoy fine dining in this Main Restaurant featuring the beautifully crafted menus created specifically for the Main Dining Rooms.
Jasmine Garden
Enjoy a complimentary Asian Fusion dining venue featuring freshly prepared noodles, delicious wok fried dishes, authentic soups, and more.
O'Sheehan's Neighborhood Bar & Grill
Dine on reinvented Irish pub classics while sipping your favorite draft beer, all in a casual atmosphere open 24 hours a day. There's no cover charge to dig into your favorite comfort foods and savory Daily Specials, such as Prime Rib and all-you-can-eat Ribs, while taking in a sports game.
Room Service
Dine in after a day at the pool. Or treat yourself to a continental breakfast in bed. Choose from an extensive menu with complimentary and a la carte items featuring everything from chef-crafted dishes to delicious snacks and treats. All freshly-prepared and delivered to your stateroom 24-hours a day. Convenience charge of $7.95 USD may apply.
The Great Outdoors
Outdoor buffet featuring prepared-to-cook omelets, waffles, fruit, ethnic specialties and pasta.
Entertainment
When it comes to the entertainment on Norwegian Jade, there's never a dull moment. Enjoy a magical evening with our magician and comedy show. Get mesmerized by the awe-inspiring acrobatics in Elements. Blazing Boots is a dazzling full scale production show that blends eye popping music video visuals, hot vocals, and innovative choreography into an evening that is part rock concert and all fun. Or don your best white attire and dance the night away during our White Hot Party. It's showtime. All the time.
Blazing Boots
Imagine yourself bellying up to the the best country bar at sea. You are all invited to Blazing Boots – a first class tribute to pop country showcasing songs from the genre's biggest superstars including Taylor Swift, Carrie Underwood, Luke Bryan, Florida Georgia Line, Shania Twain, Jason Aldean, Miranda Lambert and many others. This dazzling full scale production show blends eye popping music video visuals, hot vocals and innovative choreography into an evening that is part rock concert and all fun. From tear-your-heart-out country ballads to barn burning up tempo hits, this show is sure to get you fired up and your boots blazing!
Elements
Come and experience Norwegian Cruise Line's new production show – ELEMENTS! From mesmerizing magic to the visual feast of flying to exciting music and dance, this dazzling show will revel in the four elements of Earth, Air, Water & Fire. This show is an incredible spectacle of wonder, enchantment and sensual delight.
Showdown
You be the judge! Four talented singers vie the audience's votes with a rocking Emcee that'll keep the show moving and you, the audience, groovin'. Enjoy hit tunes from Aretha Franklin, The Supremes, The Temptations, Gloria Gaynor & more. Its American Idol meets a Motown X-Factor. You'll be dancing in the aisles as you experience the non-stop energy and fun for the whole family.
Recreation
Art Gallery
Original works of art by a wide range of well-known artists are on display and can be purchased.
Basketball/Volleyball/Tennis Court
Shoot hoops, join a pick up game, play beach volleyball or play some tennis at the outdoor basketball/Volleyball/Tennis Court, where we will be happy to accommodate you.
Business Center & Meeting Rooms
Norwegian Jade's meeting room area features the Scalzi Bridge room, the Academia Bridge room, and the Rialto Bridge room. The Scalzi Bridge room and the Academia Bridge room can be used together.
Card Room
This is one room where playing games is not just encouraged, it's expected. Play bridge or test your skill with board games, chess and more.
Entourage Teen Club
The Teen Club is made to look like Surfer's Paradise. This hip place for teens to hang out has plenty to do including video games, jukebox, and air hockey.
Fitness Center
There are numerous ways to stay in shape while on board the Norwegian Jade. The Body Waves Fitness Center is open from 6am to 11pm with a full gym and aerobics/fitness classes daily.
Hot Tubs (4)
There are four outdoor hot tubs located on board Norwegian Jade. Relax, unwind and enjoy the view.
Internet Cafe
No matter how far you are from home, having access to the Internet is always nearby at the Internet Cafe. Original works of art by a wide range of well-known artists are on display and can be purchased.
Jade Club Casino
Bar located within the Casino.
Jogging/Walking Track
Run circles around the other guests or get in your daily walk while you're at sea. Breakfast always tastes better after a good walk or run, right?
Library
You'll find our well stocked library has an excellent selection of things to read with all the elegant trappings.
Mandara Spa
If being pampered is your idea of a vacation, get into the Zen of the moment with a full array of spa treatments designed to put you in a very peaceful and tranquil mood.
Pool
Dive into the shimmering Pool with slides and hot tubs nearby. Topsiders Bar & Grill is located poolside along with 323 deck chairs and 144 sun lounges.
Sapphire Kid's Pool
The Sapphire Kid's Pool features slides and a paddling pool. Perfect for mini-splashers.
Spa Thermal Suite
The Thermal Suite offers a unique experience benefiting the mind and body. Feel the weightlessness and total relaxation created by the kneading effect of water in the Thalasso Therapy Pool. Head to the steam room to soothe aching joints, freshen your complexion and reenergize your immune system. If detox is what you crave, sit down at the sauna to sweat out your cares as your heart and sweat glands work together to purify your body. Take a dip in the hot tub and leave the world behind as the power of the warm water improves your circulation and loosen stiff muscles.
Splash Academy
Jump into a splash of fun at Splash Academy just for kids 3-12. Join us for active games, arts and crafts, and jump into character with the creative theme days.
The Chapel
This onboard chapel also functions as a meeting room.
Video Arcade
Stop by and capture a few aliens, win a car race, play pinball and fly a jet fighter. Anything is possible at the Video Arcade.
Bars and Lounges
Atrium Cafe & Bar
Amid the hustle and bustle of the Atrium, enjoy something sweet. This is a morning and late-night favorite serving coffees, espressos, cappuccinos and more. Or indulge in freshly baked cookies, cakes and pastries.
Bliss Lounge
Cruise into the clubbing scene at Bliss. Dance to a different beat and feel the excitement as you walk through the lit tunnel to the illuminated bar. It's electric. Bliss is a top hot spot every night of the week. Experience it.
Jade Club Casino Bar
Bar located within the Casino.
Magnum's Champagne & Wine Bar
Sip your favorite champagne and wine in this upscale art deco lounge.
Malting's Whiskey Bar
Throw back a pint in this contemporary full service bar with a motif that reflects the production of beer.
Mixers Martini & Cocktail Bar
The fun never ends at this popular spot to meet new friends and have a cool Cosmopolitan.
Sake Bar
Tucked inside our Asian restaurant, this full bar also offers premium sake and imported beer.
Spinnaker Lounge
Dance to a different beat and feel the excitement every night. Panoramic views make this the place perfect for parties and informal meetings.
Stardust Theater
It's show time! And we've got a really big show for you at the Stardust. Enjoy Broadway and Vegas-style shows in a Venetian Art Nouveau styled opera house with grand Venetian masks adorning the stage curtain.
Sugercane Mojito Bar
Freshly muddled just the way you like, enjoy a refreshing specialty Mojito with friends – day or night.
The Great Outdoors
Come as you are, even in your swimsuit, to this casual, buffet bar serving grilled favorites like burgers, hot dogs and great ocean views.
Topsiders Bar & Grill
On deck near the Pools is Topsiders, a full bar and grill in close proximity to an ample sunning area and two hot tubs. Think of it as a total resort experience.
The Pit Stop
Cool your engines at this "race car" themed outdoor bar. Relax with a frosty beer or enjoy the sights with a specialty frozen cocktail.
Topsiders Bar & Grill
Enjoy casual dining to suit every taste. From grilled burgers to hot dogs, come as you are and eat as you like after a night out or before your day begins.
Norwegian Jade Highlights
Eat somewhere new every night. Choose from 12 international restaurants. French Mediterranean, Asian fusion, Japanese Teppanyaki, Sushi and Sashimi, and an all-American steakhouse await you.
Going big means feeling like a V.I.P. Our Courtyard Villas, located on exclusive Deck 14, share a private-access courtyard with pool, hot tub, exercise room, sundeck, cabanas, and more.
Two 4,390 square foot Garden Villas may entice you with three separate bedrooms, private garden with hot tub, and access to a private courtyard with pool.
Facts
Passenger Capacity: 2,402 (double occupancy)
Gross Register Tonnage: 93,558
Overall Length: 965 feet
Max Beam: 105 feet
Draft: 28 feet
Engines: Diesel Electric
Cruise Speed: 22.5 knots
Crew: 1,078