Norwegian Breakaway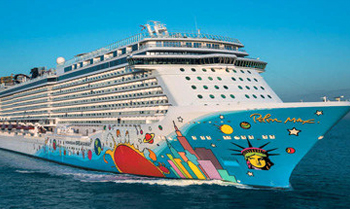 180
Starting Price, Per Night*
Norwegian Breakaway Cruises
Norwegian Breakaway is ready to whisk you away to your best vacation yet. Take a Bermuda cruise and build a pink sand castle or swim with dolphins in the Caribbean or Bahamas.  Named Best Cruise Ship for Families by USA Today, there's something on board for everyone. Breathe in the fresh ocean air and connect with the sea like never before along The Waterfront, a quarter-mile oceanfront promenade lined with restaurants, bars and spectacular views. Indulge in more than 25 dining experiences, including three new, dedicated seafood venues. And enjoy dazzling Broadway performances – Rock of Ages, Burn the Floor and Cirque Dreams & Dinner Jungle Fantasy. Norwegian Breakaway combines the best of New York City with the most magnificent amenities at sea.
Entertainment
Wine Lovers The Musical
Do You Love Wine? Do You Love Comedy? Then we have the show for you! Hailed as "A great evening out" by the New York Post, Wine Lovers – the world's first The Wine Tasting Musical – brings laughs and libation aboard. Join us in Spiegel Tent for Wine Lovers, where you taste six sensational wines and enjoy a lovely lunch, all while watching a hilarious musical comedy about the joys of wine and love.
Cirque Dreams & Dinner Jungle Fantasy: The Broadway Hit
The smash-hit Cirque Dreams Jungle Fantasy, the Broadway Hit was the first show of its kind on Broadway to ignite audiences' imaginations. Now you can see this acclaimed show re-imagined for an exclusive and intimate fantasy adventure on Norwegian Breakaway. After enjoying a delicious dinner, witness Mother Nature's beautiful creations come to life in a fantastical setting with aerobatic feats, award-winning costumes and breathtaking artistry. And if you believe you've seen it all, guess again! Stunning new acts are rotated into the show throughout the year to bring you new jungle dreams
Burn The Floor
Ballroom dancing reinvented. From Broadway to Norwegian Breakaway. Burn the Floor is a sizzling and sexy show based on the world-renowned Broadway performance, this non-stop, 45-minute extravaganza is amazing. "Audience-dazzling! Swiveling hips, steamy embraces and high-octane tempos. A non-stop display of pop variations on classic styles, performed with precision and polish," writes Charles Isherwood, The New York Times. From Harlem's Hot Night at The Savoy, where the Lindy, Foxtrot and Charleston were born, to the Latin Quarter, where the Cha-Cha, Rumba and Salsa steamed up the stage, experience the passion of many popular dance styles. For a spicier, more intimate performance, check out Burn the Floor as they heat up the dance floor in The Manhattan Room. You may even be asked to step up and show off your best moves. And if you want to brush up on your Rumba, dance and exercise classes are offered throughout your cruise by the amazing dancers.
Escape the Big Top
A carnival takes an unfortunate turn when a circus act goes awry. A magician puts a curse on everyone, and it's up to you so solve the clues break the spell. Do you have what it takes to be the first to lift the curse? Escape the Big Top is fast-paced and full of excitement and intrigue a not-to-be-missed activity for the whole family.
Howl At The Moon
Two musicians. Two pianos. Too much fun to experience by yourself. Bring your friends and your favorite song requests. This is Howl at the Moon, the world's greatest dueling piano show at Headliners, which is exclusively on Norwegian Cruise Line. Come sing and dance the night away as our talented musicians jam out and perform your favorite songs from the 70s, 80s, 90s and today. Want to hear a Billy Joel classic? What about Lady Gaga? Our versatile musicians are up for anything. So get ready for a howlin' good time.
Rock of Ages
A Norwegian Breakaway exclusive, this five-time Tony Award nominated sensation relives the anthems of the 1980's big-hair bands through the story of a girl and boy who fall in love and despite all odds, make their dreams come true. Come see why The New York Times calls Rock of Ages "Absurdly enjoyable." Please note that this show may not be suitable for children.
The Second City
Laugh it up with some of the funniest people on the planet. This is no ordinary comedy club. This is comedy with the renowned Second City, which is exclusively on Norwegian. Delighting audiences for over 50 years, this comedy troupe is all about improvisational sketch comedy. New York Times calls them a comedy empire. It's hard to argue considering some of their alumni include comedy greats Bill Murray, Joan Rivers, Robert Klein, Stephen Colbert, Tina Fey and Jason Sudekis, to name a few. So pull up a chair, order a drink and laugh the night away.
Dining
Garden Cafe
Our quintessential buffet modeled after a traditional English garden serves up complimentary breakfast, lunch and dinner – and the floor-to-ceiling windows provide picturesque ocean views. Action stations include meat-carving, made-to-order pastas, omelets, waffles, soft-serve ice cream and more.
O'Sheehan's Neighborhood Bar & Grill
Dine on reinvented Irish pub classics while sipping your favorite draft beer, all in a casual atmosphere open 24 hours a day. There's no cover charge to dig into your favorite comfort foods and savory Daily Specials, such as Prime Rib and All-You-Can-Eat Ribs, or shoot a game of pool while taking in a sports game.
Room Service
Available 24 hours a day, simply pick up the phone and order breakfast, lunch, dinner or late-night munchies. A convenience charge of $7.95 will apply to all orders (Continental Breakfast until 10am excluded, Haven Guests are excluded from the $7.95 charge at all times). An 18% gratuity and specialty service charge will be added to all beverages and special occasion menu items.
Savor (Main Dining Room)
Savor, our newest Main Dining Room, is stunning in design, with colors like the setting sun over a deep blue sea. The cuisine is traditional with a contemporary flair.
Shanghai's Noodle Bar
Visit our Noodle Bar to enjoy fresh noodle dishes that are prepared just the way you like them.
Taste (Main Dining Room)
Taste is a Main Dining Room serving a variety of culinary delights to please every palate. Floor-to-ceiling ocean views enhance the contemporary cuisine and decor.
The Haven Lounge (Private Access for Guests of The Haven Only)
Salute the good life in this elegant lounge offering exclusive access to The Haven guests. Light bites are available.
The Haven Restaurant (Private Access for Guests of The Haven Only)
A private fine-dining experience for guests of The Haven, serving unique signature dishes and wine offerings from our impressive selection.
The Manhattan Room (Main Dining Room)
One of three Main Dining Rooms, The Manhattan Room is designed like a private New York City supper club. This is a guest favorite with its expansive dance floor and panoramic ocean views from two-story, floor-to-ceiling windows. Don't miss Burn the Floor dance troupe when they heat things up.
Bars & Lounges
Bar 21
The sounds of the slot machines and cheers of the crowd at the neighboring casino won't distract you from noticing this stunning, intimate bar. It could easily become your favorite haunt, especially late at night.
Bliss Ultra Lounge
Cruise into the clubbing scene at Bliss. Dance to a different beat and feel the excitement as you walk through the lit tunnel to the illuminated bar. It's electric. Bliss is a top hot spot every night of the week. Experience it.
Atrium Cafe & Bar
Serves frozen coffees, espressos, cappuccinos, teas, pastries and cookies.
Fat Cats Jazz & Blues Club
Dark wood floors. Exposed brick. Legends of decades past hanging on the walls. From the moment you step inside, you'll feel you're in a swingin' New York City jazz club. Whether you're watching a five-piece performance inside or sitting outside on The Waterfront enjoying a drink, the ocean breeze and the cool sounds, this is the place for some of the best live jazz and blues music you'll hear at sea.
Jimmy Buffett's Margaritaville at Sea
Quit searchin' for your lost shaker of salt, it's right here at Jimmy Buffett's Margaritaville at Sea, only on Norwegian Cruise Line. Take a bite out of paradise with signature items like the Cheeseburger in Paradise. Sip on a Who's to Blame Margarita. Or sit back and groove along to island-inspired music at this specialty dining venue. Inspired by the lyrics and lifestyle of Jimmy Buffett, this isn't just a restaurant. It's a state of mind.
Maltings Beer & Whiskey Bar
Sit starboard, right alongside the sea where the view is intoxicating. Good times flow indoors, too. With a unique international variety of spirits and an impressive list of imported and domestic beers, you can sip your way around the world without leaving your chair in air-conditioned comfort.
Mixx Bar
Mingle with new friends and enjoy live piano at Mixx, a modern classical, pre-dinner gathering place between two of our most popular dining spots.
O' Sheehan's Neighborhood Bar & Grill
Dine on reinvented Irish pub classics while sipping your favorite draft beer, all in a casual atmosphere open 24 hours a day. There's no cover charge to dig into your favorite comfort foods and savory Daily Specials, such as Prime Rib and All-You-Can-Eat Ribs, or shoot a game of pool while taking in a sports game.
Prime Meridian Bar
Between Cagney's Steakhouse and Moderno Churrascaria, take a seat, order your favorite beverage and be a part of the action of 678 Ocean Place.
SVEDKA and Inniskillin Ice Bar
A unique arctic-like frozen chamber, guaranteed to give guests the ultimate chill. The bar, seating and glasses are made entirely from ice. The bar is kept at 17 degrees Fahrenheit and features ice sculptures of the Brooklyn Bridge, Statue of Liberty and the Chrysler Building to pay homage to New York City, its year-round homeport. The Ice Bar also features New York City-inspired specialty cocktails.
Facts
Passenger Capacity: 3,969 (double occupancy)
Gross Register Tonnage: 146,600
Overall Length: 1068.3 feet
Max Beam: 169.7 feet
Draft: 27.3 feet
Engines: Diesel Electric
Cruise Speed: 22.5 knots
Crew: 1,651