Norwegian Viva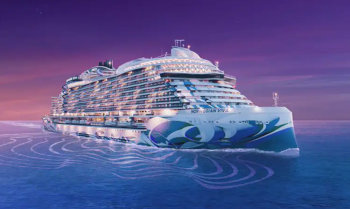 254
Starting Price, Per Night*
Long live adventure on Norwegian Viva cruises
Following along the exceedingly successful steps of her sister ship Norwegian Prima, it's safe to say Norwegian Viva cruises have further perfected what it means to 'live it up' while sailing the seas. Whether it's the spacious accommodation options with expanded outdoor decks, the extraordinary selection of onboard activities, or the tantalising restaurants throughout the ship, a Norwegian Viva cruise has quickly become a favourite amongst cruise fans across the globe. Go for a romantic stroll across the relaxing Ocean Boulevard with gorgeous 360° views. Battle your friends on the exhilarating three-level race track Viva Speedway. Order up your favourite cocktails and drinks while catching up with your closest friends at Vibe Beach Club. With so much to do, it's safe to say Norwegian Viva cruises truly provide guests with the opportunity to live life to the fullest!
What's more, Norwegian Viva features an astonishing selection of itineraries across the globe that guests will undoubtedly adore. Plan an intimate date with your partner in crime while exploring Italy. Journey across various historical landmarks spanning millennia while visiting Greece. Sink your feet into the warm sand of the Caribbean before setting off on a snorkelling trip with your best friend. Adventure has never felt more exciting than on Norwegian Viva cruises, and now is your best chance to book. Round up your closest friends today and start planning your Norwegian Viva cruise before it's all booked out!
Looking for a Norwegian Viva itinerary? Click on the cruises tab! Or alternatively, click here for all Norwegian cruises.
Maiden Voyage departs in
Norwegian Viva Accommodation
Just like her sister ship Norwegian Prima, Norwegian Viva staterooms are meticulously designed to maximise comfort by offering large, open spaces. Furthermore, with extended outdoor spaces for most guests, sailing aboard Norwegian Viva has never felt more comfortable!
Staterooms
Brilliantly styled and coming with more than just the essentials, the Inside stateroom is a great choice for travellers seeking a cosy space to unwind after a big day of adventure across the ship or destination. If you love to see the mesmerising blue horizon throughout your cruise, the Oceanview is the perfect match, with clear seaside views and finely appointed furnishings. The Balcony stateroom elevates your stay onboard Norwegian Viva further, with a marvellous private balcony, sitting area, and coffee maker.
Sailing solo? Norwegian Viva also has the Studio stateroom, which is masterfully constructed for the solo traveller, coming with everything a person needs for a truly relaxing voyage.
Suites:
No matter where you choose to stay, Norwegian Viva suites have all been masterfully crafted and fitted with well-appointed furnishings and plenty of space to kick up your feet. Whether you're just sailing with a loved one or as a family, the Club Balcony suite is magnificent treat for any guest looking to spoil themselves on their next Norwegian Viva cruise. Boasting invitations to exclusive events across Norwegian Viva, checking into a Suite can often feel like entering a second home! With a wealth of room and plenty of additional perks and amenities, the Suite is a great choice for any kind of voyager looking for a more luxurious style of travel.
For those searching for relaxation unlike anywhere else, guests need to book themselves a room at The Haven on their Norwegian Viva cruise. With luxuries other guests can't access including events, dining venues, and much more, it'll feel like you're part of an exclusive club!
Dining Options
Indulge Food Hall
To experience a variety of different cuisines from across the globe, nothing beats spending time at the beautifully designed Indulge Food Hall. Fill up your plate with a feast of flavours or pop in for a light snack before spending the afternoon by the beach, the Indulge Food Hall is all about giving you the option to try and taste flavours both familiar and exotic. Grab a table, hammock, or private cabana with your closest friends and try out the Indulge Food Hall on your next Norwegian Viva cruise.
Onda By Scarpetta
For those with cravings for Italian flavours, we can't help but recommend the fantastic modern Italian speciality restaurant Onda By Scarpetta. Try out some mouth-watering signature pastas or order up an enticing seafood delight, you'll have no regrets whilst dining at Onda By Scarpetta. Pair each meal with a sumptuous wine, and you've scored yourself a lunch or dinner you'll never forget! Reserve a table at Onda By Scarpetta when you sail away on Norwegian Viva!
Other dining options:
The Haven Restaurant
The Local Bar & Grill
Los Lobos
Indulge Outdoor Lounge
Starbucks
NUDLS
Tapas Truck
Coco's
Seaside Rotisserie
The Garden
Q Texas Smokehouse
Tamara
The Latin Quarter
Just Desserts
Just Ice Cream
Norwegian Viva activities & things to do
Viva Speedway
As the world's first three-level race track at sea, it might seem a little daunting at first to go for a lap or two at the Viva Speedway. Trust us, you'll want to experience this for yourself! Let the sea breeze course through your hair as you overtake your friends and fellow travellers on the Viva Speedway. Beautiful in its design, and purpose-built to keep you coming back for more, the Viva Speedway is easily a fan-favourite amongst many Norwegian Cruise Line voyagers, and it's easy to see why. Try out the Viva Speedway on your next trip with Norwegian Viva, it's a decision you won't regret!
Galaxy Pavilion
Looking for some addicting fun for the entire family? Then the Galaxy Pavilion needs to be at the top of your list! Step into an enchanting world of bright neon lights and a selection of immersive virtual experiences perfect for kids and adults. From the death-defying flying theatre simulator, heart-pumping racing simulators, to TopGolf Swing simulators, it's an undeniable techie paradise. When you feel like trying something new after spending the afternoon lazing at the bar, we highly recommend trying the Galaxy Pavilion for yourself!
Other onboard activities and things to do:
The Drop and The Rush
Game Gallery
Infinity Beach
Vibe Beach Club
Aqua Park and Main Pool
Light Balance
Prima Theater and Club
From LOL to Rock & Roll
The Haven
Splash Academy
Entourage
Guppies
Oceanwalk
The Concourse
Indulge Outdoor Lounge
Facts
Year Built: 2023
Guest Capacity: 3,215
Gross Tonnage: 142,500 gt