Norwegian Escape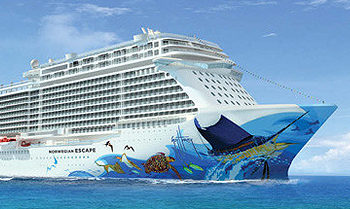 179
Starting Price, Per Night*
Norwegian Escape Cruises
Get ready to escape on the newest and most exciting ship on the seas! Norwegian Escape, our most innovative ship ever built, is ready to whisk you away to the Bahamas and The Caribbean from Miami. Indulging in every whim is what unforgettable vacations are made of. Get ready to chase sunsets on The Waterfront. Explore a world of exotic flavors with two new restaurants from Iron Chef Jose Garces. Get closer to paradise with two quintessential Jimmy Buffett venues: Margaritaville at Sea and the 5 O'clock Somewhere Bar. Sip on some of Napa's best blends at The cellars, A Michael Mondavi Family Wine Bar. Or try our unique specialty cocktails, hand-crafted by Bar Lab. Be dazzled by Broadway hits like After Midnight. Discover a new world of Freestyle Cruising on Norwegian Escape.
Dining
Garden Cafe
Our buffet serves up complimentary breakfast, lunch and dinner – and the floor-to-ceiling windows provide picturesque ocean views. Action stations include meat-carving, made-to-order pastas, omelets, waffles, soft-serve ice cream and more, including specialty dishes from around the world – satisfying your every craving.
O'Sheehan's Neighborhood Bar & Grill
Dine on American classics in a relaxed Irish pub atmosphere. With popular dishes like Chicken Pot Pie and Fish n' Chips to daily dinner specials ranging from Prime Rib to Chicken & Waffles, O'Sheehan's has all your favorite comfort food and beer on tap 24 hours a day. So catch a game on the two-story TV screen or play some billiards or darts, this casual restaurant is a guest favorite – and it's complimentary.
Room Service
Dine in after a day at the pool. Or treat yourself to a continental breakfast in bed. Choose from an extensive menu with complimentary and a la carte items featuring everything from chef-crafted dishes to delicious snacks and treats. All freshly-prepared and delivered to your stateroom – 24-hours a day.
Savor (Main Dining Room)
Stunning in design with floor-to-ceiling ocean views , this Main Restaurant offers traditional cuisine with a contemporary flair.
Taste (Main Dining Room)
Taste is one of our three Main Restaurants serving a variety of culinary delights to please every palate. Floor-to-ceiling ocean views enhance the contemporary cuisine and decor.
The Haven Restaurant (Private Access for Guests of The Haven Only)
A private fine-dining experience for guests of The Haven, serving unique signature dishes and wine offerings from our impressive selection.
The Manhattan Room (Main Dining Room)
Enjoy dining in a private New York City dinner club with panoramic ocean views from the two-story, floor-to-ceiling windows. Then take a spin on the dance floor or enjoy the show from your table.
The Private Room at Taste
For the first time on Norwegian, we've added a special function room! Now, you'll have the perfect space for your group to meet and dine. Commemorate special occasions in a room especially designed for your event in mind. Just below the Main Dining Room, enjoy the privacy of a secluded space to enhance your celebration.
Entertainment
After Midnight
Welcome back to that electrifying time when Harlem's Cotton Club was the place to be. Winner of the 2014 Tony, Drama Desk, Outer Critics Circle, and Astaire Awards for Best Choreography, AFTER MIDNIGHT is the smash-hit musical that combines the big-band songs of Duke Ellington, a stageful of megawatt performers, a roof-raising onstage jazz band, and the best dancing from Broadway. Witness The Cotton Club come to life in a never-before-seen phenomenon at sea. Experience Broadway at its finest in the Escape Theater!
Escape the Big Top
A carnival takes an unfortunate turn when a circus act goes awry. A magician puts a curse on everyone, and it's up to you so solve the clues break the spell. Do you have what it takes to be the first to lift the curse? Escape the Big Top is fast-paced and full of excitement and intrigue a not-to-be-missed activity for the whole family.
For The Record: The Brat Pack
Relive the glorious 1980's at For the Record: The Brat Pack, where classic soundtracks bring the movies to life in a theatrical rock 'n roll concert experience. Escape into an 80's teenage dream as you "Danke Schoen" like Ferris, "Try A Little Tenderness" with Ducky and heat up your night like a " St. Elmo's Fire." This unique movie music mash-up features songs from "Sixteen Candles," "The Breakfast Club," "Weird Science," and much more. Part rock concert, part drama club, part prom and TOTALLY AWESOME!
Howl At The Moon
Bring your friends and your favorite song requests for an unforgettable musical journey. This is Howl at the Moon, the world's greatest rock 'n' roll dueling piano show. Come sing and dance the night away as our talented musicians jam out and perform your favorite songs from the 70s, 80s, 90s and today. From Billy Joel classics to modern-day Lady Gaga pop tunes, our versatile musicians can do it all. So get ready for a howlin' good time.
Levity Entertainment Group
Tickle your funny bone at Headliners Comedy Club with performances by Levity Entertainment Group's roster of top-notch comedians. Employing over 300 artists nationwide, Levity is the largest producer of live comedy, creating tours and TV specials for the biggest names in the industry, including Daniel Tosh, Amy Shumer, Gabriel Iglesias and Jeff Dunham. With 12 hilarious shows per week, prepare for a sidesplitting good time.
The Supper Club
Enjoy the ambiance in the Supper Club, our intimate theater experience featuring a variety of musical entertainment.
Wine Lover
Do You Love Wine? Do You Love Comedy? Then we have the show for you! Hailed as "A great evening out" by the New York Post, Wine Lovers – the world's first The Wine Tasting Musical – brings laughs and libation aboard. Join us for Wine Lovers in the Supper Club, where you taste six sensational wines and enjoy a lovely lunch, all while watching a hilarious musical comedy about the joys of wine and love.
The Haven
The private complex returns with a variety of luxurious amenities.
Norwegian Escape offers a wide range of accommodations designed for the way you cruise.
Bars and Lounges
Atrium Bar
Amid the hustle and bustle of the Atrium, enjoy something sweet. This is a morning and late-night favorite serving coffees, espressos, cappuccinos, beer, wine, and more.
Headliner's Comedy Club
Tickle your funny bone at Headliner's Comedy Club with performances by Levity Entertainment Group's roster of top-notch comedians. Employing over 300 artists nationwide, Levity is the largest producer of live comedy, creating tours and TV specials for the biggest names in the industry, including Daniel Tosh, Amy Shumer, Gabriel Iglesias and Jeff Dunham. With several hilarious shows per week, prepare for a sidesplitting good time with Levity Entertainment Group.
Mixx Bar
Located between Taste and Savor, Mixx Bar is the perfect place to mingle for a pre- or post-dinner cocktail.
O'Sheehan's Neighborhood Bar & Grill
Dine on reinvented Irish pub classics while sipping your favorite draft beer, all in a casual atmosphere open 24 hours a day. There's no cover charge to dig into your favorite comfort foods and savory Daily Specials.
Prime Meridian
Between Moderno, Churrascaria and Cagney's Steakhouse, Prime Meridian is the perfect bar to be the center of attention or simply be at the center of it all.
Skyline Bar
Hit the jackpot in more ways than one inside Skyline Bar. Nestle into plush interiors and take in the changing view. Our high-definition digital landscapes illuminate this cocktail lounge with ever changing moods. It's the perfect spot to have a cocktail before dinner, meet friends after the show or just press your luck with bar-top poker screens that give winning at the bar a whole new meaning.
Spice H2O
Inspired by the renowned summer beach parties on the island of Ibiza, Spice H20 is an adult-only retreat. By day, you can lounge in hot tubs and a soothing waterfall grotto. By night, it's a whole different beat. Let loose and dance beneath the stars as vibrant images display on the huge video screen.
Sugarcane Mojito Bar
Freshly muddled just the way you like, enjoy a refreshing mojito with friends – day or night.
The 5 O'Clock Somewhere Bar
It's happy hour, every hour at the 5 O'Clock Somewhere Bar, the first at sea on Norwegian Escape. Enjoy the sounds of the tropics while sipping on a signature margarita on The Waterfront. As the sun starts to set, that's when the party really heats up. Let the sounds of live musical performances move you well into the night. Or grab a table inside, make some new friends and keep the good times rolling on and on. After all, it's 5 o'clock somewhere and you don't need to be anywhere.
The Cellars – A Michael Mondavi Family Wine Bar
Pull up a stool on The Waterfront and pair your favorite vintage with soothing waves. Step inside the main bar and sample a Merlot as you laugh with some of your closest friends. Or elevate your wine IQ with programs meant for experts and novices alike at the Tasting Table. For four generations, the Mondavi name has been intimately linked with prestige winemaking in Napa Valley. And now, they're bringing their best blends and unparalleled knowledge to Norwegian Escape at our first-ever wine bar: The Cellars – A Michael Mondavi Family Wine Bar. A place where we let you enjoy your vino any way you like.
The District Brew House
Let your hair down in a never-before-seen party at sea. Order one of more than 50 different bottled beers or any of the 24 draft beers on tap, including local Miami craft beer from Wynwood Brewing Company – exclusively on Norwegian Escape. Sip on a specialty cocktail by Bar Lab, masterminds of internationally recognized cocktail creations. Scream your lungs out alongside live music. Or get a little wild inside the photo booth. What happens in The District, stays in The District.
The Haven Lounge (Private Access for Guests of The Haven Only)
Exclusive to The Haven guests, enjoy your favorite cocktail and light bites surrounded by ultimate luxury.
Tobacco Road
Miami's oldest and most legendary bar, Tobacco Road, will find its new home aboard Norwegian Escape. Located within 678 Ocean Place, Tobacco Road Bar will incorporate elements of the original Tobacco Road, including the iconic neon sign, memorabilia and photographs that will showcase the history of Miami through the lens of events and happenings at the bar over the past century. Tobacco Road Bar will also feature a selection of cocktails created by Tobacco Road's Cocktail Collection mixologist, Leo Holtzman.
Vibe Beach Club
Guests will jump for joy upon discovering this private retreat where they can connect with the ocean and disconnect from everything else. Exclusively for those 18 and over, Vibe Beach Club is resplendent with ocean views, an over-sized hot tub, chaise loungers and a relaxing water feature – idea for relaxation. A full-service bar, water spritzers, chilled towels and skewers of fruit ease you even more into serenity. A limited number of passes will be available for purchase onboard at the Guest Service Desk.
Facts
Passenger Capacity: 4,266 (double occupancy)
Gross Register Tonnage: 164,600
Cruise Speed: 22.5 knots
Engines: Diesel Electric
Crew: 1,733
Overall Length: 1,069 ft
Max Beam: 136 ft