Norwegian Gem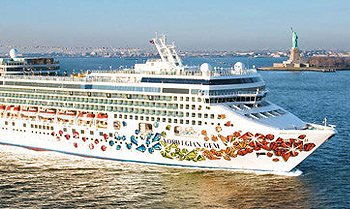 189
Starting Price, Per Night*
Norwegian Gem Cruises
This sparkling cruise ship is the perfect choice for year-round cruises from the east coast of the USA. Sail to the Bahamas & Florida, the Caribbean, or up the coast of Canada & New England. Tons of dining choices and Freestyle Cruising, Norwegian Gem cruises have it all. Chill out by the pool, get lucky in the casino, unwind at the spa, and make the kids happy with Wii games and lots more. Accommodations range from the luxurious multi-room or romantic suites to spacious and affordable staterooms.
Looking for something different? View a selection of View more options for Norwegian Cruise Line.
Recreation
Art Gallery
Stroll through Norwegian Gem's Art Gallery of original works for sale by a wide range of well-known artists.
Basketball/Volleyball/Tennis Court
Shoot hoops, join a pick up game, or play tennis at the enclosed, outdoor Basketball/Volleyball/Tennis Court.
Body Waves Fitness Center
There are numerous ways to stay in shape while on board. The Body Waves Fitness Center is open from 6am to 11pm with a full gym and aerobics/fitness classes daily.
Business Center & Meeting Rooms
Norwegian Gem's meeting room area features various individual rooms. They can be used together or separately.
Card Room/Life Style Room
Looking for a quiet place to write postcards, play cards or read a book? Drop by the Life Styles Room.
Hot Tubs
There are six hot tubs conveniently located throughout the ship. Try them all out or pick your favorite and make relaxing and unwinding a part of your daily regimen.
Jogging/Walking Track
Run circles around the other guests or get in your daily walk while you're at sea. Breakfast always tastes better after a good walk or run, right?
Kid's Pool
The kid's pool is just right for pint-size splashing, playing and paddling. The pool also has additional fun features.
Mandara Spa
If being pampered is your idea of a vacation, the Mandara Spa is the place for you. This full service beauty salon and spa offers a wide range of spa treatments to rejuvenate your body and soul.
Photo Gallery
The place to check out and purchase all the photos taken during your cruise.
Spa Thermal Suite
The Thermal Suite offers a unique experience benefiting the mind and body, from the weightlessness effect of water in the Thalasso Therapy Pool* to the gentle, radiant warmth of heated mosaic lounge chairs. Take a dip in the hot tub and leave the world behind as the power of the warm water improves your circulation and loosen stiff muscles. Then head to the steam room to relax stiff joints, improve your immune system and alleviate pains. If detox is what you crave, sit down at the sauna a little while in the dry heat to sweat out your cares as your heart and sweat glands work together to purify your body.
Splash Academy
Get into the zone of fun because Splash Academy is just for kids! With lots of open space for active games and an arts and crafts area kids can do what they do best – be a kid!
Tahitian Pool
Main pool.
The Library
You'll find a well-stocked selection of things to read with all the elegant trimmings a good library deserves including a stellar view.
Video Arcade
Stop by the video arcade and capture a few aliens, win a car race, play pinball and fly a jet fighter. Anything is possible.
Bars and Lounges
Atrium Cafe & Bar & Internet Cafe
Serves frozen coffees, expressos, cappucinos, teas, pastries and cookies.
Bali Hai Bar & Grill
For great sea views, grab a bite and enjoy the warm ocean breeze poolside at this lively grill.
Bliss Ultra Lounge & Night Club
A lounge inspired by all things spherical and out of space. Bubbles, the use of lighting, color and ultraviolet artworks will be throughout this room. The lounge is also equipped with plasma TVs.
Corona Cigar Club
Step into the world of rolled premium cigars, cognacs and spirits at the Cigar Club. This is one place where it is completely acceptable to light up in public.
Gem Club Casino Bar
The Gem Bar is located in Norwegian Gem's casino which features a circus theme reflecting bold and brash colors of traditional traveling circuses at the turn of the century.
Great Outdoors Bar
Enjoy wine, beer and a fully selection of cocktails at this covered outdoor bar.
Magnum's Champagne & Wine Bar
Inspired by the Art Nouveau era using Charles Rennie Mackintosh's design elements and colors.
Maltings Beer & Whiskey Bar
Contemporary bar area with a backdrop reflecting the production of beer.
O' Sheehan's
Dine on reinvented Irish pub classics while sipping your favorite draft beer, all in a casual atmosphere open 24 hours a day. There's no cover charge to dig into your favorite comfort foods and savory Daily Specials, such as Prime Rib and all-you-can-eat Ribs, while taking in a sports game.
Sake Bar
Full Sake Bar within the Orchid Garden Restaurant.
Shakers Martini & Cocktail Bar
Art Deco inspired with a large screen behind the bar depicting James Bond inspired graphic silhouettes of funky images from the 60's & 70's.
Spinnaker Lounge
Horizontal windows in the floor allow views of the bridge. The stage can also be used as a dance floor.
Stardust Theater
It's showtime! And we've got a really big show for you at the Stardust. Enjoy Broadway and Vegas-style shows.
Sugarcane Mojito Bar
Freshly muddled just the way you like, enjoy a refreshing mojito with friends – day or night.
Topsiders Bar & Grill
Enjoy casual dining to suit every taste. From grilled burgers to English-stlye fish and chips, come as you are and eat as you like after a night out or before your day begins.
Dining
Bali Hai Bar & Grill
A hot air balloon theme where the bar itself is styled as a ballooning basket with sandbags, ropes and a rattan front.
Garden Cafe / Kids Cafe
Our buffet serves up complimentary breakfast, lunch and dinner – and the floor-to-ceiling windows provide picturesque ocean views. Action stations include meat-carving, made-to-order pastas, omelets, waffles, soft-serve ice cream and more, including specialty dishes from around the world – satisfying your every craving.
Grand Pacific (Main Dining Room)
A first class dining experience in the grand tradition of the luxury ocean liners of yesteryear, Grand Pacific offers beautifully crafted contemporary and traditional dishes prepared with only the freshest ingredients. Plus, with Chef's Signature Dishes and a Chocoholic Night available once per sailing featuring specialty chocolate-based desserts, this Main Dining Room guarantees an amazing foodie experience.
Great Outdoors
Come as you are, even in your swimsuit, to this casual, buffet bar serving grilled favorites like burgers, hot dogs and great ocean views.
Magenta (Main Dining Room)
Balancing classic favorites with the hottest new dishes, Magenta is a can't miss culinary experience. With daily changing menus offering even more variety and Chef's Signature Dishes featuring deliciously fresh ingredients, there's always something to look forward to inside this Main Dining Room.
O'Sheehan's
Dine on reinvented Irish pub classics while sipping your favorite draft beer, all in a casual atmosphere open 24 hours a day. There's no cover charge to dig into your favorite comfort foods and savory Daily Specials, such as Prime Rib and all-you-can-eat Ribs, while taking in a sports game.
Orchid Garden
Enjoy a complimentary Asian Fusion dining venue featuring freshly prepared noodles, delicious wok fried dishes, authentic soups, and more.
Room Service
Available 24 hours a day, simply pick up the phone and order breakfast, lunch, dinner or late-night munchies. A convenience charge of $7.95 will apply to all orders (Continental Breakfast until 10am excluded, Haven Guests are excluded from the $7.95 charge at all times). An 18% gratuity and specialty service charge will be added to all beverages and special occasion menu items.
Topsiders Bar & Grill
Grab a seat at the bar or grab a cold one to go. Topsiders Bar & Grill is always hopping with activity. Swimsuits welcome.
Entertainment
Blazing Boots
A first class tribute to pop country showcasing songs from the genre's biggest superstars including Taylor Swift, Carrie Underwood, Luke Bryan, Florida Georgia Line, Shania Twain, Jason Aldean, Miranda Lambert and many others. This dazzling full scale production show blends eye popping music video visuals, hot vocals and innovative choreography into an evening that is part rock concert and all fun. From tear-your-heart-out country ballads to barn burning up tempo hits, this show is sure to get you fired up and your boots blazing!
Get Down Tonight
The Norwegian Gem Production Cast takes you on a trip through time to re-live your favorite memories and music of the 1970s. Rock-out tonight with music from acts like Earth, Wind & Fire, The Who and many more featuring music by the Norwegian Gem Showband.
Pure Variety
Enjoy a fantastic evening of song and dance as the Norwegian Production Cast brings a night of entertainment; showcasing the many talents and styles from our production cast. Featuring the Norwegian Show Band.
Swing! The Musical
A dazzling display of some of the best music and dance styles from the swing era of jazz (1930s–1940s) while showcasing the exhilarating songs of many well-known artists like Duke Ellington, William "Count" Basie, and Benny Goodman.
The Second City
Chicago's legendary comedy theatre, The Second City, celebrates its 50th Anniversary aboard Norwegian Epic with a hilarious revue of sketches, songs and improvisation. Watch the brightest young comic talent in North America puts its comic spin on current events and life on the cruise ship.
Facts
Passenger Capacity: 2,394 (double occupancy)
Gross Register Tonnage: 93,530
Overall Length: 965 feet
Max Beam: 125 feet
Draft: 28 feet
Engines: Diesel Electric
Cruise Speed: 25 knots
Crew: 1,170