Norwegian Epic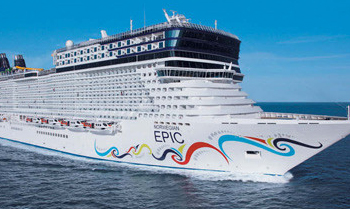 104
Starting Price, Per Night*
Norwegian Epic Cruises
Explore the history of the Mediterranean, feel the balmy breezes of the Bahamas and the Caribbean, or just sit back and relax while you cruise across the Atlantic. Whatever you choose to do, Norwegian Epic is sure to dazzle. Awarded Best Cruise Ship Entertainment by Frommers, Norwegian Epic keeps the bar high with two new Broadway shows: Ballroom Blitz and Priscilla, Queen of the Desert. Not only is Norwegian Epic offering world-class performers but a new wave of accommodations as well – from Studios, designed and priced for the solo traveller, to the private Haven. Add more than 20 different dining options and you'll understand why this is Freestyle Cruising on a truly grand scale.
Bars & Lounges
Atrium Cafe
Whether you're in the mood for a glass of chardonnay or a vanilla latte, this is the place to see and be seen. Sit back, relax and watch the hustle and bustle all around.
Bliss Ultra Lounge
High-voltage tunes make everyone want to dance, custom loungers are the perfect spot to cap off the evening with a cocktail. There's also a bowling alley.
***Additional charges apply***
Cascades Bar
Stay close to the action at the Epic Casino's friendly, full-service bar. It's the perfect place to toast your good fortune and let the good times roll.
Epic Theater Bar
It's "bottoms up" before or after the curtain goes up at this captivating and cordial bar inside the Epic Theater.
Humidor Cigar Lounge
Comfortable seating, a fully stocked humidor, signature cocktails, and an extensive drink menu helps to make this the perfect environment to enjoy a good smoke.
Maltings Whiskey Bar
Be it Canadian, Irish, American, Welsh or Scotch, Maltings Whiskey Bar offers dozens of varieties of the complex spirit for you to savor.
Posh Beach Club
A first of its kind beach club at sea.
Sake Bar
The Sake Bar at Wasabi is the closest you can get to a trip to Japan without getting on a plane. Experience the simple joys of hot sake or go kamikaze with an "ichi…ni…san sake bomb.
Shaker's Martini Bar
Unwind after a long day of doing whatever and join the martini crowd for a sophisticated cosmopolitan or something more adventurous. Appletini, anyone?
SVEDKA Ice Bar
Now this truly is as cool as it gets. Inspired by the original ice hotels in Scandinavia, The SVEDKA Ice Bar is one of only 14 in the world and the only true ice bar at sea.
Recreation
Aqua Park
Suit up and splash down at our first ever Aqua Park. Choose from two pools, five hot tubs, kid's pool, three multi-story water slides including the the 200-foot Epic Plunge, the only bowl slide at sea.
Aqua Park Kid's Pool
Your kids will surely enjoy splashing around here.
Bliss Ultra Lounge – Bowling Alley
During the day, all ages are welcome to bowl. At night, guests 18 and older enjoy funky lighting that illuminates the neon-colored bowling balls and decor to create an atmosphere that is full of energy.***Additional charges apply***
Click Photo Gallery
Stop by the Photo Gallery to find your candid photos taken throughout your cruise.
Entourage Teen Center
Guaranteed to attract all teens, Entourage is designed like an adult lounge minus the adults. All play during the day, but at night Entourage turns into a teens-only nightclub.
Epic Theater
It takes a world-class venue to attract Broadway shows like the heartwarming musical Priscilla, Queen of the Desert. Add in the sizzle and passion of ballroom dancing in Ballroom Blitz and you'll have a night you'll never forget in the Epic Theater.
Headliners Comedy Club
Sing along with Howl at the Moon, the World's Greatest Rock 'N' Roll Dueling Piano Show. In the Caribbean you can also spend an evening or two with The Second City comedy troupe and their unique form of comedy or experience authentic European entertainment with a variety of world-class acts while cruising the Mediterranean.
Jogging/Walking Track
Run circles around the other guests or get in your daily walk while you're at sea. Breakfast always tastes better after a good walk or run, right?
Mandara Spa
When we say "full-service spa," we mean full-service spa. Soothe your body and soul with a hot stone massage, a rejuvenating facial, mani/pedi, acupuncture, BOTOX and teeth whitening and lots more.
Meeting Rooms
The ship has two meeting rooms – Biscayne A and Biscayne B – with a capacity for 20 guests each.
O'Sheehan's Neighborhood Bar & Grill Bowling Alley
Get a strike or spare at sea on one of newest most modern ships. ***Additional charges apply***
Pulse Fitness Center
Stay in shape with your favorite workout equipment including treadmills, ellipticals and free weights or even yoga, pilates and spinning.
Sandbar
Sandbar carries your favorite brands of liquor, including House of Walker and Remi and tobacco favorites like Marlboro and more with 20%-50% savings on U.S. retail prices. Plus everything is tax and duty free. Buy more and save more with our multi-bottle promotions. See the Freestyle Daily for details on our drink tastings.
Spice H20
Soak up the sun by day around the pool and dine on the delicious fare of outdoor buffet at our adults-only Ibiza-inspired beach club at the back of the ship. When the sun goes down, our adults-only Ibiza-inspired beach club at the back of the ship. The entertainment is non-stop as the pool floor rises to become a dance floor and giant screen projects hypnotic visuals under a starry sky.
Splash Academy
Splash Academy is built for the young ones, with a large kid's area and a special area just for tweens. Kids can play Wii and Playstation 3, dance the day away on the dance floor and much more.
Sports Complex
The Sports Complex has not one, but two decks to play on with a full-sized basketball court, batting cage, rock climbing wall, the first-ever rappelling wall at sea and a 24-foot enclosed climbing cage.
The Epic Casino
Our largest, most elegant full-action casino offers high-roller ambiance, no matter what your game. Choose from poker, black jack, roulette, craps and hundreds of more-exciting-than-ever slot machines.
The Haven
Your enclave awaits. Settle into your luxurious suite with a large balcony. Enjoy the privacy of The Haven Courtyard with two levels of private beach club ambiance and a private pool. And call upon your certified butler anytime – day or night.
The Marketplace
The Marketplace is your one stop shop for everything you need for the pool or beach. Get sunscreen, beach toys, sunglasses, books and more.
The Tides
Welcome to The Tides, where you will find the latest in fine jewelry, luxury watches and designer brands. Step into your favorite styles with head-to-toe collections and accessories that add sizzle to any look. And it's all just steps away. We have your shopper's paradise waiting with all your favorite designer names for men and women…Nautica, Guess, Roxy, La Blanca, Fossil, Puma, USPA, Penguin, Quiksilver and Bohia.
Thermal Spa Suite
The Thermal Suite offers a unique experience benefiting the mind and body. Feel the weightlessness and kneading effect of water in the Thalasso Therapy Pool and enjoy a warm waterfall cascading onto your shoulders in the Vitality Pool. Take a dip in the hot tub and leave the world behind as the warm water relaxes you. Then head to the steam room to relax stiff joints, improve your immune system and alleviate pains. If detox is what you crave, sit down in the dry heat of the sauna to sweat out your cares as your heart and sweat glands work together to purify your body. Then relax and bring your body to temperature with a nap on heated mosaic lounge chairs.
Video Arcade
Stop by the video arcade and capture a few aliens, win a car race, play pinball and fly a jet fighter. Anything is possible.
Wii Wall
Fulfill your sports fantasies or watch Hollywood hit movies on our two-story Wii screen.
i-Connect Internet Cafe
Our 24-hour Internet Cafe offers you the comfort and convenience of staying in touch via the Internet while you are Freestyle Cruising.
Dining
Garden Cafe
Enjoy a delicious buffet for breakfast, lunch or dinner in a casual eatery that feels like a traditional English country garden conservatory. Chefs can also whip-up a prepared-to-order omelet, crepe, pasta and more.
Great Outdoors
Get your daily dose of fresh ocean air along with a great view of the Aqua Park as you dine on dishes from around the world. Enjoy the delicious buffet for breakfast, lunch or dinner.
O'Sheehan's
Dine on reinvented Irish pub classics while sipping your favorite draft beer, all in a casual atmosphere open 24 hours a day. There's no cover charge to dig into your favorite comfort foods and savory Daily Specials, such as Prime Rib and All-You-Can-Eat Ribs, or shoot a game of pool while taking in a sports game.
Room Service
Available 24 hours a day, simply pick up the phone and order breakfast, lunch, dinner or late-night munchies. A convenience charge of $7.95 will apply to all orders (Continental Breakfast until 10am excluded, Haven Guests are excluded from the $7.95 charge at all times).
Shanghai's Chinese Restaurant
Enjoy a complimentary Asian Fusion dining venue featuring freshly prepared noodles, delicious wok fried dishes, authentic soups, and more.
Shanghai's Noodle Bar
Visit our Noodle Bar to enjoy fresh noodle dishes that are prepared just the way you like them.
Spice H20
Our adults-only Ibiza-inspired beach club at the back of the ship. The entertainment is non-stop as the pool floor rises to become a dance floor and giant screen projects hypnotic visuals under a starry sky.
Taste (Main Dining Room)
Serving contemporary cuisine, Taste's high-energy atmosphere and dramatic design are something to behold. Serving breakfast, lunch and dinner.
The Haven Courtyard Grill (Private Access for Guests of The Haven Only)
Step outside the Epic Club for contemporary dining in a relaxed al fresco setting. Perfect for breakfast, lunch, dinner or even drinks at the bar. Location, Deck 16 Fwd.
The Manhattan Room (Main Dining)
Enjoy dinner in a private New York City supper club with panoramic ocean views from the two-story, floor-to-ceiling windows. Then take a spin on the dance floor or enjoy the show from your table.
Entertainment
Cirque Dreams Epicurean (Floor Seating)
An Avant-garde world of awe-inspiring feats and colorful eccentricities awaits your discovery in this captivating show. Get ready to enter the all-new Cirque Dreams Epicurean. After you enjoy an epicurean dining experience, this one-of-a-kind theatrical journey will ignite your curiosity, pique your imagination and astound you with the unexpected. And if you believe you've seen it all, guess again! The performers jaw-dropping acts change throughout the year, serving up new dreams for you to savor.
Burn the Floor
Burn the Floor sizzles on board Norwegian Epic! An international championship cast show off their best ballroom dance moves with plenty of European flair. From Grand Viennese waltzes to the sensual Tango and provocative Rumba, experience all their passion as they heat up the stage.
Escape the Big Top
A carnival takes an unfortunate turn when a circus act goes awry. A magician puts a curse on everyone, and it's up to you so solve the clues break the spell. Do you have what it takes to be the first to lift the curse? Escape the Big Top is fast-paced and full of excitement and intrigue – a not-to-be-missed activity for the whole family.
Howl at the Moon
You won't want the night to end once you step into the World's Greatest Rock N' Roll Dueling Piano Bar. And it won't take long before you're belting out favorites from the 70's or rock and hip-hop classics, right along with our ivory-ticking entertainers.
Priscilla Queen of the Desert
PRISCILLA QUEEN OF THE DESERT THE MUSICAL, the feel-good international hit sensation is based on the smash-hit movie. PRISCILLA is the heart-warming, uplifting adventure of three friends who hop aboard a battered old bus searching for love and friendship and end up finding more than they could have ever dreamed of. With a dazzling array of outrageous Tony and Oscar Award winning costumes and a hit parade of dancefloor favorites, this wildly fresh and funny new musical is a journey to the heart of FABULOUS! *Adult themes, coarse language & sexually suggestive scenes are used throughout the show and therefore is not recommended for children nor the easily offended.
Facts
Passenger Capacity: 4,100 (double occupancy)
Gross Tons: 155,873
Length: 1,081 ft
Max Beam: 171 ft
Draft: 28.5 feet
Engines: Diesel Electric
Cruising Speed: 20.2 knots
Crew: 1,724