Norwegian Jewel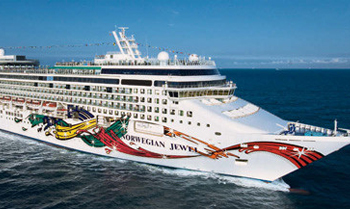 146
Starting Price, Per Night*
Norwegian Jewel Cruises
As the namesake of our "Jewel Class" cruise ships, you can bet that Norwegian Jewel cruises have got it all. As well as offering some of the largest suites at sea, there are staterooms to accommodate every style. When it comes to entertainment, this ship's filled with excitement: 16 dining options, 15 bars and nightclubs and that's just the beginning. Come aboard and experience the Norwegian Jewel.
Dining
Every cruise fare includes beautifully crafted menus in the Norwegian Jewel's two main dining rooms, a help-yourself buffet and a variety of casual cafes, grills and on-the-go choices. From fresh-baked breads, desserts and pastries to our chefs' original dishes made with the freshest ingredients, your dining can be as fine or fun as you want.
Azura (Main Dining Room)
One of our two Main Restaurants serving a variety of culinary delights with a contemporary flair.
Chin Chin Asian Restaurant
Enjoy a complimentary Asian Fusion dining venue featuring freshly prepared noodles, delicious wok fried dishes, authentic soups, and more.
Garden Cafe
Our buffet serves up complimentary breakfast, lunch and dinner – and the floor-to-ceiling windows provide picturesque ocean views. Action stations include meat-carving, made-to-order pastas, omelets, waffles, soft-serve ice cream and more, including specialty dishes from around the world – satisfying your every craving.
O'Sheehan's
This place is so inviting, everyone here really may eventually know your name. Dine on American classics as well as your favorite comfort foods, served 24 hours a day.
Room Service
Dine in after a day at the pool. Or treat yourself to a continental breakfast in bed. Choose from an extensive menu with complimentary and a la carte items featuring everything from chef-crafted dishes to delicious snacks and treats. All freshly-prepared and delivered to your stateroom – 24-hours a day. Convenience charge of $7.95 USD may apply.
The Great Outdoors
Outdoor buffet featuring prepared-to-cook omelets, waffles, fruit, soups, ethnic specialties and pasta.
Topsiders Bar & Grill
Enjoy casual dining to suit every taste. From grilled burgers to hot dogs, come as you are and eat as you like after a night out or before your day begins.
Tsar's Palace Main Dining Room
Inspired by the grand palaces of Russia, Tsar's Palace offers beautifully crafted contemporary and traditional dishes prepared with only the freshest ingredients. Plus, with Chef's Signature Dishes and a Chocoholic Night available once per sailing featuring specialty chocolate-based desserts, this Main Dining Room guarantees an amazing foodie experience.
Entertainment
Band on The Run
Join us tonight as The Norwegian Jewel Production Cast and Show Orchestra transport you to one of the hottest clubs of the 70's. Club BOTR! This club caters to the elite and your name is at the top of the guest list. So come on in and enjoy the soaring melodies of Styx, the disco sounds of Donna Summer and the driving rock beat of Queen. At Club BOTR, you can be whoever you want to be!
Le Cirque Bijou
The Norwegian Jewel Production Cast brings to life this artistic and awe inspiring spectacle. Journey into a world where dreams bring to life a land of colorful jewels while death defying acts soar high above your head.
Pure Variety
Enjoy a fantastic evening of song and dance as the Norwegian Production Cast brings a night of entertainment; showcasing the many talents and styles from our production cast. Featuring the Norwegian Show Band.
Bars & Lounges
Atrium Cafe & Bar
For that double, vanilla, extra hot latte with extra foam, the Java Cafe is at your service with a wide variety of specialty coffees, teas, pastries and cookies.
FYZZ Cabaret Lounge & Bar
This modern lounge has bubble lighting, fun colors and ultraviolet artwork. It also has three private Karaoke rooms that can accommodate small groups.
Magnum's Champagne & Wine Bar
Some moments just call for champagne. And this is the place to enjoy it. Magnum's features a French Art Deco motif combined with elements that reflect the grand old cruise liner Normandie.
Maltings Beer & Whiskey Bar
Inspired by the lobby bar from the Mandarin Oriental in London, this contemporary full bar has low lounges and tables with the perfect hint of mood lighting.
O' Sheehan's
Dine on reinvented Irish pub classics while sipping your favorite draft beer, all in a casual atmosphere open 24 hours a day onboard Norwegian Jewel. There's no cover charge to dig into your favorite comfort foods and savory Daily Specials, such as Prime Rib and all-you-can-eat Ribs, while taking in a sports game.
Sake Bar
Full sake bar within Chin Chin Asian Restaurant.
Shakers Martini & Cocktail Bar
How do you like your martini? Shaken, not stirred? Of course you do. James Bond silhouettes reflect from a screen behind the bar in this Art Deco inspired ode to the 1960's and 70's.
Sky High Bar & Grill
Enjoy your grilled favorites like hot dogs, hamburgers and bratwurst at the casual Sky High Bar.
Spinnaker Lounge
Horizontal windows in the floor allow you to look down on the bridge. At night, the atmosphere is charged when the music comes up and the stage becomes a dance floor.
Stardust Theater
An art nouveau style theatre set against the backdrop of the best of European Art Nouveau. A large art nouveau peacock adorns the main stage curtain and the colors of the peacock adorn the rest of the room.
Sugarcane Mojito Bar
Freshly muddled just the way you like, enjoy a refreshing mojito with friends – day or night.
The Great Outdoors
Come as you are, even in your swimsuit, to this casual, buffet bar serving grilled favorites like burgers, hot dogs and great ocean views.
Topsiders Bar & Grill
Enjoy casual dining to suit every taste. From grilled burgers to hot dogs, come as you are and eat as you like after a night out or before your day begins.
Recreation
Art Gallery
Stroll through Norwegian Jewel's Art Gallery of original works for sale by a wide range of well-known artists.
Basketball/Volleyball/ Tennis Court
Shoot hoops, join a pick up game, play volleyball or tennis at the enclosed, outdoor Basketball/Volleyball/Tennis Court.
Body Waves Fitness Center
There are numerous ways to stay in shape while on board. The Body Waves Fitness Center is open from 6am to 11pm with a full gym and aerobics/fitness classes daily.
Card Room
Here is one room where playing games is not just encouraged, it's expected. Find another couple and play bridge or test your skill with chess, checkers and Scrabble.
Club Underground
This is a cool place where teens can have fun, too. Designed to look and feel like the New York Subway, there's even graffiti on the walls.
Hot Tubs
There are six hot tubs conveniently located. Try them all out or pick your favorite and make relaxing and unwinding a part of your daily regimen.
Internet Cafe
No matter how far you are from home, staying in touch is easy at the Internet Cafe.
Jewel Club Casino
This could be your lucky night! Try your hand at Roulette, Blackjack, Craps and Let It Ride.
Jogging/Walking Track
Run circles around the other guests or get in your daily walk while you're at sea. Breakfast always tastes better after a good walk or run, right?
Mandara Spa
If being pampered is your idea of a vacation, the Mandara Spa is the place for you. This full service beauty salon and spa offers a wide range of spa treatments to rejuvenate your body and soul.
Meeting Rooms
Norwegian Jewel offers a meeting room area featuring three individual rooms, the Java room, the India room, and the Congo room. They can be used together or separately.
Sapphire Kid's Pool
The Sapphire Kid's Pool features slides and paddling pool. The Sapphire Pool and hot tub are also nearby.
Sapphire Pools
The main pool on Jewel has a seemingly infinite number of sun beds and deck chairs to choose from. Topsiders Bar, the Sapphire Kid's Pool and a covered hot tubs are all on deck, nearby.
Spa Thermal Suite
The Thermal Suite onboard Norwegian Jewel cruises offers a unique experience benefiting the mind and body. Feel the weightlessness and total relaxation created by the kneading effect of water in the Thalasso Therapy Pool, or soak in the hot tub with friends for some improved circulation with conversation. Head off to the steam room to soothe joints and alleviate pains. If detox is what you crave, sit down at the sauna to sweat out your cares as your heart and sweat glands work together to purify your body. Then relax and bring your body to temperature with a nap on heated mosaic lounge chairs.
Splash Academy
Get into the zone of fun at Splash Academy! This just for kids area has lots of open space for active games plus an artist craft area.
The Chapel
This on-board chapel also functions as a meeting room.
The Galleria Shops
Need a new bathing suit? How about a surprise gift for your sweetheart? The Galleria is a department store that offers a wide selection of brand names and specialty goodies.
The Library
You'll find a well-stocked selection of things to read with all the elegant trimmings a good library deserves including a stellar view.
Video Arcade
Stop by the video arcade and capture a few aliens, win a car race and fly a jet fighter.
Facts
Passenger Capacity: 2,376 (double occupancy)
Gross Register Tonnage: 93,502
Overall Length: 965 feet
Max Beam: 125 feet
Draft: 28 feet
Engines: Diesel Electric
Cruise Speed: 22.5 knots
Crew: 1,069