Norwegian Pearl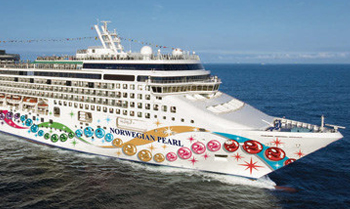 183
Starting Price, Per Night*
Norwegian Pearl Cruises
Cruise to the breezy islands of the Bahamas or venture into the wild in Alaska. Travel from scenic views to city views on a Pacific Coastal cruise. Or simply sit back and sail through the world's greatest shortcut on a Panama Canal cruise. Whatever you choose to do, we invite you to experience the wonders of getting there aboard the Norwegian Pearl. Her chic bowling alley, 16 delicious dining options, 15 bars and lounges, dazzling casino, tranquil spa, and spacious Garden Villas are just a few things that make this Jewel Class cruise ship a destination of her own.
View more options for Norwegian Cruise Line.
Dining
Garden Cafe/Kid's Cafe
Our buffet serves up complimentary breakfast, lunch and dinner – and the floor-to-ceiling windows provide picturesque ocean views. Action stations include meat-carving, made-to-order pastas, omelets, waffles, soft-serve ice cream and more, including specialty dishes from around the world – satisfying your every craving.
Indigo (Main Dining Room)
Balancing classic favorites with the hottest new dishes, Indigo is a can't miss culinary experience. With daily changing menus offering even more variety and Chef's Signature Dishes featuring deliciously fresh ingredients, there's always something to look forward to inside this Main Dining Room.
Lotus Garden
Enjoy a complimentary Asian Fusion dining venue featuring freshly prepared noodles, delicious wok fried dishes, authentic soups, and more.
O'Sheehans
Dine on American classics in a relaxed Irish pub atmosphere. With popular dishes like Chicken Pot Pie and Fish n' Chips to daily dinner specials ranging from Prime Rib to Chicken & Waffles, O'Sheehan's has all your favorite comfort food and beer on tap 24 hours a day. So catch a game on the two-story TV screen or play some billiards or darts, this casual restaurant is a guest favorite and it's complimentary.
Room Service
Available 24 hours a day, simply pick up the phone and order breakfast, lunch, dinner or late-night munchies. A convenience charge of $7.95 will apply to all orders (Continental Breakfast until 10am excluded, Haven Guests are excluded from the $7.95 charge at all times).
Summer Palace (Main Dining Room
Inspired by the grand palaces of Russia, Summer Palace offers beautifully crafted contemporary and traditional dishes prepared with only the freshest ingredients. Plus, with Chef's Signature Dishes and a Chocoholic Night available once per sailing featuring specialty chocolate-based desserts, this Main Dining Room guarantees an amazing foodie experience.
The Great Outdoors
Come as you are, even in your swimsuit, to this casual, buffet bar serving grilled favorites like burgers, hot dogs and great ocean views.
Topsiders Bar & Grill
Enjoy casual dining to suit every taste. From grilled burgers to hot dogs, come as you are and eat as you like after a night out or before your day begins.
Entertainment
Legends In Concert
Get ready for a musical extravaganza featuring the best celebrity tribute artists! The iconic tribute show, Legends in Concert, is now honored to call Norwegian Pearl home on the high seas. A staple on Las Vegas' center strip for the past 32 years, Legends in Concert is known as the pioneer of live tribute shows and has assembled the greatest collection of live tribute artists and celebrity look-alikes in the industry.
Pure Variety
Enjoy a fantastic evening of song and dance as the Norwegian Production Cast brings a night of entertainment; showcasing the many talents and styles from our production cast. Featuring the Norwegian Show Band.
Recreation
Art Gallery and Internet Cafe
No matter how far you are from home, having access to the Internet is always nearby at the Internet Cafe. Original works of art by a wide of well-known artists are on display and can be purchased.
Basketball/Volleyball/Tennis Court
Shoot hoops, join a pick up game, play beach volleyball or some tennis at the outdoor Basketball/Volleyball/Tennis Court, where we will be happy to accommodate you.
Body Waves Fitness Center
Get your heart rate up using state-of-the-art machines while enjoying a view through floor-to-ceiling windows. In addition, you can participate in aerobics, spinning and exercise classes.The Body Waves Fitness Center is open from 6am to 11pm.
Bowling
What could be more fun than having a few cocktails and trying to score a perfect ten? Our four-lane bowling alley with funky lighting and neon-colored bowling balls are simply striking. Exceptional value, worth the price. Available for guests 6 years of age and older.
Card Room
Here is one room where playing games is not just encouraged, it's expected. Find another couple and play bridge or test your skill with board games, checkers, and Scrabble.
Hot Tubs
You will find 6 outdoor hot tubs located on deck 12.
Jogging/Walking Track
Run circles around the other guests or get your daily walk in before breakfast on the outdoor track.
Kid's Pool
Just like its name, The Children's Splash Pool is just right for pint-size splashing, playing and paddling. The pool also has additional fun features.
LifeStyle Room
Looking for a quiet place to write postcards, play cards or read a book? Drop by the Lifestyles Room.
Mandara Spa
If being pampered is your idea of a vacation, the Mandara Spa is the place for you. This full service beauty salon and spa offers a wide range of spa treatments to rejuvenate your body and soul.
Meeting Rooms
Norwegian Pearl's meeting room area features three individual rooms, the Vienna room, the Prague room, and the Barcelona room. Prague and Barcelona may be used together.
Metro Center
This is a cool place where teens can have fun, too. Designed to look and feel like the New York Subway, there's even graffiti on the walls.
Pearl Club Casino
Welcome. Try your hand at Roulette, Blackjack, Craps and Let It Ride against a backdrop of traveling circuses from the turn of the century. For a detailed list of slots and games, please visit the Game Types page in the NCL Casinos at Sea section.
Photo Gallery
Our selection of beautiful photographic prints is worthy of any wall. Photos on display are available for purchase.
Spa Thermal Suite
The Thermal Suite offers a unique experience benefiting the mind and body. Feel the weightlessness and total relaxation created by the kneading effect of water in the Thalasso Therapy Pool, or soak in the hot tub with friends for some improved circulation with conversation. Head off to the steam room to soothe joints and alleviate pains. If detox is what you crave, sit down at the sauna to sweat out your cares as your heart and sweat glands work together to purify your body. Then relax and bring your body to temperature with a nap on heated mosaic lounge chairs.
Splash Academy
Get into the zone of fun because Splash Academy is just for kids! With lots of open space for active games, an arts and crafts area and creative theme days kids can do what they do best be a kid!
Tahitian Pool
Norwegian Pearl's main outdoor pool is surrounded by 144 sun beds, 314 deck chairs and Topsider's Bar and Grill.
The Chapel
This lovely, intimate chapel also functions as a meeting room.
The Library
You'll find a well-stocked selection of things to read with all the elegant trimmings a good library deserves.
Video Arcade
Here's your chance to capture a few aliens, win a car race, play pinball and fly a jet fighter. Let your imagination run wild at Video Arcade.
Bars and Lounges
Bliss Ultra Lounge & Night Club
A lounge inspired by all things spherical and out of space. Bubbles, the use of lighting, color and ultraviolet artworks will be throughout this room. Features the industry's 1st bowling alley and also is equipped with plasma TVs.
Corona Cigar Club
Hand-rolled premium cigars, cognacs and spirits at the Corona Cigar Club. This is one place where it is completely acceptable to light up in public.
Great Outdoors Bar
Enjoy wine, beer and a fully selection of cocktails at this covered outdoor bar, located at the aft of Norwegian Pearl.
Java Cafe
Serves frozen coffees, espressos, cappuccinos, teas, pastries and cookies.
Magnum's Champagne & Wine Bar
Imagine Paris in the 20's. Magnum's is an inspiration of French Art Deco and the decor of the grand old cruise liner Normandie.
Maltings Beer & Whiskey Bar
Inspired by the lobby bar from the Mandarin Oriental in London, this contemporary full bar has low lounges and tables with the perfect hint of mood lighting.
Moderno Bar
Sit back and enjoy your favorite drink at the Moderno Bar located inside Moderno Churrascaria.
O' Sheehan's
Dine on reinvented Irish pub classics while sipping your favorite draft beer, all in a casual atmosphere open 24 hours a day. There's no cover charge to dig into your favorite comfort foods and savory Daily Specials, such as Prime Rib and all-you-can-eat Ribs, while taking in a sports game.
Pearl Club Casino Bar
Full Casino featuring a circus theme reflecting bold and brash colors of traditional traveling circuses at the turn of the century.
Sake Bar
Full Sake Bar inside Lotus Garden Restaurant.
Shakers Martini & Cocktails Bar
How do you like your martini? Shaken, not stirred? Of course you do. James Bond silhouettes reflect back at you from a screen behind the bar in this Art Deco inspired ode to the 1960's and 70's.
Sky High Bar & Grill
For great sea views, grab a bite and enjoy the warm ocean breeze poolside at this colorful, hot-air balloon-themed grill.
Spinnaker Lounge
At night, the atmosphere at the Spinnaker Lounge is charged when the music comes up and the stage becomes a dance floor.
Stardust Theater
It's showtime! And we've got a really big show for you at the Stardust. Enjoy Broadway and Vegas-style shows with cocktails before or after dinner with a European Art Noveau backdrop and a peacock adorning the curtain.
Sugarcane Mojito Bar
Freshly muddled just the way you like, enjoy a refreshing mojito with friends – day or night.
Topsiders Bar & Grill
Enjoy casual dining to suit every taste. From grilled burgers to hot dogs, come as you are and eat as you like after a night out or before your day begins.
Ship's Highlights
Norwegian Pearl Highlights
Watch glaciers calve from a private balcony while on an Alaska cruise.
Enjoy a fantastic steak in Cagney?s while sailing through the Caribbean.
Relax in the hydrotherapy room after a couples massage at the South Pacific Spa.
Facts
Passenger Capacity: 2,394 (double occupancy)
Gross Register Tonnage: 93,530
Overall Length: 965 feet
Max Beam: 125 feet
Draft: 27 feet
Engines: Diesel Electric
Cruise Speed: 22.5 knots
Crew: 1,072