Silver Ray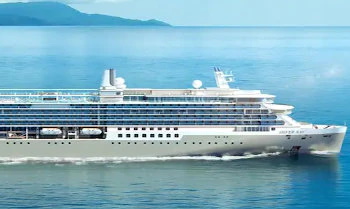 523
Starting Price, Per Night*
Luxury has never felt more stylish on Silver Ray cruises
As the second Nova Class ship in Silversea's ever-growing award-winning fleet, Silver Ray cruises take ultra-luxury cruising to never before seen heights. From its pioneering outdoor spaces across the ship to the decadent all-suite accommodation options, a Silver Ray cruise is guaranteed to exude elegance. With a maximum capacity of just 728 guests, Silver Ray offers every adventurer a wealth of space to authentically unwind and connect with like-minded travellers. Whether you're sharing a perfectly made cocktail with a newfound friend or enjoying a romantic evening with a loved one at the elegant Silver Note, we're all but certain every moment onboard Silver Ray will be one you'll cherish for a lifetime.
Offering a truly spectacular range of carefully planned itineraries to destinations across the globe, Silver Ray cruises will inspire the imagination no matter where you decide to sail. Elevating your immersion is the excellent selection of shore excursions at each port of call. Set off on an enchanting bike tour across the sunny countryside. Take a relaxed guided walking tour to must-visit landmarks and museums in bucket-list cities. Taste divine local flavours during a flavour-packed cultural food workshop by local artisans. With experienced guides and tour managers on hand at all times, exploration has never been more immersive than on Silver Ray cruises.
View all Silver Ray cruises or view more options for Silversea cruises.
Maiden Voyage departs in
Accommodation on Silver Ray
With all-suite accommodations across the entire ship, Silversea has spared no expense in crafting an extraordinary sailing experience on any Silver Ray cruise. Coming with butler service no matter where you stay, you'll have every request big or small handled in. Plus, with all the little creature comforts that elevate any holiday including unlimited Wi-Fi, luxury bath amenities, and a refrigerator and bar stocked with drinks based on your preferences, it's safe to say you've never experienced luxury quite like this.
Silver Ray Suites
Great for guests who want to get a proper taste of what ultra-luxury cruising is like, the Classic Veranda and Superior Veranda suite is right for so many travellers. With a full-size bath, a walk-in wardrobe, and private outdoor space, the Classic Veranda and Superior Veranda suites are a fantastic showcase of the best things about Silversea. Enhance your stay even more by booking yourself into either the Deluxe Veranda or Premium Veranda suites. Located in prime locations across Silver Ray, the Deluxe Veranda and Premium Veranda suites offer an excellent amount of additional space as well as refined décor and floor-to-ceiling glass doors that lead to a dreamy outdoor space.
With a separated lounge and bedroom area, the Medallion suite, Premium Medallion suite, and Junior Grand suite instantly make you feel like you've stepped into a decadent apartment. Boasting jaw-dropping views and a marbled double-vanity bathroom, these suite options will have you feeling like a king or queen. A true favourite amongst veteran Silversea voyagers is the Silver suite. Using the latest in design innovation, the Silver suite unlocks gorgeous destination views whilst maximising room for your very own dining space capable of hosting dinner guests.
Exclusive to Silver Ray cruises are the Master suite and Signature suite. Offering unmatched destination immersion through the use of cutting-edge design principles, guests in the Master suite and Signature suite are welcomed to breathtaking sights no matter the locale. What's more, you'll even have your very own guest restroom, ensuring the privacy of your secluded double-vanity bathroom.
For next-level decadence, the Grand suite and Owner's suite epitomise what the Silversea luxury experience is all about. Indulge in sophistication with unforgettable sweeping sea-to-sky views whether you're in the lounge or relaxing in your whirlpool bath. Plus, with a seemingly endless balcony as well as a King-sized bed fitted with a custom-made luxury bed mattresses, the Grand suite and Owner's suite is your one-way ticket to pure luxury.
Alternatively, you can book into one of Silversea's newest and most refined suite options, the Otium suite. With a distinct focus on unfiltered relaxation, the Otium suites on Silver Ray will transport you into a whole new world of bliss and leisure. Whether it's the commodious outdoor balcony with an unparalleled 270-degree view, the amazing outdoor whirlpool that'll let you truly soak in the extraordinary views, or the enormous, separated bedroom and lounge areas, the Otium suites are a true testament to Silversea's dedication in creating unprecedented luxury.
Dining
S.A.L.T. Kitchen
Just returned from an incredible day of adventure and want to continue it onboard Silver Ray? Then we recommend making a reservation at the S.A.L.T. Kitchen! Standing for Sea And Land Taste, S.A.L.T. Kitchen offers lucky guests destination-inspired menus that are destined to tantalise their tastebuds. Drawing inspiration from local cuisines, cooking styles and techniques, every dish at the S.A.L.T. Kitchen will take you on a journey that celebrates the very best of each locale. Go with a group or spend an evening with a loved one, either way, you won't regret booking a table at the S.A.L.T. Kitchen during your Silver Ray cruise.
Silver Note
Superb ambience, sophisticated décor, and heavenly cuisine. There's no dining venue that matches the elegance and flavours at Silver Note. With live Jazz music and soul singers playing throughout the evening, Silver Note calls back to classic days of glamorous dining and dancing. Furthermore, with an exquisite menu packed with tapas-style dishes that incorporate gourmet flavours, Silver Note offers a wonderful night of live entertainment and delicious food.
Other dining venues:
Atlantide
La Terrazza
La Dame
Kaiseki
The Grill
Spaccanapoli
Onboard activities & things to do
The Marquee
A venue that seamlessly incorporates two of Silversea's favourite outdoor dining venues – Spaccanapoli and The Grill – The Marquee represents a sensational new direction for destination dining. Beautifully decorated in a way that complements the breathtaking views, this al fresco dining venue is sure to impress many guests as they sail from one harbour to the next. Come in to soak the sunshine during lunch or gaze upon the starry night sky in the evening, it's easy to see why many guests choose to dine at The Marquee regularly throughout their Silver Ray cruise.
The Pool Deck
Dive in for a refreshing swim or get some well-deserved vitamin D, The Pool Deck offers a perfect escape as you sail the seven seas. Bringing sweeping 270-degree views of the blue horizon or destination, The Pool Deck is a favourite for many Silversea guests. Furthermore, guests who need some quiet time can head up to the upper-level sun deck, coming with its own set of lounge chairs, tables, and naturally, gorgeous views of its own.
Other onboard activities and things to do:
Facts
Year Built: 2024
Guest Capacity: 728
Crew: 556
Width: 97 ft./ 29.6 m
Length: 801 ft./ 244.2 m
Speed: 19.4 knots
Tonnage: 54,700