Silver Dawn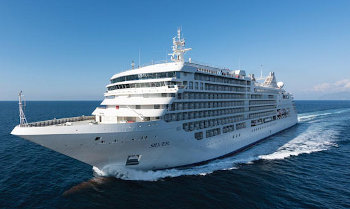 439
Starting Price, Per Night*
Wake up to panoramic views on Silver Dawn cruises
Representing the 'dawn' of a new era of sustainable, luxury travel, Silver Dawn cruises promises immersive adventures to bucket-list destinations – all while enjoying unadulterated elegance. As the sister ship of acclaimed Silver Muse and Silver Moon, it's safe to say that Silver Dawn cruises reach new, innovative heights in ultra-luxury travel. Taking the best features of its sister ships and elevating them to a new level, Silver Dawn features a magnificent selection of onboard activities, dining venues, and social spaces that guests will undoubtedly fall in love with. What's more, with exquisite all-suite accommodation and butler service on offer no matter where you stay, Silver Dawn cruises all but guarantee a holiday you'll remember for many years to come.
Whether you're enjoying the Sea and Land Taste Programme (S.A.L.T), ordering a coffee and planning your next day of adventure at the Panorama Lounge, or taking a rejuvenating treatment at the brand-new wellness center OTIVM, there will never be a dull moment on a Silver Dawn cruise. Moreover, once you dock at your port of call, Silversea cruises offers an excellent choice of shore excursions that let you experience the very best of each locale. From hands-on biking tours across the countryside to tranquil walks along the coast, the choice is yours when you sail aboard Silver Dawn!
View all Silver Dawn voyages by selecting the cruises tab, view a selection of Silversea cruise deals, or view more options for Silversea cruises.
Accommodation on Silver Dawn
Immaculately crafted to enhance space and spectacular views, Silver Dawn suites are perfectly suited to the adventurer who's searching for a stylish yet comforting room to unwind after a riveting day of travel. With each suite onboard fitted with, at minimum, a Queen sized bed, a sitting area, and stunning ocean views, it's not surprising that thousands of voyagers choose to sail with Silversea over many years. Plus, with fantastic butler service available at all times, any request you may possibly have can be answered with but a flick of a finger!
Silver Dawn Suites
Boasting an extensive selection of luxurious amenities, the Panorama Suite and Vista Suite feature everything a guest could possibly ask for (and a little more!) for a truly relaxing Silver Dawn cruise. Fitted with a brilliant private outdoor space, the Classic Veranda Suite is a great choice for travellers who need a bit of quiet time outside without the worry of brushing into other voyagers. What's more, with better positioning on the Silver Dawn, additional room, and a couple of extras, the Superior Veranda Suite and Deluxe Veranda Suite offer just a little more elegance and style for travellers who want to treat themselves.
Easily the best-selling suite on many Silver Dawn cruises, the Silver Suite is a brilliant space that offers the perfect blend of comfort and style. Whether it's the marbled bathroom with a double vanity, the walk-in wardrobe, or the separate dining area capable of welcoming guests, be sure to check out the Silver Suite fast as they could sell out in a matter of moments upon release! Elevating this further is the Royal Suite, with even more room to welcome guests and the perfect place for families who want their loved ones close by.
However, easily the two best places to stay aboard Silver Dawn are the Grand Suite and Owner's Suite. Magnificently fitted with tasteful décor and furniture, each of these suites provide breathtaking views and an expansive outdoor space. Plus, with additional perks such as dinner for two at La Dame and the officer's table, champagne upon arrival, as well as two hours of worldwide phone use from the suite, guests in the Owner's Suite and Grand Suite get to enjoy living like a king or queen!
Dining
S.A.L.T. Kitchen
Enhance your understanding of flavour profiles and the cultural heritage of various cuisines by spending some time at the S.A.L.T. Kitchen! Touted by Silversea as one of the most immersive dining experiences at sea, the S.A.L.T. Kitchen let's you taste rich and extraordinary flavours from destinations in your voyage as well as across the globe. Discover the origins behind certain dishes, the flavours that elevate each dish, as well as the cultural importance of the meal to the region. Prepared by talented chefs using only the freshest of ingredients available, be sure to spend an evening at S.A.L.T. Kitchen on your Silver Dawn cruise. Whether you want to just socialise with like-minded food-lovers or want to learn more about a culture, the S.A.L.T. Kitchen will be an experience you will not forget anytime soon!
La Dame
Lovers of elegant French dining need to make a reservation at Silversea's signature restaurant, La Dame. Carefully decorated with a pronounced chic contemporary style, the backdrop of panoramic ocean-view windows allows for a dining experience at La Dame to be a regular highlight for many voyagers on Silver Dawn. But it isn't just the fantastic décor that stands out, it's also the delectable menu filled with plenty of magnificent dishes guests immediately swoon over at the first bite. Perfect for romantic dinner dates or a fancy celebration with your loved ones to cap off an extraordinary cruise, be sure to make an early reservation at La Dame on your next voyage aboard Silver Dawn.
Other dining options:
The Grill
Atlantide
La terrazza
Silver Note
Spaccanapoli
Kaiseki
Onboard activities & things to do
S.A.L.T. Lab
Looking for a more hands-on experience when learning about cuisines from across the globe? Then we recommend booking yourself a session at the S.A.L.T. Lab with your closest friends! With talented chefs at the helm of each session, the S.A.L.T. Lab is all about teaching guests the core dishes of the region they're visiting and how it's central to its culture. More than just a lecture and a workshop, the S.A.L.T. Lab lets you go hands on and help out in the cooking demonstration, allowing you to connect with the regions cuisine on a deeper level. Fun and delicious at the same time, take your best friend and join in on a S.A.L.T. Lab session on your next voyage!
Otium Spa & Beauty Salon
It's time to treat yourself, and what better way to do so during your voyage than with a treatment at the Otium Spa! From relaxing massages, a rejuvenating facial, or a soothing session at the sauna and steam room, the Otium Spa is the place to be when you need an hour or two to completely detangle from all the stresses life has been throwing at you. Plus, if you've been thinking about revitalising your hairstyle or giving yourself a bit of a pamper before the evening festivities, you can also pop over to the Otium Beauty Salon where trained specialists will more than happily give you the look of prestige and elegance.
Other onboard activities and things to do:
S.A.L.T Bar
Panorama Lounge
Casino
Dolce Vita
Fitness Centre
Observation Library
Connoisseur's Corner
Arts Café
Pool Deck & Jacuzzi Area
Boutique
Venetian Lounge
Facts
Launching: 2021
Guest Capacity: 596
Length: 212.8 m
Width: 27m
Speed: 19.8 knots
Crew Capacity: 411
Tonnage: 40,700
Registry: Bahamas