Silver Muse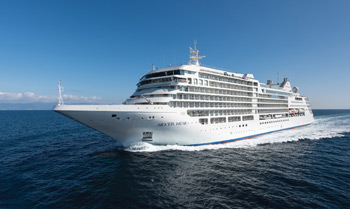 553
Starting Price, Per Night*
Divine exploration awaits on Silver Muse cruises
Journeying to spectacular harbours across the world, Silver Muse cruises promise adventures that balance destination immersion and unadulterated sophistication. From their delightful selection of restaurants to the brilliant onboard activities occurring every day, a Silver Muse cruise will never have a dull moment. Fitted with cutting-edge technological innovations, this ultra-luxury cruise ship aims to illustrate Silversea's dedication to modern elegance. Enjoy decadent comforts and attentive private butler service by booking a Silver Muse cruise today.
From vibrant port cities to tranquil fishing towns, Silver Muse cruises are each carefully hand-picked to ensure you'll always see something new and exciting, even if you've visited many times. Whether you're sailing to Alaska or Australia, a Silver Muse cruise aims to authentically explore each region with the love and attention it deserves. What's more, with sublime all-suite accommodation options to choose between, every second aboard this luxurious Silver Muse cruise ship is destined to be incredible.
View all Silver Muse voyages by selecting the cruises tab, view a selection of Silversea cruise deals, or view more options for Silversea cruises.
Accommodation on Silver Muse
Silver Muse Suites
Featuring all-suite accommodation options, this ultra-luxury ship is all but guaranteed to transport you to unmatched elegance from the moment you arrive. Plus, with butler service and champagne upon arrival no matter where you stay, Silver Muse suites ensure you're well taken care of throughout your entire trip.
If you need a spacious sanctuary packed with all the luxuries you've come to expect on Silversea cruises, then check out the Vista suite. With plenty of room to unwind alongside a large destination-facing window, the Vista suite has a selection of wheelchair accessible rooms. For breathtaking all-encompassing views, the Panorama suite is just right for you. Plus, with its own separate area to plan your next day of adventure, the Panorama suite is a splendid choice for any adventurer.
Fitted with a gorgeous private outdoor balcony, the Classic Veranda suite is everything you'd ever want on an ultra-luxury cruise. Enhanced with improved furnishings and located closer to must-visit onboard facilities, the Superior Veranda suite is a favourite amongst many Silver Muse cruise travellers. By far the best veranda-based accommodation option is the Deluxe Veranda suite. Found only moments away from the heart of the ship, Deluxe Veranda suites boast sophisticated décor and a stunning marble bathroom.
For a luxurious terrace on the seas, nothing beats the Silver suite. Boasting a separate living area to welcome new-found friends for an evening, the Silver suite is perfect for families and small groups. Designed to maximise comfort and relaxation, the Royal suite features truly lavish furnishings and an even larger entertainment space. Guests who love an authentically elegant and prestigious space need to book the Owner's suite. Fitted with a king-size bed and a separate dining room, guests at the Owner's suite can enjoy bonus perks including dinner at the officer's table and dinner for two in La Dame!
Want something even more decadent? Meet the Grand suite. Offering an expansive private outdoor space with panoramic views, superior furnishings, and a double vanity bathroom with a whirlpool bath, the Grand suite is the embodiment of ultra-luxury cruising that Silversea cruises prides itself on.
Dining
La Dame
Discover the wondrous and classic flavours of French cuisine by making a reservation at La Dame. Boasting a curated menu by Silversea's highly experienced chefs, La Dame promises to offer a marvellous French dining experience that puts flavour at the forefront. Celebrating French culture and its traditions, La Dame has quickly become a favourite amongst many guests onboard Silver Muse cruises. Be sure to book a table early as La Dame often fills out quickly in availability!
Indochine
Showcasing the distinct and iconic flavours across all of Asia, Indochine is an absolute must-do for anyone on a Silver Muse cruise. Stylishly presented and prepared by talented chefs, Indochine is a fantastic dining venue for a romantic dinner or a riveting group catch-up. From Mumbai to Ho Chi Minh, Indochine is an Asian cuisine extravaganza with flavour-packed dishes throughout the entire region. Be sure to book a table at Indochine when you sail with Silver Muse!
Other dining venues:
The Grill
Atlantide
La Terrazza
Kaiseki
Spaccanapoli
Silver Note
Onboard activities & things to do
Dolce Vita
After a busy day of exploration, there's no better way to spend the evening than by socialising with your friends at Dolce Vita. Located at the very heart of Silver Muse, Dolce Vita is the embodiment of the luxury cruise line's Italian heritage. From the gorgeous lighting installations and stunning wall décor to the luxurious cushioned furnishings, Dolce Vita exudes an atmosphere of grandeur and excitement. Plus, with live music and a bar serving sumptuous cocktails only steps away, you'll instantly fall in love with Dolce Vita. Share stories of your day's travels, reminisce about memories of old, look ahead and plan your future travels, let the good times flow by heading over to Dolce Vita on your Silver Muse cruise
Zagara Spa & Beauty Salon
Revitalise your five senses by spending an afternoon or morning at Zagara Spa and Beauty Salon. Featuring an enticing menu of invigorating treatments, Zagara Spa aims to whisk you away into a world of bliss and serenity. Offering calming body wraps and restorative massages, to purifying facials, every treatment is overseen by experienced international professionals. Brilliant after a day of hands-on exploration or an intense workout, Zagara Spa will heal your body and re-centre your mind, having you ready for your next day of adventure.
Other onboard activities and things to do:
Venetian Lounge
Arts Café
Pool Deck & Jacuzzi Area
Connoisseur's Corner
Observation Library
Panorama Lounge
Fitness Centre
Boutique
Casino
Facts
Crew: 411
Officers: Eurpoean
Guest: 596
Tonnage: 40,700
Length: 698 Feet/212.8 Meters
Width: 86 Feet/27 Meters
Speed: 19.8 Knots
Passenger Decks: 8
Built: 2017
Registry: Bahamas