Silver Nova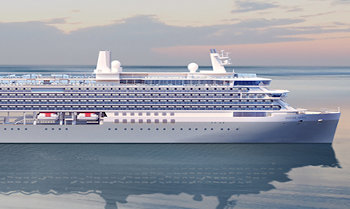 614
Starting Price, Per Night*
Sail on the pioneer of 21st-century travel on Silver Nova cruises
With a revolutionary design and marvellous public spaces, Silver Nova cruises offer guests immersive adventures that truly exemplify the meaning of luxury travel. Step aboard the ship and be amazed by the fantastic all-suite accommodation, with each suite assigned a butler that can easily assist with you any request throughout your entire Silver Nova cruise. What's more, with delectable dining venues, welcoming lounge areas, and wonderful enrichment activities, Silver Nova cruises have been meticulously designed to maximise relaxation. Whether you're connecting with like-minded travellers by the bar, gazing at the blue horizon at the top deck, or enjoying a quiet moment in your suite, there'll be something for everyone during any Silver Nova cruise.
Just like any voyage with Silversea cruises, Silver Nova cruises are all about the destination. No matter the locale, no matter the itinerary, Silver Nova boast a brilliant selection of shore excursions that authentically immerse you in the destination. Embark on an unforgettable walking tour through iconic sites guided by a local. Join a professional diver and set sail on a superb diving adventure. Hop on a half day jeep safari across the countryside. With such a spectacular selection of shore excursions to choose from at each port of call, it's easy to see why Silver Nova cruises are as popular as they are!
View all Silver Nova voyages by selecting the cruises tab, view a selection of Silversea cruise deals, or view more options for Silversea cruises.
Accommodation on Silver Nova
Silver Nova cruises offer all-suite accommodation throughout the entire ship, meaning every guest onboard is afforded plenty of space alongside butler service at all times of the voyage. Furthermore, each suite is fitted with a private veranda, queen sized bed, and lounge space, meaning Silver Nova cruise guests will never feel cramped or without room to kick up their feet.
Silver Nova Suites
Found at the bow and aft of Silver Nova, the Classic Veranda suite is the perfect entry-level choice for guests who want to experience the luxury of a Silversea cruise, but in the lookout for a more affordable option. With a spacious marble bathroom, a regularly stocked refrigerator, plus complimentary Wi-Fi, the Classic Veranda suite still has plenty of amenities that other options have. Plus, if you want to elevate the Classic Veranda even more, Silver Nova cruises also features Superior, Premium, and Deluxe options that offer just a little more space and better locations on the ship.
Want to treat yourself? Then definitely check out the Medallion Suite aboard Silver Nova. With panoramic views of your destination, a king sized bed with a custom-made luxury mattress, as well as daily canapés, the Medallion Suite will keep you relaxed and stress-free for the entire voyage. A favourite amongst Silversea veterans, the Silver Suite features an innovate layout that ensures a gorgeous view of the ocean and a roomy dining and lounge space. Exclusive to Silver Nova, the Signature Suite furthers your destination immersion, with an extended private veranda that spans the entire suite.
For the pinnacle of excellence aboard Silver Nova cruises, we can't help but recommend the Grand Suite or Master Suite. With a distinct focus on ultra-luxury, each of these suites offers sweeping views of the sea, an expansive lounge space capable of welcoming small group of guests, plus your very own walk-in wardrobe, luxury has never felt more decadent!
Dining Options
The Marquee
Combining two of Silversea's favourite dining venues – The Grill and Spaccanapoli – into one unforgettable experience, you'll quickly fall in love with The Marquee. Boasting enchanting al fresco dining, The Marquee features a trademark 'hot rocks' culinary concept that'll instantly wow every guest. Plus, with delectable pizzas prepared by talented chefs, you're all but guaranteed to have an amazing time at The Marquee. Socialise with new found friends or just soak in the endless blue horizon, whatever you do, be sure to make a reservation at The Marquee when you sail on Silver Nova.
Kaiseki
For beautifully prepared Japanese cuisine, nothing on the seas beats Kaiseki. With master chefs carefully creating each and every dish using only the freshest produce, Kaiseki seeks to more than just impress but imprint memories of flavours well after you've left their stylishly designed restaurant. Implementing a balanced menu using the concept of yin and yang, Kaiseki is undoubtedly a top spot to dine in at any point of your Silver Nova cruise. From soft and flavour-packed sushi to divine Asian-inspired dishes, you'll definitely have a fantastic time at Kaiseki. Whether you're having a romantic dinner date with your partner or just want a flavoursome meal, Kaiseki is easily the place to go.
Other dining options:
Atlantide
La Dame
Kaiseki
La Terrazza
The Pool Bar
The Dusk Bar
Activities & Things to do
The Pool Deck
Reimagined and revitalised, The Pool Deck will rapidly become your favourite place to stay as you smoothly sail the seas aboard Silver Nova. Featuring plenty of sunbeds for you and your friends, get your daily dose of Vitamin D and let your cares wash away with the calming waves. Offering panoramic 270˚ views of your surroundings, The Pool Deck is all but guaranteed to impress. Whether you're catching up on some light reading during a sea day, in the mood for socialising with like-minded travellers, or just need a tranquil place to unwind, The Pool Deck is the place to be!
The Cliff Whirlpool
By far the best part of the aforementioned Pool Deck is the mesmerising Cliff Whirlpool. Located on the upper deck, The Cliff Whirlpool is a magical, glass-fronted infinity pool boasting immaculate views of your destination. Understandably the hallmark and statement piece of Silver Nova, The Cliff Whirlpool elevates not only The Pool Deck but additionally your time aboard this elegant ship.
Facts
Year Built: 2023
Guest Capacity: 728
Crew: 556
Length: 801 ft.
Width: 97 ft.
Speed: 19.4 knots
Tonnage: 54,700
Registry: Bahamas