Queen Mary 2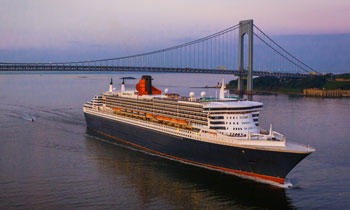 104
Starting Price, Per Night*
Experience the pinnacle of grand adventure on Queen Mary 2 (QM2)
Magnificence and splendour await when booking on any of the extraordinary Queen Mary 2 (QM2) cruises sailing year-round. Masterfully designed in 2003, then beautifully refurbished in 2016, Queen Mary 2 has become one of the most well-known and widely loved ocean liners worldwide. While strongly influenced by the golden-era of cruising, Cunard's Queen Mary 2 also embraces a number of modern conveniences that have become essential in seafaring travel. Boasting delectable dining options throughout the ship, wonderful entertainment options, and so much more, it's no wonder Queen Mary 2 has rapidly become the first choice for many voyagers looking to travel.
Queen Mary 2 embarks regularly on a number of sublime world cruises, with these voyages usually stopping over in Sydney. Whether you wish to board a Queen Mary 2 world cruise departing from Sydney, or anywhere along its excellent itinerary, this voyage is one you will never forget. Explore the ultra-modern city of Dubai, wander the cobblestone streets of Rome, or tour the Hindu temples in Colombo, grand adventure happens every day while sailing aboard Queen Mary 2.
Be sure to also check out our Cunard cruises for sailings departing from Sydney or anywhere in the world from other ships including Queen Elizabeth and Queen Victoria. With hundreds of Cunard cruises and Queen Mary 2 cruises at affordable prices, be sure to book your next holiday with Cruise Guru! From transatlantic crossings to short weekend cruises, we'll have a voyage and itinerary that is just right for you.
Queen Mary 2 Accommodation options
Regardless of wherever you choose to stay on Queen Mary 2, every stateroom or suite has been meticulously designed to ensure you remain relaxed and encompassed by elegance for your entire voyage. With every Queen Mary 2 accommodation option having a dedicated steward who will happily answer any and all needs, we at Cruise Guru believe that there are no wrong options on this brilliant ship. Queen Mary 2 also features a number of new and spacious single cabins, perfect for solo travellers searching for a grand adventure. No matter what kind of adventurer you are, this passenger ship stands tall amongst the rest with its truly marvellous cabins.
Britannia Staterooms on QM2
Beautiful in all regards and with a wealth a space no matter its location, Britannia Staterooms on Queen Mary 2 are perfect for any kind of traveller looking to sail the seas. There are three main types of Britannia Staterooms, all coming with the same amenities and services with only slight differences. The Britannia Inside Stateroom offers guests a luxurious king-sized bed and a beautifully decorated place to relax after a long day socialising aboard Queen Mary 2 or exploring a destination. Britannia Oceanview Staterooms everything you possibly need for a wonderful holiday with a sublime addition of a window directly facing the sea. Britannia Balcony Staterooms, whether it's in deck 12 or deck 4, elevate this view further, providing guests with their very own private outdoor area to enjoy the serenity away from other guests. Take it easy on these balcony staterooms and let your cares fade away!
Suites
Guests who book into any of Queen Mary 2's suites will not be disappointed, as each lodging comes with an extensive list of features and benefits that will impress anyone. Princess Grill Suites offer a remarkable list of amenities ranging from sparkling wine and chocolate on arrival, in-suite dining, priority embarkation, private balconies, as well as an exclusive Princess Grill restaurant accessible only by Suite passengers. Queens Grill Suites elevate your holidaying experience even further with an unprecedented amount of space, a complimentary bar stocked with two drinks of your choice, an iPad and PS4, as well as your own exclusive Queens Grill restaurant and in-suite dining menu.
Dining options of Cunard's Queen Mary 2 (QM2)
Steakhouse at The Verandah
While on your unforgettable Queen Mary 2 cruise, we strongly recommend making a reservation at the Steakhouse at The Verandah. Perfect for an exquisite lunch with new friends or a romantic dinner with a loved one, Steakhouse at The Verandah offers a delightful selection of dishes we're sure you'll enjoy. From a mouth-watering Australian Wagyu beef steak, a delectable Grand Platter Fruit de Mer, to their renowned Cunarder Burger, every dish promises to be delicious. Be sure to book a table during your next voyage aboard Queen Mary 2 (QM2).
Golden Lion Pub
A lively pub with plenty of your favourite drinks, the Golden Lion Pub is a great spot to unwind after a thrilling day of cruising on Queen Mary 2. Boasting an expansive selection of ales, lagers, ciders, and much more, your time at the Golden Lion Pub will surely be the first of many. Plus with a fantastic choice of food – all of which is included at no extra cost to your passenger fare – we strongly suggest visiting this excellent venue on your next Cunard cruise!
Other Dining Options:
Main Dining Room

Britannia Restaurant
Britannia Club Restaurant
Princess Grill
Queens Grill

Kings Court (Buffet)
Boardwalk Café
Room Service
Bars and Lounges:
Carinthia Lounge
Grills Lounge and Terrace
Terrace Pool and Bar
Commodore Club
Activities & Things to do on QM2
Royal Court Theatre
Looking for plenty of fun and excitement for an evening or two while on your Queen Mary 2 voyage? Head straight to the Royal Court Theatre, where there will almost certainly be a dazzling West End calibre production for you to enjoy. With comfortable seating, world-class technologies backing each production, and brilliant performers showcasing their incredible talents, we're sure your time at the Royal Court Theatre will be nothing short of magnificent.
Canyon Ranch SpaClub
Discover your new favourite place to relax and rejuvenate your body at the Canyon Ranch SpaClub. Offering an amazing selection of life-enhancing experiences and treatments, feel your body revitalise itself as you sail along the ocean. Whether you want to spend some time in the sauna at the Aqua Therapy Centre, enjoying a marvellous deep-tissue massage, or a revitalising Seaweed Peat Wrap, the Canyon Ranch SpaClub will more than happily accommodate.
Other onboard activities and things to do:
Illuminations
Casino
Photo Gallery
Art Gallery
Terrace Pool and Bar
Library
Kennels
Deck Games
Sun Deck
Live Music
Children's Facilities
Traditional Afternoon Tea
Queen Mary 2 (QM2) FAQ's
What time does Queen Mary 2 leave Sydney?
Queen Mary 2 cruises departing from Sydney usually leave during the evening at 9pm. This is due to the fact that Sydney for Queen Mary 2 is usually part of a longer Cunard World Cruise with the ship staying overnight the day before. In turn, this leads to a departure time that might be a little later than expected. Nevertheless, the late departure is the perfect opportunity for most people to get acquainted with the ship, fellow guests, and the various amenities located nearby.
When was Queen Mary 2 built?
Queen Mary 2 began construction on 4 July 2002, with its hull being floated out on 21 March 2003. The magnificent ocean liner was officially completed on 22 December 2003, with the ship enjoying its maiden voyage on 12 January 2004. Built in France and costing over US$1bn at the time, Queen Mary 2 has gone on to become one of the most iconic ships worldwide, sailing to destinations from Sydney to Southampton.
How many passengers can stay on Queen Mary 2?
As of the 2016 refurbishment, 2,695 passengers can stay aboard Queen Mary 2, with an additional 1,253 crew working round the clock to ensure every guest can sail around the globe safely.
What is the dress code on Queen Mary 2?
Cunard recommends stylish casual wear during the day, which is typically short sleeved shirts, shorts, jeans or chinos, and when appropriate beachwear. During the evenings, however, Queen Mary 2 embraces the classic style of cruising with either formal or informal nights. Daytime attire is not allowed after 6 pm in certain areas of the ship including dining areas.
For formal nights, expect to wear a dinner jacket, tuxedo, or dark suit for men while women sport an evening or cocktail dress. Informal nights still require men to wear jackets, however, ties are completely optional. Women are recommended to wear either cocktail dresses or two-pieces. There may additionally be themed nights during your trip, and expect many of your guests to spare no expense on their outfit here.
"Darts, karaoke, live sports and ale – everything you'd expect of an authentic English pub. There's even a traditional pub lunch served every day, with classic favourites such as fish and chips and cottage pie."
Facts
Entered Service: 2004
Planned Refit: May 2016
Country of Registry: Bermuda
Speed: 28 knots
Guest Capacity: 2,691
No. of Crew: 1292
Length: 1,132 feet
Width: 131 feet
Draft: 32 feet