Queen Elizabeth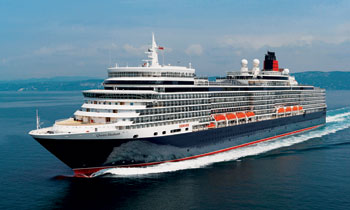 115
Starting Price, Per Night*
Revel in the glamorous lifestyle on Queen Elizabeth cruises
Immerse yourself in unforgettable and unparalleled luxury on Cunard's Queen Elizabeth cruises. Elegantly adorned with a stunning art-deco-inspired interior design and outstanding amenities, guests on a Queen Elizabeth cruise will be transported to an enchanting world full of excitement and wonder. Queen Elizabeth is classic in every sense but embraces convenient modern conveniences every traveller has come to expect, from computer lounges to extravagant shopping. With flavoursome fine dining, sublime evening events with sparkling eveningwear, as well as luxurious Britannia staterooms and sophisticated Suites, each of Cunard's Queen Elizabeth cruises promises to amaze and inspire.
Head up to the Games Deck for an enjoyable game of croquet, stroll down to the gorgeous Royal Court Theatre for some astounding live performances, or rejuvenate your body with a treatment at The Royal Spa. With no ostentatious gimmicks or blasting neon lights, every voyage on this Cunard ship is focused on highlighting the elegance of the classic heritage of cruising and the timeless nostalgia that regularly brings guests back. Whether you wish to sit back in the Garden Lounge or enjoy the iconic Afternoon Tea, Queen Elizabeth cruises are destined to impress.
Queen Elizabeth typically spends extended seasons sailing through the pristine coastlines of Australia, often embarking on exceptional Cunard cruises from Sydney, cruises from Melbourne, and cruises from Auckland. Australia cruises on Queen Elizabeth make stops at beautiful destinations across the country including Hobart, Kangaroo Island, and Adelaide. She also spends some of her time sailing through the splendid area of Alaska where guests can gaze upon awe-inspiring glaciers and connect with the inviting locals. Cunard voyagers on Queen Elizabeth can also book into remarkable Asia cruises that visit exotic countries such Singapore, Japan, and Hong Kong.
Queen Elizabeth Accommodation options
Whether you want a fantastic Britannia stateroom or one of the spacious Suites, each Queen Elizabeth cabin is perfectly designed to make you always feel as comfortable as possible. Every accommodation option on this Cunard cruise ship is comes with its own steward dedicated to answering your every need or want. Solo travellers are also accounted for on Queen Elizabeth with a selection of well-appointed Single Britannia staterooms, which come with all the benefits you would expect from a normal twin-share.
Britannia Staterooms
Fitted with a plush King bed and enough space for you and a loved one to comfortably unwind, the Britannia Inside stateroom is a great choice for those who love to spend their journey exploring the ship and socialising with guests. The Britannia Oceanview brings in a lovely window into the Queen Elizabeth stateroom, affording guests to a splendid look into the ocean for the entirety of their trip. Elevating this view even further is the Britannia Balcony stateroom offering an outdoor veranda essential for guests who wish to spend some time in a secluded space to watch the world go by. For those who love having plenty of space, the Britannia Club Balcony stateroom offers boundless room that can even hold a small group of guests.
Suites
Patrons who desire a heightened level of extravagance can book into one of the phenomenal suites on Queen Elizabeth cruises. There are two main types of suites on offer, each having its own private section of the Main Dining Room in addition to a specialised menu exclusive to those guests. The Princess Grill Suites offer marvellous amounts of space as well as complimentary Penhaligon toiletries and a seven-pillow concierge menu. The Queens Grill Suites offer guests the chance to experience a true royal treatment. With an expansive space to welcome fellow passengers, a personal butler and concierge, in addition to priority embarkation and disembarkation, the Queens Grill Suite provides the pinnacle of sophistication at all points of the luxury voyage.
Dining options of Cunard's Queen Elizabeth
Steakhouse at The Verandah
Patrons seeking a magnificent steak can saunter over to the outstanding Steakhouse at The Verandah. Cunard's excellent team of chefs have worked tirelessly to provide guests with unforgettable meals using succulent USDA prime cuts and sublime seafood dishes. Whether you scotch grass-fed Black Angus steak, a USDA grain finished New York strip steak, or just a simple Louisiana short rib, every visit to Steakhouse at The Verandah is as special as the last. Make a lunch or dinner reservation on your next Queen Elizabeth cruise ship adventure!
Golden Lion Pub
For guests who want a more casual dining affair can visit the vibrant Golden Lion Pub for delicious food and an entertaining time. With large TVs playing thrilling live sports, exciting pub games to try out, and comfortable cushioned seating, the Golden Lion Pub is an incredible to spend some time socialising with your closest friends. Grab a pint of their thirst-quenching signature Cunard Craft beers, a beautifully prepared cocktail, or a beverage featuring their 3 Queens Gin and spend an extraordinary time at Golden Lion Pub.
Other Dining Options:
Main Dining Room

Britannia Restaurant
Britannia Club Restaurant
Princess Grill
Queens Grill

Lido
Afternoon High Tea
Al Fresco Dining
Room Service
Commodore Club
Gin & Fizz
Queens Room
Chart Room
Yacht Club
Activities & Things to do
Royal Court Theatre
Searching for exciting entertainment during your remarkable Cunard cruise on Queen Elizabeth? Look no further than the Royal Court Theatre! This phenomenal auditorium has guests returning every night with an abundance of charming events to experience. From spectacular dance productions from their astounding Cunard Royal Dancers, exhilarating West-End calibre theatrical productions, or renowned international cabaret artistes, the choices are endless. With stellar performances by world-renowned talent, there is no better place for entertainment on a Queen Elizabeth cruise ship than the Royal Court Theatre.
Mareel Spa
A deeply rejuvenating escape from the stresses of reality, the Mareel Spa is a luxurious wellness and beauty centre that helps reconnect you with your mind, body, and soul. Whether you want to access the life-renewing Aqua Therapy Centre, enjoy a soothing Mareel Stone Massage, or a relaxing organic seaweed leaf wrap, the Mareel Spa promises to refresh all aspects of you with every treatment. Book an appointment on your next Queen Elizabeth holiday across the seas!
Other onboard activities and things to do:
Gala Nights
Ballroom & Sequence Dancing
Live Music & Classical Concerts
Parties
Casino
Film Screenings
Guest Speakers & Enrichment Programs
Indoor Games
Behind the Scenes Tours
Pools
Dance Classes
Games Deck
Sporting Activities
Fitness Classes & Fitness Centre
Interdenominational Church Service (on Sundays)
Shopping
Art Galleries
Facts
Entered Service: 2010
Refit: May 2014
Port of Registry: Bermuda
Service Speed: 21.7 knots
Max Speed: 23.7 knots
Guest Capacity: 2,081
No. of Crew: 1,005
Length Overall: 964.5 feet
Width: 106 feet
Draft: 25.9 feet