Ventura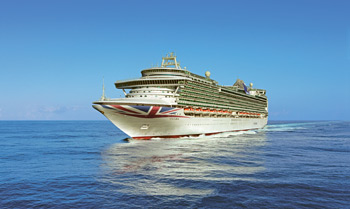 130
Starting Price, Per Night*
Ventura Cruises
There's always something happening on Ventura, enjoy delicious fine dining, a tranquil spa, many quiet spaces to unwind, great sports facilities and four pools. Evenings are particularly memorable, with the lavish two-deck theatre where you'll witness elaborate shows and stand-up comedy.
Perfect for families
Ventura offers freedom for families with age-specific kids' clubs, night nursery for under 4s and dedicated family restaurants and early eating times, creating the perfect balance for families. So you can enjoy quality time together as well as time separately.
Free age-specific children's clubs ranging from 2-17 years and night nursery for under 4s
Family-friendly swimming pools
Dedicated family restaurants & early eating times for children
Shore excursions designed for families
Great for adults
With delicious fine dining, wine bars and plenty of places to relax and unwind you're in for a treat on Ventura. There's also a tranquil spa, sports facilities, a well-equipped gym and four pools. In the evening there's plenty of places to be entertained including a show lounge, three-deck atrium with dance floor and show lounge.
Places to unwind
Oasis Spa Reception
Stop by Ventura's spa reception to book your next appointment or enquire about the array of different treatments available. Located just outside the spa and salon on Deck 16, our helpful staff will be on hand to answer any queries.
Sports Court
Like to keep on the move? Ventura's sports court is the place to go for a spot of five-a-side, tennis, cricket or basketball. Located atop the ship on Deck 17, children and teenagers can burn some excess energy, while adults might take part in activities such as Tai Chi and outdoor aerobics.
Open Deck
Enjoy fresh air and great views on the open decks. A great place to watch your ship glide gracefully into port or to watch the ocean rush by when at sea.
Highlights
The White Room – Italian created by Marco Pierre White
Frankie's – grill, pizzeria and ice-cream parlour
The Glass House – by Olly Smith
East – Oriental restaurant by Atul Kochhar
Tazzine – cafe
Metropolis with 20m plasma video wall
Oasis Spa with endless pool and thermal suite
4 pools, 1 with skydome and 6 whirlpool spas
Sports court & golf nets
Havana show lounge
The Red Bar
The Tamarind Club for comedy and live music
The Exchange (English pub)
Fortunes casino
Deck bars
Fun for all the family
Tumblers Nursery (at night)
If you are here holidaying with a very young child, then Ventura's nursery will be a welcome addition to the ship. There will be a soft play area for child and parent time during the day. While for sleepy heads a night nursery with cots and beds will be open from 6pm to 2am. Parents can settle their child down to sleep and then enjoy the evening knowing they will be paged if there are any problems. The Night Nursery is free of charge and based on a first come first serve basis.
The Reef
The Reef can be found on all family friendly ships and offers free, age-appropriate activities for children of all ages throughout the day and into the evening all staffed by a fully trained team of Reef Rangers. Fun activities range from themed day activities, sports challenges, games, quizzes and much more. Ventura has five areas for different ages Tumblers Nursery, The Den, Decibels, Jumping Jacks and Toybox.
Decibels
Teenagers will be in their element on Ventura. They will find a Game Arena to challenge friends to a game of table football or the latest video games. While a funky, modern chill out area that's all their own comes complete with DJ's decks. With less emphasis on organised activities, teenagers will enjoy the opportunity to make new friends. Later events such as discos will create a party atmosphere.
Dining
Great memories are on the menu on board Ventura
Enjoy three main restaurants offering a choice of Club Dining – the same table at the same time each evening – or Freedom Dining with no fixed seating or dining times.
There's also the opportunity to visit the Select Dining venues of Sindhu, the first restaurant at sea from master of spices Atul Kochhar; The Epicurean, where a sense of occasion is always on the menu; and The Glass House, a wine bar and restaurant created in partnership with award-winning wine guru Olly Smith.
Main dining options:
Saffron
Cinnamon
Bay Tree
Afternoon tea
Casual dining options:
Waterside
Poolside snacks
Room service
Select dining:
The Epicurean
Sindhu
The Glass House
The Beach House
About Ventura
A superliner designed to provide inspirational holidays for all ages, life on board Ventura will be exciting, spontaneous and full of surprises. All around modern, interactive and tactile art will fascinate and engage you. As you turn each corner you will discover something new, vibrant and often quite unexpected.
During the day you can savour rich coffee and conversation in Tazzine, rejuvenate in the lavish spa, race cars around a giant Scalextric track, refresh yourself in one of the ship's inviting pools or bounce on bungee trampolines in Cirque Ventura up on the open deck. Off her stunning three deck atrium you will find a tempting selection of shops, bars and eateries.
After dark a kaleidoscope of sights, sounds and tempting aromas will enliven an already elevated mood. Flexible and innovative, evenings will offer a real sense of freedom. Dine in her unique fine dining venue, The White Room, created by Marco Pierre White. Watch one of the vibrant show in the Arena Theatre. Gaze at some of the world's most captivating cityscapes as they are revealed, in real-time, on Metropolis' 20 metre wide floor-to-ceiling video wall.
Entertainment
Enjoy a great variety of entertainment
When it comes to entertainment and things to do we've something for everyone on Ventura.
Arena theatre
West End-style shows and cabaret light up her technologically advanced stage, but you can also enjoy talks and watch films on the big screen in this venue.
Tamarind club
Imperial and exotic touches will combine to create an element of escapism and opulence. A wonderful setting for comedy and live music, this venue will provide a memorable night.
Havana
With a stage and dance floor you might dance to a live band or DJ, take part in some karaoke, or enjoy some late night cabaret. This vibrant venue will get livelier as the night progresses.
Fortunes casino
The flashing lights of the slot machines and the suspense of blackjack beckons, as does a great night out.
Activites
Activities on board Ventura
There are plenty of daily activities on board to keep you busy with bars, pools, sports venues and shops, or you can relax by the pool or curl up with a good book on deck or in the library.
Sea day activities
Family and kids' clubs
The library
Art gallery
Shopping
Relax by the pool
Sports
Facts
Country of registry: Bermuda
Port of registry: Hamilton
Entered service: April 2008
Named by: Dame Helen Mirren
Gross Tonnage: 115,000
Length overall: 290m (951ft)
Breadth: 36m (118ft)
Draught: 8.3m (27ft)
Service speed: 22 knots
Crew: 1,226
Regular passenger capacity: 3,078
Maximum passenger capacity: 3,574
Passenger decks: 15
Passenger cabins: 1,539