Coral Princess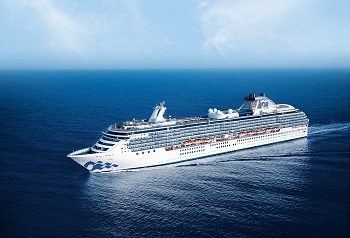 123
Starting Price, Per Night*
Coral Princess Cruises
If you love exploring Australia, then you'll undoubtedly love Coral Princess cruises! Departing from Brisbane and Sydney, Coral Princess boasts some fantastic sailings across Australia, New Zealand, and the South Pacific. Plus, if you like grand world voyage, a Coral Princess cruise needs to be at the top of your list, with a selection world voyages to destinations across the globe.
From May to September of each year Coral Princess cruises explore the straights and fjords of Alaska.  These cruises depart from either Vancouver or Whittier and spend the majority of the season cruising one way between the two cities.  As the weather cools, Coral Princess makes her way down the US Pacific Coast to Los Angeles, starting a season of bucket-list Panama Canal cruising and South American adventures. Coral Princess' South American itineraries depart from Buenos Aires, Fort Lauderdale or San Antonio in Chile.
KIDS, TEENS & FAMILY
There's a world of riveting and exciting things to do for the whole family on Coral Princess. Whether it's the fun-filled Discovery at SEA Programs designed to entertain the young ones or the marvellous Festivals of the World, there will definitely be something for everyone as they sail away on a Coral Princess cruise.
Kids 3-7
The young ones will never be bored when you sail on Coral Princess, and the fun times start at the Treehouse! Boasting an enchanting forest theme throughout the area, the Treehouse gives your kids a safe space to play with plenty of active and non-active things to do.
Kids 8-12
Your older kids might not be interested in the Treehouse, but they'll certainly love going The Lodge! Taking on an outdoorsy mountain range theme, The Lodge features an amazing selection of fun-filled things to do. From air hockey, foosball, other arcade-type activities as well as more fun spaces to hang out, The Lodge will keep your kids busy for hours on end.
Teens 13-17
Where all the cool kids go on Coral Princess, The Beach House is a contemporary lounge that is a great place for your teens to meet other people of their age. Whether it's watching age-appropriate movies, dance classes, to even video game tournaments, The Beach House is the place to be!
Coral Princess Food & Dining
Food has never been so delicious as with Coral Princess! Offering an endless selection of flavour-filled dining options to choose from at all times, whether you're craving an afternoon treat or up late looking for a midnight snack, there's definitely something for you!
Anytime Dining
As you might suspect, Anytime Dining gives you the freedom to choose what time you have your delectable dinner. As such, between 5:30 pm and 10 pm, guests can come in and dine whenever and with whomever they wish. That means you can catch up with your family one night at 6 pm, then get to know some newfound friends you met on your Coral Princess cruise at 9 pm the next night!
Traditional Dining
Prefer to have some structure in your dining experience and love how seafaring holidays were during the Golden Era? Don't you fret, Coral Princess' Traditional Dining option lets you dine at the same time next to the same people and have the same waiters serve you every meal. Get to really know your loved ones and make an authentic connection with the waitstaff onboard.
International Cafe
Remember how we mentioned Coral Princess let's grab a midnight snack? That's where the International Café comes in! Open for business 24-hours a day, this delightful café has a brilliant menu of sweet treats, gourmet snacks, and sumptuous drinks. What's more, if you're in need of your morning coffee (like many of us do!) head on over to the International Café. With talented baristas brewing a magnificent array of hot and cold drinks, this is definitely the place to be when you're in need of a caffeine hit.
24-hr Room Service
If you're a little peckish but don't have the energy to change, pop out of your stateroom and head to one of the excellent Coral Princess dining venues, just call up the 24-hour complimentary room service! While it won't have the expansive menu you'd find at the main dining room, you'll still be able to choose some of your favourites. Whether it's a cheeky little sandwich, a chocolatey delight, or a refreshing beverage, you'll still have lots to choose from.
Charges apply on select menu items.
Other Coral Princess Dining Options
Horizon Court
The Bar & Grill
Crafted by Curtis Stone
Chocolate Journeys
Princess Pizzeria
Coral Princess Specialty Restaurants
If you're in the mood for something more than just your usual – but delicious – main dining room fare, then we definitely recommend making a reservation at any of the specialty restaurants aboard Coral Princess. From mouth-watering steaks at the Bayou Café & Steakhouse or some award-winning Italian cuisine at Sabatini's to the unforgettable Chef's Table Experience, guests will have plenty to choose from.
Be sure to book a table early, as these can often be snapped up quickly! Coral Princess specialty restaurants include:
Sabatini's
Bayou Cafe & Steakhouse
Chef's Table Experience
Onboard Activities
There is so much to do on Coral Princess, and trust me, there will never be a dull moment when you're sailing on this beautiful Princess cruise ship. Whether you're looking for a relaxing voyage or a jam-packed adventure, Coral Princess more than accommodates all styles of sailing.
Pools & Spas
Go in for a big splash or just kick up your feet and unwind at the hot tubs, no matter the choice, relaxation awaits!
Lido Pool (plus 3 hot tubs)
Lotus Spa Pool (plus 2 hot tubs)
Sports and Coral Princess Fitness Center
If you're in the mood for some friendly competition with some friends, Coral Princess has a great choice of sports to take part in. Go for a run around the jogging track, shoot some hoops at the basketball court, or get your pump on at the gym. No matter your preferred style of staying fit, every Coral Princess cruise will have what you need.
Lotus Spa, gym and fitness area
Swim-against-the-current lap pool
Nine-hole putting course
Shuffleboard
Center Court
Enrichment
If you love to learn about various topics and ideas from across the globe, you'll certainly like sailing on a Coral Princess cruise. Sit in on a lecture or two, view some breathtaking artworks at the art gallery, or attend some fun-filled classes.
World-class art collection, gallery and auctions
ScholarShip@Sea
24-hour Internet Cafe (wireless access available)
Library and writing room
Hearts & Minds Wedding Chapel
Boutiques
Featuring all the latest brands at affordable prices, take a look at what's on offer at the various boutique stores on Coral Princess. Plus, they're duty-free, so shop until you drop!
Boutiques (duty-free)
Future Cruise Sales
Entertainment aboard Coral Princess
Keep yourself more than busy by checking out the many entertainment options on offer every night onboard a Coral Princess cruise. Dance the night away at the nightclubs, laugh harder than ever by the talented comedians, or get closer to your loved ones by watching a feature film.
Movies Under the Stars
Nothing is more iconic on a Princess cruise than watching your favourite movies under the stars! Located up top on the poolside amphitheater, check out the family-friendly films to romantic movie classics. Curl up on one of the comfortable seating next to a loved one, grab yourself a box of complimentary popcorn, and let all your cares fade away.
Original Musical Productions
Inspired by the productions made on Broadway, every musical production on Coral Princess is nothing short of spectacular. Brought to life by world-class choreographers, performers, and directors, spending a night checking out one of these shows will certainly be extraordinary. Bring your closest friends and have a fantastic night on Coral Princess!
The Voice of the Ocean
If you have the skills to sing your heart out, then The Voice of the Ocean is definitely for you! Collaborating with the famous TV show The Voice, this competition has you and fellow passengers singing classic tunes in hopes to impress the judges. With auditions, rehearsals, and mentoring by those experienced in the industry, The Voice of the Ocean is your chance to stand out amongst the crowd and win it all. Become the singing sensation you always wanted to be and sign up for The Voice of the Ocean.
Explorers Lounge
Feel like kicking it back with a couple of sumptuous drinks with some friends and enjoy some riveting music? Then head straight to the Explorers Lounge on your Coral Princess cruise. With plenty of leather-bound seating, grab your closest friends and have a night you'll never forget at the Explorers Lounge. Plus, with its very own dance floor and rocking music, even those who feel like having a little fun are accommodated for.
Other Entertainment Options
Music & Dancing
Vegas Style Casino
Featured Guest Entertainers
Princess Theater
Universe Lounge
Activities
Coral Princess has plenty of fantastic activities and things to do for all ages. Shop the latest brands at their boutique stores. Jump in and have a splash at the freshwater pools and hot tubs. Enjoy foot-tapping tunes at The Atrium. The choice is yours!
Discovery at SEA Programs
Collaborating with the world-renowned Discovery Channel, the Discovery at SEA Programs is custom-designed to teach your young ones about the wonders that await in nature. Taking inspiration from popular shows on their channel including Finding Bigfoot and Shark Week, every activity on the Discovery at SEA Programs will certainly be a hit for the kids.
Festivals of the World
Available only on select Coral Princess cruise itineraries, Festivals of the World let you experience the wonderful cultures there are all across the globe. Learn about all things Maori with the Matariki Festival including a fun-tastic Poi Ball dance class. Experience all the tropical delights at the Caribbean Festival from the vibrant Caribbean Piazza Dance party to Steel Pan drum classes. Dance to a samba beat at the Rio Carnival then try your luck at the cultural-historical trivia.
Safe to say, it's endless fun and excitement whenever you attend one of the Festivals of the World.
*On select sailings.
The Atrium
Often considered as the centerpiece of any Princess cruise ship, Coral Princess certainly stands out with a unique multi-layered design allowing guests to see the action from various different levels and heights. With white marbled floors, intricate floor carvings, and inviting flora, the Atrium is the place to be when you feel like seeing all the action happening across Coral Princess.
Other Coral Princess Activities and Things to Do
The Shops of Princess
Art Gallery & Auction
Photo & Video Gallery
Freshwater Pools & Hot Tubs
Sports Court
Internet Café & Library
Frequently Asked Questions aboard Coral Princess
How many passengers does Coral Princess hold?
Coral Princess has a maximum capacity of 1,970 passengers. What's more, with ~900 crew on board at any time, you'll always be well cared for during your Coral Princess cruise.
When was Coral Princess last refurbished?
Coral Princess completed its latest refurbishment in early 2019, with the inclusion of new and improved staterooms, dining venues, and much more. In 2020, Coral Princess also switched on MedallionClass features as well, pushing the latest in wearable travel technology.
Is Coral Princess a MedallionClass?
Yes! Along with other Princess cruise ships including Diamond Princess and Majestic Princess, Coral Princess comes with all the benefits you'd expect on other MedallionClass Experience ships, including the revolutionary wearable device OceanMedallion. Supporting touchless embarkation and disembarkation, on-demand food and drinks, keyless stateroom entry, and so much more, your experience on any Coral Princess cruise promises to be smooth and stress-free.
Facts
Passenger Capacity: 2,000 lower berths
Tonnage: 91,627
Inaugural Cruise: January 17, 2003
Last Refurbished: February 2013
Christened By: Mireya Moscoso, President of Panama
Number of Crew: 895
Registry: Bermuda
Length: 965 feet
Height: 203
Number of Decks: 16
Passenger Cabins: 1,000
Suites with private balconies: 16
Mini-suites with private balconies: 192
Balcony cabins: 527
Ocean view cabins: 157
Inside cabins: 108
Cabins with Private Balconies: 789
Wheelchair Accessible Cabins: 20
Pools: 4
Whirlpools Spas: 5
Lifeboats: 12 lifeboats, 4 tenders, 2 rescue boats
Builder: Chantiers de l'Atlantique, St. Nazaire, France