Diamond Princess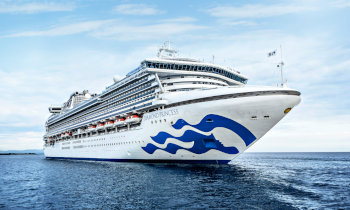 113
Starting Price, Per Night*
Diamond Princess Cruises
Diamond Princess is Princess Cruises' resident Asian ship sailing from ports in Japan (Tokyo, and Kobe), Taiwan (Keelung for Taipei) and Singapore.  Give the Diamond Princess or cruising in Asia a try with one of her short three to six night cruises, spend a week discovering Japan and beyond, up to two week adventures, or longer in-depth explorations. Discover why so many voyagers choose Princess Cruises every year by booking a Diamond Princess cruise now.
Diamond Princess is a treasure trove of exceptional delights waiting to be discovered. Dine on freshly prepared sashimi in Kai Sushi, watch street performers in the dazzling Atrium, or take in a lavish production show in our state-of-the-art theatre. And for a unique treat visit the Izumi Japanese Bath, the largest of its kind at sea.
Dining
Indulge your appetite whenever you wish on board Princess. Every hour, our chefs are busy baking, grilling and sauteing great-tasting fare from scratch. Princess offers unparalleled inclusive dining options throughout the ship with a wide range of culinary delights to suit any palate, from endless buffet choice to gourmet pizza, frosty treats, decadent desserts and much more.
Anytime Dining
Just like a restaurant at home, Anytime Dining enables guests the freedom to dine when and with whom they wish, at any time between 5:30 PM and 10 PM. Reservations are available through an onboard dining hotline, but not required, and diners may choose to eat only with their own group, or be seated with other guests. The choice is yours.
Traditional Dining
Harkening back to the Golden Era of sea travel, our Traditional Dining option allows you to dine at the same time each day and enjoy the same tablemates and waitstaff throughout your voyage. Choose from either early or late seating.
Crafted By Curtis Stone
In the Main Dining Room, savor fresh new cuisine designed by award-winning Chef Curtis Stone during every voyage. Personal reflections on the menu by Chef Stone elaborate on each "Crafted" selection, prepared with the most authentic ingredients. Be enticed by dishes featuring delicious meats and seafood, fresh produce and vibrant, bold flavors.
Chocolate Journeys
There are few foods that inspire as much passion as chocolate, and master chocolatier Norman Love has designed some of the most decadent, hand-crafted treats exclusively for Princess' Chocolate Journeys program. Trained in France, and named the Inaugural Inductee into the Chocolatier Hall of Fame by Dessert Professional Magazine, Chef Love combined premium quality chocolate with unique flavors and artful designs to mastermind his exclusive creations found in the main dining room and at Horizon Court.
Horizon Court
Horizon Court offers an endless selection that changes throughout the day to satisfy the most discriminating palate. Indulge in a delightful array of worldwide cuisine, freshly baked breads and regional comfort foods, in a casual setting at breakfast, lunch or dinner. Enjoy fresh fruits, signature pastas and desserts galore along with your favorite beverages and customizable features like create-your-own salads and sandwiches.
Prego Pizzeria
A perennial Princess passenger favorite, Prego serves up freshly made Neopolitan-style pizza by the slice or by the whole pie. Named the "Best Pizza at Sea" by USA TODAY, you'll savor classic favorites made with hand-tossed dough, fresh tomato sauce, cheeses and pepperoni or try the daily specials.
Trident Grill
Follow your nose to the Trident Grill where the burgers are flipping and the hotdogs roasting, served with a variety of fixin's and crisp fries. Veggie burgers, bratwurst and grilled chicken breast are also served and all are sure to hit the spot when you are relaxing out on deck.
La Patisserie
For cappuccino, espresso and other coffee specialties, as well as fresh pastries throughout the day, head to La Patisserie for quick treats in a comfortable, casual sidewalk cafe-style setting. Savor a buttery croissant or your favorite cookie while sipping on an aromatic coffees. For something a little stronger, specialty drinks, wine, and beer are available at current menu prices.
24-hr Room Service
We offer 24-hour complimentary room service when you want to enjoy a quiet moment in your cabin eating a delicious club sandwich or maybe that slice of chocolate fudge cake you can't forget. Treat yourself to breakfast in bed, or stay in for an intimate dinner, and perhaps even cocktails, in the comfort of your stateroom. 24-hour room service is just a phone call away.
Specialty Dining
Dining on board a Princess cruise ship is a joyful celebration and our specialty restaurants always deliver an extraordinary experience. They are among the best at sea – or anywhere. We serve dishes made with the freshest ingredients, and our menus reflect regional flavors from around the world. You'll find our specialty restaurants are the perfect place to celebrate any occasion.
Sabatini's
Sterling Steakhouse
Kai Sushi
Activities
On every Princess ship, you'll find so many ways to play, day or night. Explore The Shops of Princess, celebrate cultures at our Festivals of the World or learn a new talent – our onboard activities will keep you engaged every moment of your cruise vacation.
Discovery at SEA Programs
Our exclusive partnership with Discovery Communications lets you come back captivated with Stargazing on our top deck; activities featuring DiscoveryTM hit shows such as Shark Week and Finding Bigfoot; plus our new Encounters with Discovery at SEA speaker series. Get more out of your travels with shore excursions recommended by two of the most trusted names in world travel-Discovery and Animal Planet.
Festivals of the World
There's nothing like a Princess party to bring people together. Our Festivals of the World hosts onboard events that celebrate timeless traditions from nearly every corner of the globe.* Parties and dancing, lively music and folkloric performances, enriching activities, themed movies and specialty shopping are just some of the ways our Festivals of the World come to life! From Oktoberfest to Rio's Carnival, Festivals of the World is a gala event you won't want to miss.
*On select sailings.
The Shops of Princess
It's no surprise The Shops are awarded "Best Onboard Shopping" from Porthole magazine year after year. On board, you'll find a fabulous range of fine merchandise from brands like Swarovski, Chanel, Estee Lauder, Clinique, Lancome, Calvin Klein, Citizen and Tissot, plus local crafts, keepsakes and souvenirs. And everyday tax- and duty-free savings can add up to as much as 30% off suggested U.S. retail prices.
Art Gallery & Auctions
Great art, like the destinations we visit, can be awe-inspiring. Peruse our extensive art gallery, or attend an art history lecture highlighting some of the world's greatest masters. And don't miss our exciting Champagne Art Auctions, which give you the chance to view and bid on a wide range of fine art, including pieces by famous artists like Thomas Kincade, Wyland, and Michael Godard. There is no charge to attend these lively events.
Photo & Video Gallery
Our staff of digital photographers and videographers helps capture the highlights of your cruise including onboard events, ports and scenery for lasting memories of your trip. Our studio locations are set up in the Atrium each evening and all formal and casual portraits are on display in the gallery the following day. Please ask our staff about portrait packages, reprints and canvas reproductions of your favorite photos!
Platinum Photography Studio
Our Platinum Studio specializes in premium black and white portraits. Skilled photographers using expert lighting techniques will create a suite of stunning photographs that truly capture the essence of its subject. After your purchase, the portraits are professionally printed and mounted at a custom photo lab on premium quality paper. Then, they're artfully packaged and delivered to your home after your cruise.
Freshwater Pools & Hot Tubs
Take a dip in our sparkling freshwater pools and leave your everyday world behind. Unwind on a padded lounger and soak up the sun, catch up on reading, listen to music or dream of your next adventure on board or ashore. And what better way to relax and revitalize after a day exploring the world than a long soak in one of our whirling hot tubs. And don't forget, there is always a server nearby to bring you a refreshing cocktail or favorite beverage.
Sports Court
Feel the court under your feet and the thrill of victory as you sink the ball in for two points. No matter your athletic ability, there's nothing like shooting a few hoops out in the middle of the ocean as you watch the sun set and the stars come out. Our Sports Court is not only set up for basketball but also for volleyball. Pick up a game, compete against fellow passengers for bragging rights, or start your own dream team.
Internet Cafe & Library
Our Internet Cafe is filled with computers so it's easy to access your mail account or browse the Internet for world news, sports and stock trading. Or bring your own electronic devices and access the Internet through our improved onboard wireless service. The Internet Cafe is open 24 hours a day. For those looking to absorb more traditional media, our onboard library is fully stocked with up to 2,000 books, many specifically tailored to your itinerary as well as the classics and best sellers.
Onboard Experience
Throughout your cruise, whether you love activity or crave tranquility, Princess offers everything you could need for a relaxed, rejuvenating retreat, including a wide variety of freshly prepared cuisine and innovative experiences all designed to help you escape completely.
Kids, Teens & Family
Leave it to Princess to create experiences the whole family can enjoy. The destinations we visit come to life with our Festivals of the World celebrations and Discovery at Sea programs like Shark Week. If you're looking for some friendly competition there's Wii family tournaments, indoor and outdoor sports, and The Voice of the Ocean, our high-seas version of the TV singing sensation where guests choose the winner.
Just For Kids 3-7
Even the littlest guests will delight in this whimsical, forest-themed world that inspires playtime and invites exploration. Kids, ages 3 to 7, can dance, enjoy pajama movie nights, create art projects like Animal Planet puppets and masks or compete in a Lego boat-building contest.
Just For Kids 8-12
Inspired by the great outdoors, this cozy center keeps kids busy with games, dancing and kid-sized Olympic competitions. Their minds stay busy, too, with California Science Center programs like rocket building, or they can explore outer space with Stargazing and learning how to build a model roller coaster. Exciting events like talent shows, theme nights, and treasure hunts encourage new friendships and family togetherness.
Just For Teens 13-17
This contemporary lounge is "the place" for teens – perfect for hanging out and socializing with late-night movie viewing, hip hop dance classes, video game tournaments and sports competitions like dodgeball and basketball. But that's just the beginning. They'll dazzle on the red carpet with our Rock the Boat teens-only party, complete with awards and "mocktails."
Family
Princess makes it easy to sail together in comfort. There is a wide selection of staterooms accommodating up to four guests, and you'll enjoy substantial savings on your third and fourth guests. There are also connecting stateroom options, as well as Two Bedroom Family Suites, with room for up to eight guests, which offer more living space, a balcony and two bathrooms, including a full bath tub.
Entertainment
Original musicals, dazzling magic shows, feature films, top comedians and nightclubs that get your feet moovin' and groovin'. There's something happening around every corner; luckily, you have a whole cruise of days and nights to experience it all.
Movies Under the Stars
Throughout the day and night, our exclusive open-air poolside amphitheater is the go-to destination for feature films, thrilling concerts and exciting sporting events such as live football games. Cozy up under a fleece blanket in the comfortable lounger and feast on complimentary fresh-popped popcorn in the evening or delicious cookies and milk during the day, and enjoy that exciting car chase or mystery thriller on the giant screen.
Original Musical Productions
Crafted by some of the world's top directors and choreographers, our remarkable and dynamic Princess productions transport you to realms as exotic as the destinations we visit. Imaginative shows created in-house feature dazzling stage sets, Broadway classics, popular hits and original numbers performed by some of the largest and most talented casts at sea.
Music & Dancing
When it comes to music and dancing we've got everything that your musical palette may desire. Whether it's tapping your toes to cover bands, singing along in the piano bar, relaxing to classical strings or dancing the night away in the nightclub, you'll be satisfied!
Vegas Style Casino
From gaming lessons to the latest slot machines to prize tournaments, our Casinos offer fun and excitement. If you enjoy blackjack, or "21," our tables play by Vegas rules and if you relish the challenge of roulette, we offer the American version. Our craps tables also let you take your best shot at becoming a high roller. Want to try Texas Hold 'Em? Our PokerPro table shuffles, deals, splits pots and generates side pots instantly.
Featured Guest Entertainers
Grab a seat, order a cocktail and be prepared to be entertained by our lineup of world class entertainers. From magic to comedy, singers to instrumentalists, jugglers to balancing acts and much, much more, we search the globe for top talent to be featured on our ships. So get ready to be amazed, entertained, mesmerized or just laugh the night away!
Princess Theater
With dazzling stage sets, artists from around the globe, modern hits and timeless classics, the Princess Theater, our largest theater yet, showcases lavish, original productions with dynamic cast members in sumptuous surroundings. In this ultramodern theater, relax in a plush seat with unobstructed sight lines as the velvet curtain goes up, a state-of-the-art lighting system illuminates the stage, and it's on with the show!
Churchill's
Smoking a cigar doesn't have to be a reminder of another era – at Churchill's you can puff on your favorite stogie among like-minded aficionados. Churchill's is a hidden gem where the cozy, pub-like atmosphere invites cigar and cigarette smokers to sit down with a refreshing drink, their favorite smoke and enjoy the evening. Located near the casino, the comfortable lounge is decked out with humidors and high quality cigars for sale.
Club Fusion
When the sun goes down and the moon comes up, it's time to get your feet movin' and your heart pumpin' at Club Fusion. A little eclectic and a whole lot of fun, the dance floor lights and booming sound system invite you to get up and show off your moves and grooves. Karaoke contests, live performances and theme-parties like "60s British Invasion" are just a few of the nightly events that will have you on your feet.
Skywalkers Nightclub
Hot music and cool cocktails set to a DJ spinning popular club tunes is the ideal setting for a night of dancing. Gleaming, ultra modern and ultra cool, this hot spot invites a little stargazing while the colorful neon dance floor invites everyone to get up and boogie down. Boasting panoramic views from its vantage point 15 decks above the sea, it's the perfect place for dancing and socializing.
Facts
Passenger Capacity: 2,706 lower breths
Tonnage: 115,875
Inaugural Cruise: March 13, 2004
Last Refurbished: March 2014
Christened By: Yoshiko Tsukuda (wife of president of Mitsubishi Heavy Industries)
Number of Crew: 1,100
Registry: British
Length: 952 feet
Height: 205 feet
Maximum Speed: 22 knots
Number of Decks: 18
Passenger Cabins: 1,337 total
Suites with private balconies: 28
Family Suites: 2
Mini-suites with private balconies: 186
Outside cabins with private balconies: 522
Deluxe Oceanview: 10
Ocean view cabins: 212
Inside cabins: 377
Wheelchair Accessible Cabins: 27
Pools: 4
Whirlpools Spas: 8
Lifeboats: 16 lifeboats, 6 tenders, 2 rescue boats
Builder: Mitsubishi Heavy Industries, Nagasaki, Japan