Celebrity Edge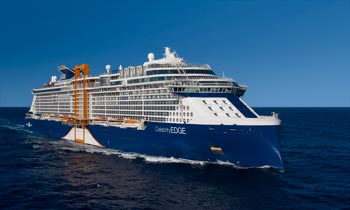 154
Starting Price, Per Night*
Celebrity Edge Cruises
Award-winning adventure is here on Celebrity Edge cruises
With an extraordinary ship design unlike anything else on the seas, Celebrity Edge cruises represent the cutting-edge of modern travel. Whether it's the iconic Magic Carpet that you can spot at the side of Celebrity Edge or the stunning two-storey Edge Villas which feel like your home away from home, adventures on this amazing ship give you a perfect blend of new luxury and modern sensibilities. Labelled as the most refined ship at sea, Celebrity Edge cruises will undoubtedly be a voyage you and your friends won't easily forget.
What makes Celebrity Edge cruises truly exciting is the array of different bucket-list locales you visit on any itinerary. With a mix of must-see spots and hidden gems, guests on a Celebrity Edge cruise get a splendid variety of different things to do every time they pull into port. Plus, with a treasure trove of different shore excursions of varying activity levels to choose from, guests on Celebrity Edge cruises get to holiday the way they want to. Round up your closest friends and relatives today and start planning a dreamy cruise on this beautifully designed Celebrity Edge ship.
Looking for a Celebrity Edge itinerary? Click on the cruises tab! Or alternatively, click here for all Celebrity Cruises.
Celebrity Edge Cabins and Suites
Staterooms
What makes Celebrity Edge cabins stand out from other ships is the brilliant use of innovative technologies that aim to give you the most comfort no matter where you stay on the ship. What's more, with reimagined spaces designed to give you more room to kick up your feet, we're certain that no Celebrity Edge cabin will ever be a bad one.
The Inside staterooms offer a great deal of room to relax and feature a wide selection of amenities that any guest needs for a calming stay aboard Celebrity Edge. Taking it one step further, the Ocean View stateroom enhances your stay with larger living spaces accompanied by a beautiful outward facing window. A favourite amongst many Celebrity Edge guests is the Veranda stateroom. Offering sweeping outdoor ocean views as well as the latest and greatest technologies that'll keep you more than comfortable, the Veranda stateroom is an absolute must-pick for many Celebrity Edge sailors.
A brand-new addition is the Edge Stateroom with Infinite Veranda. What makes this stand above the rest is how it gives you extraordinary views right to the water's edge, then with the press of a button, open air access to the calming sea breeze. Designed to be 23% larger than a typical Veranda stateroom, be sure to book an Edge Stateroom with Infinite Veranda if you get the chance to!
There is also a selection of Concierge Class staterooms to book into, each giving you easy access to service from talented staff as well as an exclusive lunch and destination seminars. Prefer a bit of spa-centric relaxation? Then definitely look into the AquaClass staterooms that offer unique access to various spa treatments and facilities onboard Celebrity Edge cruises.
Suites at The Retreat
Celebrity Edge suites offer you a new form of luxury through unparalleled service, decadent amenities, and exclusive benefits. Including access to a private restaurant, exclusive lounge, and personalised service, The Retreat aims to provide a luxury resort-style stay that no other cruise line can offer.
Take in, for example, the Edge Villa, this gorgeously crafted two-story residence with its own private terrace and plunge pool exudes authentic elegance and luxury. Then discover the Penthouse suite, which is as extravagant as it sounds. With two bedrooms, two baths, and more than enough space to stretch out, the Penthouse suite is the perfect way to treat yourself as you sail away on a Celebrity Edge cruise.
Easily the most luxurious accommodation option to choose is the Iconic suite. Boasting panoramic captain's bridge views alongside an expansive living area, dining room, and outdoor space, the Iconic suite is executive-level accommodation that remains unmatched on any Celebrity cruise ship.
Dining Options
Fine Cut Steakhouse
Bursting with scintillating flavours and fresh produce, the Fine Cut Steakhouse is a must-book for any person on a Celebrity Edge cruise. As an upscale seafood and steak dining venue and a favourite amongst many voyagers, the Fine Cut Steakhouse more than lives up to the hype. Decorated with warm and inviting décor and with service that elevates any meal, your time at the Fine Cut Steakhouse will be as fantastic as you'd expect.
Luminae at The Retreat
Exclusive to guests who book into one of the luxurious Celebrity Edge suites, Luminae at The Retreat is a dining experience that stands above the rest. Featuring an ever-changing menu curated and improved every day, Luminae offers an intimate evening and marvellous flavours from the very first bite. Take in the meticulously placed décor created by renowned interior designer Kelly Hoppen and have an evening you'll never forget at Luminae.
Cafes and Bars:
Eden Café
Spa Café
Oceanview Café
Martini Bar
The Retreat Lounge
The Retreat Pool Bar
Café Al Bacio
The Club
Il Secondo Bacio
Eden Bar
The Sunset Bar
The Pool Bar
The Casino Bar
Other dining options:
Le Grand Bistro
Raw on 5
Le Petit Chef and Family
Dinner on the Edge
Rooftop Garden Grill
Eden Restaurant
Mast Grill
Cosmopolitan Restaurant
Normandie Restaurant
Cyprus Restaurant
Tuscan Restaurant
Blu
Celebrity Edge activities & things to do
The Magic Carpet
By far and away the most important place to go on the superbly designed Celebrity Edge ship is the Magic Carpet. Moving up and down the side of the ship, the Magic Carpet is an open-air experience that you need to see for yourself. Boasting jaw-dropping views, lovely live music, and delicious food and drinks, it's undoubtedly the place to be on Celebrity Edge. Come in for a couple of cocktails and just enjoy the gorgeous, ever-changing views as you visit the Magic Carpet.
The Theatre
There's no better way to cap off a busy day of adventure than an evening at The Theatre aboard Celebrity Edge. Offering captivating entertainment in a dynamically designed arena-type space, The Theatre has a dizzying array of immersive acts that'll keep you glued to your comfy seats for the entire show. Incorporating newfound technologies on an ever-evolving stage, fall in love with the enchanting productions, live shows, and heart-stopping events at The Theatre next time you sail on a Celebrity Edge cruise.
Other onboard activities and things to do:
Eden
The Club
Resort Deck
Edge Casino
Pool Deck
Solarium
Rooftop Garden
Shop With Purpose
The Meeting Place
The Destination Gateway
Camp at Sea