Celebrity Millennium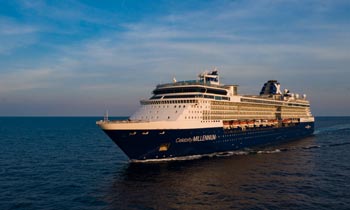 115
Starting Price, Per Night*
Celebrity Millennium Cruises
After her grand makeover in May 2016, Celebrity Millennium is making waves in the cruise world. The Penthouse and Royal suites have glimmering new marble touches, elegant fixtures, plush seating, and more. Celebrity Millennium's Rooftop Terrace provides a chic way to experience the great outdoors with creative cocktails, favourite snacks, and movies alfresco. Craving Italian? Tuscan Grille serves up fresh pasta and succulent dry-aged steaks.  What better way to experience the exotic beauty of Asia and the South Pacific than aboard Celebrity Millennium.
Things to Do
Make the most of your vacation time and continue your health, fitness and wellness routine while on board. You're invited to indulge your mind, body and spirit in the state-of-the-art fitness facilities with soaring floor-to-ceiling windows. Experience the profound pleasures of the spectacular spa setting with luxurious services and enlightening presentations designed to restore your serenity and leave you feeling fantastic.
Canyon Ranch SpaClub
Since the first Canyon Ranch wellness resort was created in 1979, the Canyon Ranch experience has been focused on pursuing optimal health, learning how to feel your best every day. Encouraging people to become more active, informed participants in their health care, because wellness is largely based on everyday lifestyle choices about nutrition, stress management, preventative care and staying fit. You can find a place where you can relax, reduce stress and have a great time.
Fitness Center
Bring your workout routine along for your modern luxury cruise. Reflection's fitness facilities feature a jogging track, sport court, and a full suite of state-of-the-art cardio, core, and weight training equipment for every fitness level. Get shipshape and enjoy beautiful ocean panoramas through the fitness center's floor-to-ceiling windows.
Health & Wellness Programs
Make the most of your vacation time and continue your land-based health, fitness and wellness routines. Guests are invited to indulge their mind, body and spirit with state-of-the-art fitness facilities with soaring floor-to-ceiling windows, and a variety of spa amenities and offerings on board.
Bars & Lounges
Each of our clubs, bars and lounges is a unique destination unto itself, with menus offering a diverse selection of classics to complement the latest trends. Some also reflect the regions we visit. To keep our menus dynamic and fresh, we work with a variety of sources including mixologists from the brands we serve and our creative, passionate team of beverage specialists at each bar.
Martini Bar & Crush:
Our talented bartenders put on a high-energy show preparing an intriguing menu of classic and contemporary martinis, served on an ice-topped bar. Enjoy a collection of rare vodkas and a portfolio of fine caviars.
Rendezvous Lounge:
On Millennium Class ships, the Rendezvous Lounge is the perfect place to gather before dinner for a cocktail and dancing. After dinner, enjoy live music, dancing, and our signature cocktails.
Sky Observation Lounge:
The perfect daytime spot to gaze over the sea with a cocktail in hand. At night, the space comes alive with live music and dancing. Featuring twelve signature Zodiac cocktails based on your astrological sign, all prepared by flaring mixologists.
Cellar Masters:
Cellar Masters lets you try a bold collection of both familiar and unknown wines from around the world.
Cafe al Bacio & Gelateria:
Enjoy espresso or tea as you watch the world go by. Inspired by the ambiance of European cafes, muted sepia tones and pops of citrus yellow bring this space to life.
Sunset Bar:
Watch the world go by with a cocktail in hand. A relaxing evening ritual. Watch the sun set on the water as live pop and folk tunes play.
Ship Highlights
A Taste of Film
Indulge in a multi-sensory experience that fuses Celebrity's award-winning cuisine with acclaimed films. Dishes inspired by the film are served at specific moments, so guests can "taste" the story or the destination – all from comfortable lounge seating with stunning views of the sea at the chic, new Rooftop Terrace.
Rooftop Terrace
A first in our fleet. Intimate and inviting, the Rooftop Terrace features chic, cozy furniture, and a large outdoor soundscape and movie screen. Kick back and catch an al fresco flick with a cocktail and playful interpretations of your favorite snacks. Or indulge in A Taste of Film-a multi-sensory experience that fuses Celebrity's award-winning cuisine with acclaimed films. Dishes inspired by the film are served at specific moments, so guests can "taste" the story or the destination – all from comfortable lounge seating with stunning views of the sea at the chic. It's the trendiest hot spot at sea.
Tuscan Grille
Now Tuscan Grille, one of our most popular Solstice Class restaurants, brings its modern twist on a traditional Italian steak house to Celebrity Millennium, too. USDA dry aged steaks. Pastas made fresh in house. A unique, Italian cocktail menu (a first for any Tuscan Grille restaurant). A wine list that highlights the wine growing regions of Italy. Taste buds around the world, "You're welcome!"
Canyon Ranch SpaClub
Relax and rejuvenate in our serene spa at sea. Experience the unique services of Canyon Ranch in a breathtaking setting-aboard Celebrity's modern luxury ships. Enhance your vacation with a complete wellness and lifestyle program that increases resilience, restores serenity, and helps you feel rejuvenated.
Innovations Store
Your one-stop-spot at sea to find all the latest high-tech electronics including iPad and iPod mobile digital devices, MacBook computers, a variety of laptops, digital accessories, and cool electronic toys. Best of all, whatever you purchase at the Innovations Store is duty-free.
iPad, iPod and MacBook are registered trademarks of Apple Inc.
Concierge Class
Designed for the traveler who settles in nicely to veranda staterooms where little details make a big difference. Savor unexpected delights such as a pillow menu, priority check-in and disembarkation, plush bathrobes, and evening hors d'oeurves. With Concierge Class, the attention to detail will amaze you.
AquaClass Staterooms
Spa-inspired staterooms featuring indulgent amenities like a Hansgrohe shower tower and custom blended bath products to help you feel restored and renewed. An AquaClass Spa Concierge to help you arrange all your spa appointments. Complimentary access to our relaxing Persian Garden. Plus, exclusive access to the Blu restaurant serving breakfast and dinner.
Qsine
Qsine, our one-of-a-kind specialty restaurant, features a uniquely unordinary approach to dining. At Qsine, we strive to awaken your palate through a modern and whimsical approach to familiar dishes from around the world. Food is artfully presented, without traditional courses, and intended to be shared. And, to make it even more playful, the menu and wine list are creatively presented on an iPad. Let your Culinary Tour Guide take you on an unforgettable journey.
Celebrity iLounge
Keep in touch 24 hours a day in the Celebrity iLounge, our one-of-a-kind hip Internet lounge that is the first Authorized Apple Reseller at Sea. Celebrity iLounge also offers various iLearn classes to help you master the latest photography, video and audio skills.
Restaurants & Cafes
Enjoy an amazing array of flavors and a wide selection of restaurants to suit every mood. Our menus are inspired by, and sourced from, the incredible regions we visit.
Tuscan Grille:
Rustic elegance with a contemporary, minimalistic edge. Guests dining in Tuscan Grille will enjoy a lively, sophisticated atmosphere, serving iconic Italian dishes with a modern twist.
Qsine:
Qsine offers unexpected twists on old favorites, experimenting with different textures, flavors, and presentations to please all the senses at once.
Sushi On Five:
Wildly popular from the day it appeared, Sushi on Five satisfies your craving for locally sourced, authentically prepared sushi and other Japanese specialties from a menu crafted by expert restaurateur and sushi chef, Yoshikazu "Yoshi" Okada.
Oceanview Cafe:
A market-style cafe that features select offerings inspired by the destinations we visit.
Main Restaurant:
A sophisticated restaurant with a wide range of globally inspired dishes created by a Michelin-starred chef. The airy Main Restaurant offers exquisite menu selections, which change nightly to give you a variety of classic and contemporary choices.
Blu:
Clean, crisp flavors and inventive cuisine meet an extensive list of sustainable and biodynamic wines.
AquaSpa Cafe:
Fresh, spa-inspired delights to nourish body and mind.
Luminae:
Exclusive and cutting edge, the globally inspired menus at Luminae are not available in any other restaurant on board. And, you'll see each one only once – because every day features a fresh, new menu.
Facts
Occupancy: 2,138
Tonnage: 91,000
Length: 965 feet
Beam: 105 feet
Draught: 26 feet
Cruising Speed: 24 knots
Inaugral Date: June 17, 2000
Last Refurbished: May 2012