Celebrity Solstice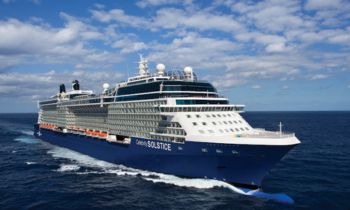 97
Starting Price, Per Night*
Celebrity Solstice cruises offer a world of adventure!
Sail beyond and discover the extraordinary by boarding a Celebrity Solstice cruise. Exuding a magnetic atmosphere heightened by modern innovations and contemporary designs, this astounding Celebrity Cruises ship has been masterfully crafted to impress and enchant every guest who boards. With a refreshing set of gorgeous staterooms and luxurious suites, any choice you make onboard Celebrity Solstice will surround you in unending comfort. Essential for any voyage, Celebrity Solstice restaurants such as Tuscan Grille, Murano, or Blu feature a whole host of enchanting flavours with dishes prepared by incredible chefs. Explore the world in style and start looking through exceptional Celebrity Solstice cruises today.
Looking for a Celebrity Solstice itinerary? Click on the cruises tab! Or alternatively, click here for all Celebrity Cruises.
Celebrity Solstice Accommodation
Sail the seas in lavish sophistication by booking any of the incredible Celebrity Solstice cabins on offer with every voyage. Whether you want an affordable Interior stateroom or decadent suite, Celebrity Solstice rooms are fitted with convenient amenities and outstanding features that promise to make your holiday as relaxing as possible. Take a look down below to find out which style of lodging suits your group the best!
Staterooms
Your very own personal sanctuary, Interior staterooms are great for those who love to explore the ship and socialise with guests rather than relax in their cabin. Marvellously fitted with a well-positioned window, the Ocean View staterooms ensure that your entire stay on a Celebrity Solstice cruise has a glorious view to the sea. Celebrity Solstice Veranda staterooms elevate a guests experience through the inclusion of their own private balcony and outdoor space to unwind, soak in the ocean breeze, and calmly watch the world go by.
AquaClass
Looking for the ultimate stateroom experience during your Celebrity Cruises holiday? The AquaClass staterooms will have everything you need. Located in a perfect position to popular amenities and access to the refreshing Blu restaurant, AquaClass staterooms offer a fantastic spa-themed experience which promises to keep guests in unparalleled comfort. With free access to revitalising amenities such as the Persian Garden and Relaxation Room, make sure you book an AquaClass stateroom if you love indulgent pampering.
Suites
Celebrity Solstice Suites have been carefully designed by the cruise line to ensure every patron has an unbelievably extravagant time with every luxury accounted for. From incredible Sky Suites, astonishing Royal Suites, to the incomparable Celebrity Suite, every choice features boundless space and exclusive access to must-visit facilities throughout the ship such as the restaurant, Luminae. All Suites on the Celebrity Cruises ship come with their own personal butler, further illustrating the cruise lines dedication to creating an environment where guest will never have to lift a finger for the entire trip. With executive-level luxury across all options, book a Suite for unforgettable comfort on your next Celebrity Solstice cruise!
Dining Options
Tuscan Grille
An Italian Steakhouse bursting with mouth-watering flavours, Tuscan Grille is a sophisticated and delightful restaurant that demands your attention. Those looking for Italian fare will be more than at home in this excellent venue, with a plethora of flavoursome dishes that range from homemade pastas to flatbread pizzas. Tuscan Grille additionally has some must-taste meat offerings, with USDA Prime Dry Aged steaks, broiled filet mignon, and enchanting swordfish available for guests to dig into. Be sure to make a reservation at this popular Celebrity Solstice restaurant on your upcoming cruise.
Le Petit Chef
Le Petit Chef is an undeniably unique and astounding dining venue that does more than just provide delicious food. This innovative and incredibly creative restaurant has partnered with renowned arts at Skullmapping to present truly astonishing custom 3D table animation art. Watch in awe as a tiny animated chef amusingly wrangles your dish and dances across the table while experienced real-life chefs meticulously prepare your meal. Boasting a superb menu created by a Michelin Star Chef, make a reservation at the most unique restaurant at sea!
Other dining options:
Sushi on Five
Murano
Main Restaurant
Oceanview Café
Spa Café
Blu
24-Hour In-Room Dining
Passport Bar
Martini Bar & Crush
Cellar Masters
Café al Bacio & Gelateria
World Class Bar
Ensemble Lounge
Pool & Mast Bar
Sunset Bar
Quasar
Celebrity Solstice activities & things to do
Canyon Ranch Spa
Discover a new you by spending some time at the rejuvenating Canyon Ranch Spa. This invigorating sanctuary offers guests the opportunity to stimulate their mind, refresh their body, and reconnect with their soul. Whether you want to book an electrifying fitness class, indulge in therapeutic treatments, or be inspired by a stirring lecture or workshop, Canyon Ranch Spa has all you need for a restorative day. Stroll over to Canyon Ranch Spa while you sail away on your Celebrity Solstice cruise.
Sky Observation Lounge
A quiet escape by day and a bouncing lounge at night, the Sky Observation Lounge is a fantastic social space with the brilliant benefit of jaw-dropping, panoramic views. With live music and dancing occurring throughout the night, guests can enjoy some delightful Zodiac-sign based cocktails prepared by experienced mixologists. Connect with some fellow passengers and observe the beautiful horizon at the sublime Sky Observation Lounge.
Other onboard activities and things to do:
Solstice Theatre
Shops on the Boulevard
Galleria Boutiques
Art Gallery
Celebrity iLounge
Team Earth
Card Room
Library
Relaxation Lounge
Whirpools & Pools
Persian Garden
Jogging Track
Bocce / Lawn Bowling
Hot Glass Class
The Lawn Club
Video Arcade
X Club
Basketball Court
Fun Factory
Facts
Occupancy: 2850
Tonnage: 122,000
Length: 1041 ft
Beam: 121 ft
Draught: 27 ft
Cruisespeed: 24 kts
Inaugural Date: Nov 23, 2008