Celebrity Reflection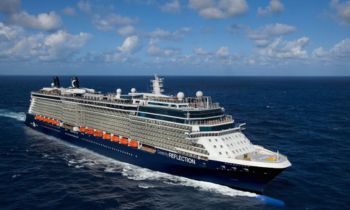 152
Starting Price, Per Night*
Celebrity Reflection Cruises
Throughout the year, Celebrity Reflection chases the warmth of the sun, migrating between the Caribbean and Europe.  Between November and April, warm your toes in the white sand and tropical waters of the Caribbean.  Celebrity Reflection's Caribbean itineraries depart from Fort Lauderdale and range between 7 and 14 nights duration.  While there are a small number of seven night cruises, and an even smaller number of 14 night cruises, you'll find the largest number of options in the 10 and 11 night range.  Cruise the eastern Caribbean including Mexico, the western Caribbean, or take a trip to the much less frequented southern Caribbean islands.
As the weather starts to head into it's wetter months in the Caribbean, make your way across the Atlantic to embark on a European Summer cruise.  Cruise the Mediterranean from Rome and visit the iconic ports of the Eastern Mediterranean including the cultural Italy and Greece, to name a few.  Departing from Amsterdam and Dun Laoghaire (Dublin), Celebrity Reflection can introduce you to the awe-inspiring world of Northern Europe including Scandinavia and the Baltics.
Celebrity Reflection boasts an expanded deck, 72 additional staterooms, extra seating in the main and specialty restaurants, more sun lounges on the pool deck, and more seats in the theatre. Celebrate the flavorful joys of outdoor grilling at the new Lawn Club Grill. Enjoy more than 20 delicious dining options in the Main Restaurant. Unwind in your own cabana-style haven at The Alcoves. Treat yourself to new spa innovations at the enhanced Canyon Ranch SpaClub. Your vacation time is precious. Time aboard Celebrity Reflection will make the most of it.
Restaurant & Cafes
Enjoy an amazing array of flavors and a wide selection of restaurants to suit every mood. Our menus are inspired by, and sourced from, the incredible regions we visit.
Tuscan Grille:
Rustic elegance with a contemporary, minimalistic edge. Guests dining in Tuscan Grille will enjoy a lively, sophisticated atmosphere, serving iconic Italian dishes with a modern twist.
Qsine:
Qsine offers unexpected twists on old favorites, experimenting with different textures, flavors, and presentations to please all the senses at once.
Lawn Club Grill:
Experience the thrill of grilling near a lawn of fresh-cut grass while surrounded by an endless view of the sea. Act as your table's grill master and enjoy a one-on-one interaction with our chefs, receiving a lesson in proper grilling techniques and learning other tricks of the trade. Choose from a gourmet salad bar, build your own pizza, and enjoy more than 12 grill specialties, including USDA Choice Beef; poultry; seafood; and vegetables.
Murano:
Classic French dishes – with a contemporary twist – serve as the inspiration for Murano's menu. Enjoy nouveau cuisine with old-world charm, as we prepare some of our signature dishes tableside while you watch.
Porch:
Inspired by the rural seaside charm of the Hamptons, spend a few hours lounging on board at The Porch. Enjoy the freshest seafood and raw bar while surrounded by sun-dappled lawns, gorgeous sunsets, and breezy, ocean views.
Sushi On Five:
Wildly popular from the day it appeared, Sushi on Five satisfies your craving for locally sourced, authentically prepared sushi and other Japanese specialties from a menu crafted by expert restaurateur and sushi chef, Yoshikazu "Yoshi" Okada.
Oceanview Cafe:
A market-style cafe that features select offerings inspired by the destinations we visit.
Main Restaurant:
A sophisticated restaurant with a wide range of globally inspired dishes created by a Michelin-starred chef. The airy Main Restaurant offers exquisite menu selections, which change nightly to give you a variety of classic and contemporary choices.
Blu:
Clean, crisp flavors and inventive cuisine meet an extensive list of sustainable and biodynamic wines.
AquaSpa Cafe:
Fresh, spa-inspired delights to nourish body and mind.
Luminae:
Exclusive and cutting edge, the globally inspired menus at Luminae are not available in any other restaurant on board. And, you'll see each one only once – because every day features a fresh, new menu.
Things to Do
Make the most of your vacation time and continue your health, fitness and wellness routine while on board. You're invited to indulge your mind, body and spirit in the state-of-the-art fitness facilities with soaring floor-to-ceiling windows. Experience the profound pleasures of the spectacular spa setting with luxurious services and enlightening presentations designed to restore your serenity and leave you feeling fantastic.
Canyon Ranch SpaClub
Since the first Canyon Ranch wellness resort was created in 1979, the Canyon Ranch experience has been focused on pursuing optimal health, learning how to feel your best every day. Encouraging people to become more active, informed participants in their health care, because wellness is largely based on everyday lifestyle choices about nutrition, stress management, preventative care and staying fit. You can find a place where you can relax, reduce stress and have a great time.
Fitness Center
Bring your workout routine along for your modern luxury cruise. Reflection's fitness facilities feature a jogging track, sport court, and a full suite of state-of-the-art cardio, core, and weight training equipment for every fitness level. Get shipshape and enjoy beautiful ocean panoramas through the fitness center's floor-to-ceiling windows.
Health & Wellness Programs
Make the most of your vacation time and continue your land-based health, fitness and wellness routines. Guests are invited to indulge their mind, body and spirit with state-of-the-art fitness facilities with soaring floor-to-ceiling windows, and a variety of spa amenities and offerings on board.
Ship Highlights
The first AquaClass Suites, Reflection Suites and Signature Suites in our fleet make their debut on Celebrity Reflection along with an enhanced Spa filled with some of the hottest (and coolest) spa innovations around.
Lawn Club Grill
Fire up your culinary passion. The bright and modern Lawn Club Grill celebrates the flavorful joys of outdoor grilling. The highlight of dining at the Lawn Club Grill is the opportunity to serve as your party's "Grill Master," by being paired with a Celebrity chef to assist in preparing the menu for your table over custom-built, ventilated grills.
Qsine
Qsine is a uniquely unordinary experience with elements of surprise and delight. Our concept behind Qsine was to give you something you've never experienced before on land or sea. Leave any preconceived notions behind. Dig in and try new things. It's time your palate got a wakeup call. Our iPad menus are fun, interactive, and full of surprises.
The Alcoves
A cool, cabana-style private retreat on The Lawn Club for two to four guests. By day, filtered sunlight and breathtaking ocean views. By night, ambient lighting for drama and star status. A la carte foods and beverages arrive in picnic baskets. Alcoves are even equipped with Wi-Fi. Rental fee applies.
Canyon Ranch SpaClub
Relax and rejuvenate in our serene spa at sea. Experience the unique services of Canyon Ranch in a breathtaking setting aboard Celebritys modern luxury ships. Enhance your vacation with a complete wellness and lifestyle program that increases resilience, restores serenity, and helps you feel rejuvenated.
Conference Center
This multi-functional space serves as a spacious ballroom or conference area for weddings, business meetings, and cocktail parties. The full layout accommodates 220 guests, or it can be reconfigured for smaller groups. Our James Beard-featured culinary team offers traditional catering options or you can select from an array of pre-set, multi-course menus. Artful presentation is always on the menu.
Michael's Club
A premium, private lounge for those in Reflection, Penthouse, Signature, Royal, and Celebrity Suites, as well as for Captain's Club Zenith members. This luxurious club features a large-screen TV, reading areas stocked with magazines, newspapers, and books, plus a continental breakfast. Complimentary drinks are available throughout the day and canap©s are served with evening cocktails. Michael's Club is available 24 hours a day with selected service hours from the Michael's Club Concierge.
Reflection Suite
The Reflection Suite-our fleet's first two-bedroom suite-is located in a private area accessible only to guests carrying a special SeaPass® card. You'll sleep on a premium Reverie® Dream Sleep System™ mattress you can customize, experience the luxury of European-style butler service, and shower in a spectacular sea view bathroom with cantilever, all-glass shower.
Signature Suite
In a spacious Signature Suite, you'll relax in airy, high-ceiling rooms with floor-to-ceiling glass doors and windows, sleep on a premium Reverie® Dream Sleep System™ mattress you can customize, enjoy the European-style butler service, and relax on a veranda with lounge seating. Located in a private area accessible only to guests carrying a special SeaPass® card.
Sushi on Five
Our modern luxury take on traditional sushi and Japanese favorites, paired with imported sakes and beers. The extensive menu is created by our Master Sushi Chef, Yoshikazu Okada, a fourth-generation sushi chef.
Bars & Lounges
Each of our clubs, bars and lounges is a unique destination unto itself, with menus offering a diverse selection of classics to complement the latest trends. Some also reflect the regions we visit. To keep our menus dynamic and fresh, we work with a variety of sources including mixologists from the brands we serve and our creative, passionate team of beverage specialists at each bar.
Martini Bar & Crush:
Our talented bartenders put on a high-energy show preparing an intriguing menu of classic and contemporary martinis, served on an ice-topped bar. Enjoy a collection of rare vodkas and a portfolio of fine caviars.
Michael's Club:
This exclusive 24-hour lounge features a large-screen TV, reading areas stocked with magazines, newspapers, and books, plus a continental breakfast. Complimentary pre-dinner drinks and tapas are served 5:00 PM – 8:00 PM daily, and the dedicated concierge can help arrange your specialty dining, shore excursions, and even handle inquiries about various ports of call.
Sky Observation Lounge:
The perfect daytime spot to gaze over the sea with a cocktail in hand. At night, the space comes alive with live music and dancing. Featuring twelve signature Zodiac cocktails based on your astrological sign, all prepared by flaring mixologists.
Cellar Masters:
Cellar Masters lets you try a bold collection of both familiar and unknown wines from around the world.
Ensemble Lounge:
Ensemble Lounge is the ideal setting for an aperitif en route to an extraordinary dining experience, or a digestif afterward. Live entertainment from world-class musicians and a "dressed for dinner" crowd make this elegant space a fantastic start or end to your evening.
World Class Bar:
Welcome to our "fine drinking" experience, where the ritual of making cocktails is just as exciting as drinking them. Using the freshest ingredients and the finest spirits, our expert mixologists aim to satisfy the palates of both curious newcomers and connoisseurs alike.
Passport Bar:
Relaxing and inviting, its position right off the grand foyer means this may be the first, but not the last, place you stop to sink into a chair and enjoy a cocktail. Enjoy classical music from our string quartet, or kick off your evening with jazz, Big Band, and other popular music.
Facts
Occupancy: 3046
Tonnage: 126,000
Length: 1,047 ft
Beam: 123 ft
Draught: 27 ft
Cruise Speed: 24 kts
Inaugural Date: Oct 12, 2012