Celebrity Ascent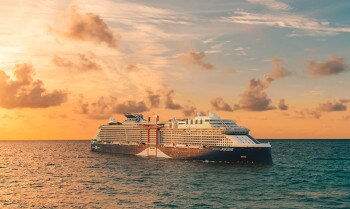 95
Starting Price, Per Night*
Discover the meaning of new luxury on Celebrity Ascent cruises
For those searching for an inclusive and relaxed form of luxury, Celebrity Ascent cruises are without a doubt a perfect match for you. The fourth ship in the acclaimed Edge-series, Celebrity Ascent has been further refined and enhanced to ensure your next adventure exemplifies what Celebrity Cruises has defined as 'New Luxury'. Revel in the new and improved Resort Deck featuring two-deck high Jacuzzi's alongside beautifully crafted seating areas. Reserve a table at the sophisticated dining venue Le Voyage, featuring a menu designed by Michelin-starred chef Daniel Boulud. Spend an afternoon at Eden, with a spacious lounge space to connect with like-minded travellers. If you've been in the search for tasteful luxury fit for the 21st century, Celebrity Ascent cruises need to be at the top of your list.
What makes Celebrity Ascent cruises truly shine is the place in which you'll spend a decent portion of your voyage – your accommodation! Celebrity Cruises have really gone above and beyond with Celebrity Ascent cabins, with each room designed with space and comfort in mind. As such, Celebrity Ascent cabins and suites feature plenty of room to kick up your feet whilst also adding all the little touches that make your voyage worry-free. Sail across the globe in style, step into each destination ready for adventure and check out the upcoming Celebrity Ascent cruises today!
Looking for a Celebrity Ascent itinerary? Click on the cruises tab! Or alternatively click here for all Celebrity Cruises. For other Edge-class ships, check out Celebrity Apex, Celebrity Beyond, and Celebrity Edge!
Celebrity Ascent Accommodation
Staterooms
Purposefully crafted to maximise comfort, Celebrity Ascent cabins have been further enhanced for Celebrity's four Edge-class ships. Regardless of your choice, Celebrity Cruises all but ensures any cabin you choose will be packed with more than just the essentials. The Interior cabins, for example, offer plenty of space to kick up your feet, with a comfortable lounge area and desk available to plan your next day of travel. If you love a view, the Oceanview cabins offer a large window giving a direct look into your destination at all times of the Celebrity Ascent cruise. For those who enjoy the ocean spray touching their face, but don't want to spend all their time on the top deck, the Balcony cabins give you a private outdoor space to do just that!
However, the major draw for many voyagers are the Celebrity Ascent Edge Infinite Veranda cabins. These feature an innovative floor to ceiling window that – with a press of a button – can be converted to an outdoor space. These spaces are 23% larger than a typical veranda stateroom and are perfect for the rare occasions where the wind might blow a little too hard and you might prefer the window closed! With an award-winning design, it's easy to see why these Celebrity Ascent Infinite Veranda cabins sell out quickly.
Suites
Searching for enhanced luxury during your voyage? Celebrity Ascent suites certainly fit the bill! The Sky Suite offers more space than other stateroom options as well as a larger outdoor space. What's more with additional perks like a personal butler service, priority check-in and access to exclusive dining venues, Celebrity Ascent suites are all about ensuring your entire voyage is worry free. For couples or small families that desire even more room, the Celebrity Suite features all of the aforementioned perks as well as its own separated lounge room to welcome guests. An innovative new design, the Edge Villa is a two-level suite accommodation aboard Celebrity Ascent that makes you feel like you're renting out a townhouse bed-n-breakfast by the sea!
The ultimate living experience on Celebrity Ascent cruises is the Iconic Suite. Capable of fitting six people, the Celebrity Ascent Iconic Suite features a massive outdoor space, large lounge area, a dining space perfect for hosting guests, and two separate bedroom spaces and bathrooms. Amazed that a space like this exists on a ship? So are we! But think fast, as naturally, this suite books out quickly.
Dining Options
Le Voyage
As the Global Culinary Ambassador for Celebrity Cruises, Daniel Boulud has worked with the cruise line to craft his very first signature restaurant on a cruise ship – Le Voyage. Incorporating many different flavours from across the globe, Le Voyage boasts a distinctly international menu with dishes that immediately transport people to the region they originate from in its first bite! With wine pairing chosen by experienced sommeliers available on every dish, Le Voyage is a dining venue aboard Celebrity Ascent that you need to book. Open for lunch and dinner, make sure to lock in a reservation at Le Voyage on your Celebrity Ascent cruise!
Le Grand Bistro
In the mood for Mediterranean delights during your voyage aboard Celebrity Ascent? Then Le Grand Bistro is the place to be! Open for breakfast, lunch, and dinner, this award-winning restaurant welcomes guests with its cream and black design with touches of red. Furthermore, offering a Mediterranean menu that highlights the very best flavours from the cuisine, Le Grand Bistro will keep you coming back again and again.
Cafes and Bars:
The Sunset Bar
The Martini Bar
The Retreat Lounge
Eden Café
Juice Bar
Oceanview Café
The Spa Café
World Class Bar
Café Al Bacio
Craft Social Bar
Other dining options:
Main Dining
Mast Grill
Tuscan Restaurant
Normandie Restaurant
Cyprus Restaurant
Cosmopolitan Restaurant
Eden Restaurant
Fine Cut Steakhouse
Blu
Celebrity Ascent activities & things to do
The Magic Carpet
Easily the most distinct feature of any Edge-class ship such as Celebrity Ascent is The Magic Carpet! Boasting some of the best views you'll find on Celebrity Ascent, The Magic Carpet is a revolutionary floating platform that goes up to 13 stories above sea level. Nevertheless, this is more than just a platform, as The Magic Carpet also features plenty of seating, a full bar, and plenty of open space to even host live music and performances. The perfect place to wind down after a big day of exploring your port of call, be sure to visit The Magic Carpet during your cruise.
The Solarium
Located on the Resort Deck, the Solarium is easily one of the most popular places to relax and unwind on Celebrity Ascent. Featuring a large, covered pool area, the Solarium is all about taking it nice and easy as you smoothly sail from one destination to the next. With the ocean as its inspiration, much of the design in the Solarium is centred around the wonders of the sea, featuring 3D wall art representing the flowing movement of the water. Lounge around and grab a tan or go for a quick splash, either way, the Solarium is there for any quiet moment you ever need.
Other onboard activities and things to do:
The Grand Plaza
Resort Deck
The Destination Gateway
Eden
The Casino
The Theatre
The Club
The Celebrity Shop
Rooftop Garden
The Retreat
iLounge
Camp at Sea
Photo Studio
Photo Gallery
Fitness Center
Facts
Year Built: 2023
Occupancy: 3,300
Crew: 1400
Tonnage: 140600
Length: 1073 ft.
Beam: 128 ft.
Cruising Speed: 22 kn