Celebrity Beyond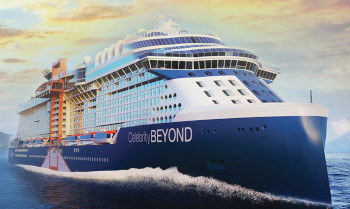 144
Starting Price, Per Night*
Soak up the sun on Celebrity Beyond cruises
It's time to plan your next great escape by booking yourself one of the upcoming Celebrity Beyond cruises. The third ship in the innovative and ground-breaking Edge series, Celebrity Beyond gives you what guests have come to love on Celebrity Apex and Celebrity Edge, but with welcomed and new twists that are sure to impress even the most experienced of Celebrity voyagers. From its tweaked design (allowing even more stunning views in its expanded open-air spaces) to the delectable award-winning specialty dining sure to tantalise the tastebuds, a Celebrity Beyond cruise is a must for anyone looking for a magnificent way to sail the seas.
What's more, with an enhanced selection of living spaces available in the AquaClass and The Retreat, guests will undoubtedly enjoy opulent relaxation while sailing aboard Celebrity Beyond. Extended living spaces, improved amenities, and larger viewing areas, Celebrity Beyond cruises provide lucky guests the very best Celebrity Cruises has on offer.
Looking for a Celebrity Beyond itinerary? Click on the cruises tab! Or alternatively click here for all Celebrity Cruises.
Celebrity Beyond Accommodation
Staterooms
Guests on Celebrity Beyond cruises are welcomed to a refined selection of staterooms, each perfectly designed with all the amenities and extras anyone would ever need for a tranquil stay. For those who prefer spending their time adventuring Celebrity Beyond or the destination, we recommend the comfy Inside staterooms, with plenty of space to sail away in relaxation. Those who love seeing the blue horizon should book the Ocean View staterooms, each fitted with a wide window providing uninterrupted views of the sea. Want to feel the ocean breeze? The Verandas on Edge provide just that! With a great outdoor balcony and fantastic views, you definitely won't go wrong with the Verandas on Edge.
If you love the outdoor space, but don't want the occasionally strong breeze, we recommend the Edge stateroom with Infinite Veranda. Every one of these rooms allow you to bring the outside inside with a simple touch of a button. What's more if you're a solo explorer, Celebrity Beyond has a selection of Edge Single staterooms to book into, allowing you to enjoy open-air views without paying dearly for an extra bed.
AquaClass
In the mood for pure, unfiltered, serenity during Celebrity Beyond cruise? Well, there might be no better choice than the AquaClass! Not only will you enjoy the innovative Infinity Veranda or the expansive Sky Suite, you'll also bask in exclusive eXhale bedding, eco-friendly bath products, on-demand wellness programs, your very own pillow menu, and so much more.
The Retreat
For those searching for uninterrupted bliss during any Celebrity Beyond cruise, we strongly recommend staying in one of the various suites at The Retreat. Offering an excellent mix of panoramic views in unmatched luxury, you likely won't find a better way to holiday than at The Retreat. Whether you want the spacious and multi-storey Edge Villas or the massive Iconic suites perched above the bridge, every suite guest enjoys their own lounge areas, exquisite bathrooms, and private bedrooms.
Dining Options
Le Voyage
For world-class dining aboard Celebrity Beyond, look no further than Le Voyage by Daniel Boulud. With his first signature restaurant on the seas, Daniel Boulud aims to create a dining venue that matches the level of quality you'd come to expect on land. Crafting a menu inspired by flavours from across the globe, we're sure there will be a dish that every guest will immediately fall in love with at first bite. Be sure to make a reservation at this specialty restaurant exclusive to Celebrity Beyond when you come aboard!
Luminae at The Retreat
Exquisite fine-dining has never felt so modern than Luminae at The Retreat. Completed by a striking design from renowned interior designer Kelly Hoppen, Luminae at The Retreat is crafted to be an experience for all five senses. But what really makes this fine-dining restaurant stand out is the menu, with a marvellous selection of dishes painstakingly perfected by their Michellin-starred chef Daniel Boulud.
Cafes and Bars:
The Sunset Bar
The Martini Bar
The Retreat Lounge
The Magic Carpet
Eden Café
The Spa Café
Juice Bar
Oceanview Café
Other dining options:
Blu
Fine Cut Steakhouse
Le Grand Bistro
Le Petit Chef
Raw on 5
Rooftop Garden Grill
Eden Restaurant
Cyprus Restaurant
Tuscan Restaurant
Normandie Restaurant
Cosmopolitan Restaurant
Mast Grill
Celebrity Beyond activities & things to do
The Magic Carpet
By far and away the number-one place you need to visit on a Celebrity Beyond cruise is The Magic Carpet, a cantilevered floating platform that can reach electrifying heights of 13 stories above sea level. While it might seem at first a little daunting, the comfortable seating, full bar, and friendly company will quickly wipe any fear away. Hosting live music performances most nights as well as phenomenal views of the surroundings, The Magic Carpet is the place to be when you sail on Celebrity Beyond.
The Retreat
More than just a selection of luxurious suites, The Retreat is a decadent section of Celebrity Beyond packed with private dining venues, open social spaces, and exquisite services and amenities – all exclusive to guests who book into The Retreat. Boasting award-winning design by renowned interior designer Kelly Hoppen, The Retreat provides a distinct and yet subtle mix of East and West. Whether you want to grab your favourite drinks and socialise at The Retreat Lounge, order delectable cuisine while dining at Luminae at The Retreat, or just kick up your feet at The Retreat Sundeck, we're certain you'll love everything on offer while staying at this exclusive luxury complex.
Other onboard activities and things to do:
Rooftop garden
Resort Deck
Eden
The Solarium
The Casino
The Theatre on Beyond
The Club
The Celebrity Shops
The Destination Gateway