Celebrity Silhouette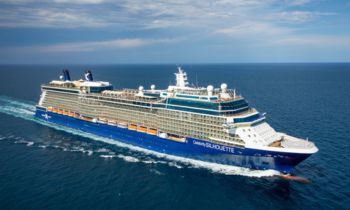 86
Starting Price, Per Night*
Celebrity Silhouette Cruises
Celebrity Silhouette spends her year cruising between the Central and South America, and Europe.  From May to September, Celebrity Silhouette cruises in Northern Europe from Southampton with itinerary options that visit Scandinavia, the awe-inspiring fjords of Norway, or the land of the midnight sun, Iceland.  If you're looking for a more tropical experience aboard Celebrity Silhouette, have a look at one of her fantastic feature itineraries to the Canary Islands.  Or alternatively, cross the Atlantic for one of Celebrity Silhouette's Caribbean adventures which set sail from Fort Lauderdale predominantly to the tropical islands of the southern Caribbean or South American discoveries from Argentina or Chile.  Celebrity Silhouette is also offering a small number of Antarctica cruises.
The Celebrity Silhouette is impressive.  With chic upgrades to the iconic Lawn Club there is now more space to relax and socialize in the fresh sea air, plus the Lawn Club Grill offers an interactive outdoor grilling experience. After a day of adventure unwind in your own cabana-styled haven at The Alcoves. Inside, embark on a culinary adventure at Qsine where food and wine are ordered from an iPad menu. Plus, 85% of the ship's luxurious staterooms are enhanced by sweeping veranda views. Celebrity has created an extraordinary vacation experience. Again.
Restaurant & Cafes
Enjoy an amazing array of flavors and a wide selection of restaurants to suit every mood. Our menus are inspired by, and sourced from, the incredible regions we visit.
Tuscan Grille:
Rustic elegance with a contemporary, minimalistic edge. Guests dining in Tuscan Grille will enjoy a lively, sophisticated atmosphere, serving iconic Italian dishes with a modern twist.
Qsine:
Qsine offers unexpected twists on old favourites, experimenting with different textures, flavors, and presentations to please all the senses at once.
Murano:
Classic French dishes – with a contemporary twist – serve as the inspiration for Murano's menu. Enjoy nouveau cuisine with old-world charm, as we prepare some of our signature dishes tableside while you watch.
Sushi On Five:
Wildly popular from the day it appeared, Sushi on Five satisfies your craving for locally sourced, authentically prepared sushi and other Japanese specialties from a menu crafted by expert restaurateur and sushi chef, Yoshikazu "Yoshi" Okada.
Oceanview Cafe:
A market-style cafe that features select offerings inspired by the destinations we visit.
Main Restaurant:
A sophisticated restaurant with a wide range of globally inspired dishes created by a Michelin-starred chef. The airy Main Restaurant offers exquisite menu selections, which change nightly to give you a variety of classic and contemporary choices.
Luminae:
Exclusive and cutting edge, the globally inspired menus at Luminae are not available in any other restaurant on board. And, you'll see each one only once – because every day features a fresh, new menu.
Blu:
Clean, crisp flavors and inventive cuisine meet an extensive list of sustainable and biodynamic wines.
AquaSpa Cafe:
Fresh, spa-inspired delights to nourish body and mind.
The Porch:
Inspired by the rural seaside charm of the Hamptons, spend a few hours lounging on board at The Porch. Enjoy the freshest seafood and raw bar while surrounded by sun-dappled lawns, gorgeous sunsets, and breezy, ocean views.
Things to Do
Make the most of your vacation time and continue your health, fitness and wellness routine while on board. You're invited to indulge your mind, body and spirit in the state-of-the-art fitness facilities with soaring floor-to-ceiling windows. Experience the profound pleasures of the spectacular spa setting with luxurious services and enlightening presentations designed to restore your serenity and leave you feeling fantastic.
Canyon Ranch SpaClub
Since the first Canyon Ranch wellness resort was created in 1979, the Canyon Ranch experience has been focused on pursuing optimal health, learning how to feel your best every day. Encouraging people to become more active, informed participants in their health care, because wellness is largely based on everyday lifestyle choices about nutrition, stress management, preventative care and staying fit. You can find a place where you can relax, reduce stress and have a great time.
Fitness Centre
Bring your workout routine along for your modern luxury cruise. Reflection's fitness facilities feature a jogging track, sport court, and a full suite of state-of-the-art cardio, core, and weight training equipment for every fitness level. Get shipshape and enjoy beautiful ocean panoramas through the fitness centre's floor-to-ceiling windows.
Health & Wellness Programs
Make the most of your vacation time and continue your land-based health, fitness and wellness routines. Guests are invited to indulge their mind, body and spirit with state-of-the-art fitness facilities with soaring floor-to-ceiling windows, and a variety of spa amenities and offerings on board.
Bars & Lounges
Each of our clubs, bars and lounges is a unique destination unto itself, with menus offering a diverse selection of classics to complement the latest trends. Some also reflect the regions we visit. To keep our menus dynamic and fresh, we work with a variety of sources including mixologists from the brands we serve and our creative, passionate team of beverage specialists at each bar.
Martini Bar & Crush:
Our talented bartenders put on a high-energy show preparing an intriguing menu of classic and contemporary martinis, served on an ice-topped bar. Enjoy a collection of rare vodkas and a portfolio of fine caviars.
Slush:
Chill out with a flurry of fresh frozen cocktails, located poolside to help you keep your cool. Hand-made, frozen cocktails blended with the freshest ingredients. Several of the cocktails are also available in non-alcoholic versions.
Sky Observation Lounge:
The perfect daytime spot to gaze over the sea with a cocktail in hand. At night, the space comes alive with live music and dancing. Featuring twelve signature Zodiac cocktails based on your astrological sign, all prepared by flaring mixologists.
Cellar Masters:
Cellar Masters lets you try a bold collection of both familiar and unknown wines from around the world.
Ensemble Lounge:
Ensemble Lounge is the ideal setting for an aperitif en route to an extraordinary dining experience, or a digestif afterward. Live entertainment from world-class musicians and a "dressed for dinner" crowd make this elegant space a fantastic start or end to your evening.
World Class Bar:
Welcome to our "fine drinking" experience, where the ritual of making cocktails is just as exciting as drinking them. Using the freshest ingredients and the finest spirits, our expert mixologists aim to satisfy the palates of both curious newcomers and connoisseurs alike.
Passport Bar:
Relaxing and inviting, its position right off the grand foyer means this may be the first, but not the last, place you stop to sink into a chair and enjoy a cocktail. Enjoy classical music from our string quartet, or kick off your evening with jazz, Big Band, and other popular music.
Cafe al Bacio & Gelateria:
Enjoy espresso or tea as you watch the world go by. Inspired by the ambiance of European cafes, muted sepia tones and pops of citrus yellow bring this space to life.
Sunset Bar:
Watch the world go by with a cocktail in hand. A relaxing evening ritual. Watch the sun set on the water as live pop and folk tunes play.
Quasar:
Our retro-chic nightclub for the late-night crowd, Quasar features DJs spinning the best of today's dance and club favourites.
Facts
Occupancy: 2,886
Tonnage: 122,400
Length: 1047 ft
Beam: 121 ft
Draught: 27 ft
Cruise Speed: 24 kts
Inaugural Date: Jul 23, 2011