Sirena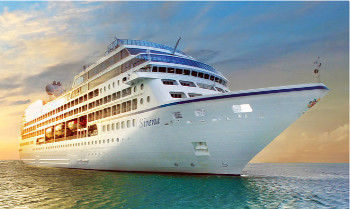 281
Starting Price, Per Night*
Sirena Cruises
Elegant sister ship to charming Regatta, Insignia and Nautica, Oceania Cruises' newest addition, Sirena embodies the most treasured elements of our celebrated fleet, and features a few highlights all her own. With the introduction of two fresh culinary experiences, Sirena offers even more ways to savor The Finest Cuisine at Sea. Tuscan Steak, a brand new specialty restaurant, serves Italian favorites, succulent steaks and fresh seafood inspired by Toscana and Polo Grill. The Grand Dining Room offers a surprise transformation into Jacques Bistro during lunch, which serves classic French fare. Also featuring the beloved restaurant Red Ginger, Sirena invites you to enjoy bold Asian cuisine in a fresh new way.
Canyon Ranch SpaClub
More Than a Spa
Healthy living and spiritual awareness are at the very heart of the Canyon Ranch philosophy. Pushing the boundaries of spa services well beyond the traditional, its award-winning health resorts have been transforming lives since 1979, when the first one was created in Arizona's spectacular Sonoran Desert. Oceania Cruises and Canyon Ranch have recreated that unique, inspiring environment on board our ships. Through fitness, exquisite Canyon Ranch cuisine and a multitude of healing therapies, you can discover ways to unleash your untapped potential and make positive changes in your life. Of course, the star element of any Canyon Ranch experience is a spa treatment that will leave you wondering how anything could feel quite so perfect.
Restore and Revitalize
Lose yourself in deep relaxation with a signature Canyon Stone Massage or perhaps a Thai Massage, which originated in Buddhist monasteries. Ease into the soothing waters of the private, open-air whirlpool spa. All Concierge Level and Suite guests enjoy FREE unlimited access to the beautifully appointed Canyon Ranch SpaClub private Spa Terrace. More opportunities await you in the state-of-the-art fitness center, where you may exercise on the latest fitness equipment or join a class in indoor cycling, aerobics, Pilates or yoga. We encourage you to attend complimentary presentations on how to enhance nutritional balance and spiritual wellness.
BEAUTY & WELLNESS
Canyon Ranch SpaClub signature treatments
State-of-the-art fitness center
Yoga, Pilates, indoor cycling, aerobics, private and group fitness classes and personal training
Kinesis exercise wall*
Private Spa Terrace featuring thalassotherapy pool or whirlpool tubs
Sauna*, steam room, fitness track and beauty salon
Canyon Ranch cuisine served in the Grand Dining Room and Terrace Cafe
Nutrition and lifestyle consultations; wellness presentations
Relaxation room and heated ceramic loungers*
Cuisine
The Grand Dining Room
Handsomely decorated in rich woods, designer tapestry fabrics and oversized armchairs, the expansive dining area exudes classic splendor. The Grand Dining Room's formally attired and classically trained wait staff graciously serve course after course of European-inspired cuisine or delectable alternatives such as healthy Canyon Ranch signature dishes. Menus change daily with a brilliant choice of at least ten appetizers, soups and salads and twelve entrees at dinner.
Open for breakfast, lunch and dinner. No reservations required.
Red Ginger
Red Ginger's chefs have created contemporary interpretations of Asian classics. The interior simply glows with ebony woods, a soothing waterfall wall and striking, modern Asian artworks. To complement the stunning decor, Red Ginger's chefs have created contemporary interpretations of Asian classics. Begin with a Salad of Spicy Roast Duck and Watermelon with Cashews, Mint and Thai Basil. Savor a Malaysian Beef Penaeng with Coconut Rice and Paratha Roti. Or try Thai Vegetable Curry with Sweet Potatoes, Aubergine, Mushrooms and Basil in Green Curry Sauce. In Red Ginger, the gustatory pleasures are as striking as the visual ones.
Open for dinner only. Reservations required.
Tuscan Steak
Tuscan Steak, our all-new specialty restaurant, exudes the warmth and Italian flair of Toscana while preserving the classic appeal of Polo Grill. Featuring glossy wood paneling with platinum and silver accents, the elegantly appointed interior of Tuscan Steak aptly reflects its modern take on the traditional steakhouse. The innovative and diverse menu features the best of both worlds, so you can savor Filet Mignon and our Signature Bistecca alla Fiorentina cooked to perfection, along with rustic Italian favorites such as Hand-Rolled Potato Gnocchi. Seafood lovers will delight in succulent dishes such as Maine Lobster alla Gratinata and Linguine Cioppino.
Open for dinner only. Reservations required.
Jacques Bistro
The Grand Dining Room offers a surprise transformation into an authentic French bistro each afternoon during lunchtime. Inspired by the family recipes of our Executive Culinary Director, Jacques Pepin, Jacques Bistro offers classic dishes that capture the essence of French cuisine. The menu reflects the rich range of flavors from regions throughout France with an emphasis on seasonal dishes such as Herb-Crusted Free-Range Chicken with Pumpkin Gratin, Five-Peppercorn Flap Sirloin Steak with Brandy Demi-Glace and Lemon Sole Fillet with Caper Butter & Crispy Croutons. The hand-written chalkboard featuring the fresh specialties of the day invites you inside to experience the warm and elegant atmosphere. Bon appetit!
Open for lunch only. No reservations required.
Terrace Cafe
Informal and carefree, the Terrace Cafe is wonderfully inviting any time of day–feel free to dine inside or alfresco at one of the shaded teak tables on the terrace. First thing in the morning, enjoy sumptuous breakfast selections. Come lunch, the expansive menu of international-inspired dishes changes entirely, beautifully complemented by flavorful roasted and rotisserie meats and the magic of the pizzeria's oven. Feel free to dine inside or alfresco at one of the shaded teak tables on the terrace. Evenings, the impeccably clad wait staff shines, and the cuisine takes on a more sophisticated flair. Lobster tails and lamb chops are prepared to order, and freshly made hand-cut sushi and sashimi await your selection. Tomorrow, an entirely different series of menus awaits the opportunity to delight you.
Open for breakfast, lunch and dinner. No reservations required.
Waves Grill
Sometimes, the ultimate luxury is casual dining on all-American favorites, a style laid-back Waves Grill epitomizes. Located in a spacious, shaded area steps from the swimming pool, Waves Grill offers an extensive and mouthwatering luncheon menu. Watch the chefs grill gourmet burgers, tangy barbecue and succulent seafood to order in the open galley, accompanying them with side dishes like garden-fresh salads and crispy, hand-cut truffle fries dusted with grated aged parmesan. Then top it off with a decadent dessert such as a creamy homemade gelato, a made-to-order hot fudge sundae or a thick, hand-dipped milkshake.
Open for lunch and afternoon dining only. No reservations required.
Afternoon Tea
Few tea times are as anticipated and inspired as ours, a celebratory daily event that irresistibly draws guests to Horizons at four o'clock sharp. As a classical string quartet plays softly in the background, our staff glides through the room presenting bountiful four-tiered pastry carts filled with freshly made finger sandwiches, colorful petits fours, richly textured scones with clotted cream, and wonderfully sinful desserts.
Daily at 4pm. No reservations required.
Baristas
This delightful coffee bar offers java lovers complimentary illy espressos, cappuccinos and lattes prepared by our master baristas, as well as the delicious pastries, finger sandwiches and homemade biscotti that draw so many to Baristas throughout the day.
Open daily until early evening. No reservations required.
Room Service
After a day of enriching shore excursions ashore or various activities onboard, you may dine in the privacy of your suite or stateroom. An extensive Room Service menu is available around the clock. Enjoy breakfast, lunch or dinner on your private veranda, as you take in spectacular seascapes.
Complimentary room service is available 24 hours a day.
Bars & Lounges
Maritinis
Martinis serves numerous incarnations of this famous cocktail in an intimate atmosphere reminiscent of a private gentleman's club, featuring live piano music.
Grand Bar
Before enjoying a gourmet meal, sample a rare vintage or imbibe your favorite libation as you enjoy spirited conversation with new found friends amid the opulence of the convivial Grand Bar.
Lounge
From headline acts to comedians and magicians to lively jazz ensembles, the Lounge is the center of nightly entertainment aboard Oceania Cruises.
Horizons
An elegant observation lounge with dramatic floor to ceiling windows and a country club casual ambiance, Horizons features our beloved teatime by day and transforms into a sophisticated evening venue by night. Dance the night away to the sounds of a lively musical group and enjoy cocktails with friends at the convivial bar.
Waves Bar
Located in shaded area steps from the swimming pool, Waves Bar offers a wide variety of libations to enhance your poolside experience. A perfect afternoon on the deck with your favorite cocktail or a glass of wine or beer can be further enhanced with a decadent dessert such as a creamy homemade gelato, a made-to-order hot fudge sundae or a thick, hand-dipped milkshake. Nearby, at Waves Grill, chefs grill gourmet burgers, tangy barbecue and succulent seafood to order in the open galley, accompanying them with the side dishes like garden-fresh salads and crispy, hand-cut truffle fries dusted with grated aged parmesan.
Entertainment & Onboard Shows
If you're an arts aficionado, you'll find our entertainment lively and engaging. Evenings aboard can be anything you desire. Marvel at the continuously changing talented guest entertainers as you delight in themed music sets and colorful folkloric shows inspired by your locale. Relax to the classical melodies of the string quartet. Chat with newfound friends over cocktails in Martinis as you enjoy the live piano music. Attend a spectacular production show in the Lounge, dance the night away in Horizons to the sounds of a marvelous musical group or show your talent at karaoke. Bold and crowd-thrilling, nostalgic and upbeat, or intimate and sophisticated – whatever you choose, the night is yours.
Tuxedo
Tuxedo presents a fresh take on the music of the Rat Pack, the Great American Songbook and the music of legends such as Tony Bennett, Natalie Cole, Frank Sinatra and many more.
Cabaret Cinema
Cabaret Cinema is a new and artful take on the songs and music of the movies. The show features a musical reinvention of the most memorable songs of the silver screen, including classic movie themes, pop hits and Academy Award showstoppers.
Acoustic Sessions
Acoustic Sessions presents the most recognizable pop music of the last four decades in an "unplugged" acoustic-style live-band setting.
Get on the Floor and Dance
Get on the Floor and Dance is a tribute to the music of dance and features iconic, hit music from artists like Gloria Estefan, Michael Buble, Christina Aguilera and Brian Setzer.
Life On Board
Pool & Sports Deck
On the sparkling Pool Deck, take a refreshing dip in the large heated pool or relax in one of the two whirlpool spas. Plenty of comfortable chaises and luxurious day beds invite you to lounge poolside while you sip your favorite cocktail. For more active pursuits, head to the Sports Deck high atop the ship. As you take in the fantastic views, enjoy some friendly competition on the shuffleboard court or play nine holes of golf on the putting greens.
SPORTS DECK
Golf Putting Green
Shuffleboard
Fitness Track
Library
Enrich your mind in the tranquility of our English-style Library with over 2,000 books and periodicals ranging from destination-specific guide books to best-selling mysteries to classic literature.
Boutiques
Our three stylish boutiques feature a bounty of items ranging from sundries to designer casual wear. Feel free to browse through our array of duty-free merchandise including fine jewelry, fragrances and Oceania Cruises logo wear.
THE OCEANIA CRUISES EXPERIENCE
Intimate & luxurious ship catering to just 1,250 guests
Airfare included with Olife Choice Program* guaranteed regardless of airfare price increases
Multiple open-seating gourmet dining venues, at no additional charge
FREE and unlimited soft drinks, bottled water, cappuccino, espresso, teas and juices
Port-intensive itineraries featuring must-see destinations and boutique ports
Overnight stays and evening departures for extended exploration
Luxurious yet relaxed country club ambiance
Spacious, sumptuously appointed suites and staterooms, 85% with private verandas
24-hour Butler service in all suites
Canyon Ranch SpaClub treatments and cuisine
Dedicated concierges for personalized service
Highly-trained staff selected from internationally acclaimed 5-star hotels and restaurants
The comfort of smoke-free environments throughout virtually the entirety of the ship
Casinos At Sea
Casinos At Sea Rewards Program
Welcome to our Casinos At Sea rewards program. Elevate your game and your card status will follow with exclusive perks and privileges. Casinos At Sea reward points can be earned for many benefits, from free play, to complimentary drinks and exciting promotional offers. The more you play, the more you are rewarded.
Earn Casino Points
Getting started is easy. Stop by the casino cage and pick up your Oceania Cruises casino player card and start earning points today, by inserting your player card while playing your favorite slot machines and table games. The more you play, the more you earn!
REEL & VIDEO SLOTS For every $5 coin-in, receive 1 point.
VIDEO POKER For every $10 coin-in, receive 1 point.
TABLE GAMES Points are based on average bet, session play or hands played and game type.
Redeem Casino Points
You've played. You've earned. Now you're ready to redeem. Downloading points for play is quick and easy. Redeem your casino points for play right at your machine by following the on-screen prompts or stop by the casino cage – the choice is yours.
Casino Cash & Credit
Front Money deposits are accepted for gaming in the form of cash, traveler's checks, cashier's checks and wire transfers delivered to us prior to embarkation. All cashier's checks require prior verification.
Cashless Wagering
Charge gaming to your onboard account directly from your game of choice or at the casino cashier, using your stateroom key card. Convenience fees, daily limits and cruise limits apply. Euros may be exchanged at the casino cashier, exchange rates apply. All gaming is in US Dollars.
Credit
Casino Credit is available to all players with an existing reservation. The minimum application amount is $10,000.00 and a personal check is required onboard to activate the credit line. Applications are processed 1 month prior to sailing. The application process is easy and there is no fee to apply.
CASINOS AT SEA
Action packed casinos designed with style
Table game limits for players of all levels
Diverse array of reel slot, video slot and video poker machines
Earn points for all your casino play
Redeem points for play right at your machine
Cashless wagering allows you to game with your key card
Casino credit available
Dedicated and knowledgeable casino staff
Industry leading player tracking system
Free gaming lessons
Facts
Year Built: 1999
Year Refurbished: 2016
Gross Tonnage: 30,277
Length: 593.7 feet
Beam: 83.5 feet
Maximum Draught: 19.5 feet
Stabilizers: Yes
Cruising Speed: 18 knots
Guest Decks: 9
Total Decks: 11
Electric Power or Voltage: 110,220 AC
Guest Capacity: 684 (Double Occupancy)
Staff Size: 400
Guest to Staff Ration: 1.71 to 1
Nationality of Officers: European
Nationality of Staff: International
Country of Registry: Marshall Islands