Riviera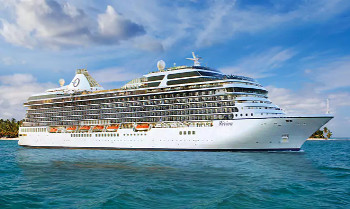 359
Starting Price, Per Night*
Riviera Cruises
The Epitome of Refined Elegance
Stunning Riviera was designed to be distinctive and special in so many ways. Featuring the magnificent Lalique Grand Staircase, stunning Owner's Suites furnished in Ralph Lauren Home, and designer touches throughout the entire ship, Riviera showcases rich residential design and furnishings. Riviera's refined ambiance truly embodies the unparalleled Oceania Cruises experience.
Ideally proportioned, Riviera still embraces the same warmth and charm of renowned Regatta, Insignia, Nautica and Sirena. While the impeccable level of personalized service and the country club casual ambiance remain the same, Riviera offers even more choices, as well as generous new amenities. Designed with the ultimate epicurean and travel connoisseur in mind, Riviera offers guests multiple dining venues, of which six are open-seating gourmet restaurants with no surcharge. La Reserve by Wine Spectator offers enlightening seminars, tastings, and gourmet food pairings. Riviera also features The Culinary Center, the only hands-on cooking school at sea which features a range of cooking classes by master chefs. In the Artist Loft, talented artists-in-residence offer step-by-step instruction in everything from photography to painting to printmaking. Baristas, our signature coffee bar, serves up illy espresso and coffee and fresh pastries made daily. Intimate spaces throughout the ship provide relaxing escapes. Spacious accommodations in every category showcase luxurious designer touches and lavish bathrooms.
Notably, the on board experience continues to exude that comfortable familiarity guests have come to cherish. We have retained everything guests appreciate about our ships and continue to aim even higher. We look forward to welcoming you aboard.
Stay Connected
Oceania @ Sea Computer Center
Stay connected with family and friends or monitor business developments in our 24-hour Internet center, Oceania@Sea. For personalized service, Oceania@Sea is fully-staffed on both sea days (8 a.m. – 7 p.m.) and port days (8 a.m. – 11 a.m. and 3 p.m. – 7 p.m.).
Internet and Phone
Oceania Cruises also offers wireless Internet access throughout the ship, allowing you to connect through your laptop or mobile device. Guests in suites are provided with a laptop. And as an added convenience, guests in all Owner's and Vista Suites will have the use of an iPad throughout the voyage. Beginning in Winter of 2015, guests in Concierge Verandas and Penthouse Suites will enjoy a FREE Internet Package, and guests in Oceania, Vista and Owner's Suites will enjoy FREE Unlimited Internet.
Mail
Letters and postcards with the appropriate postage can be mailed at the Reception Desk. Postage for mail may be purchased at the Reception Desk for a nominal fee. Mail will be collected one hour prior to sailing from each port of call.
Incoming mail or faxes received by the ship on your behalf will be delivered directly to your stateroom.
Wireless Communications Service
Oceania Cruises offers Wireless Maritime Services (WMS) for all GSM mobile phones and GPRS devices such as Blackberry when the ship is at sea.
You can make and receive phone calls, send and receive text messages and use other data services when the ship is at sea. You will be billed by your mobile phone provider and calls or messages will appear as roaming charges on your bill. While using the WMS service, international maritime roaming rates will apply. Please consult your wireless service provider for detailed rates and service zones.
INTERNET PACKAGE OPTIONS
A La Carte
For the sparse Internet user, this package is available on a per minute rate.
200-Minute Package
This package offers 200 internet minutes (or equivalent data amount).
Unlimited
Consider this package if you require heavy Internet use.
Guests staying in Concierge-Level staterooms and above are eligible for a 10% discount on unlimited and 200-minute Internet packages.
<!–Dining Continued–!>
La Reserve by Wine Spectator
La Reserve by Wine Spectator offers not only wine seminars and vintage tastings but also gourmet dinners pairing fine wines with delectable courses such as Stuffed Brioche with Duck Foie Gras and Truffle Jelly, Grilled Turban of Wild Salmon and Turbot with Seaweed Vegetable Casserole, and 72-Hour Slow Braised Short Rib with Gnocchi au Jus. Even the most devout epicureans will enhance their appreciation of fine dining at its best with these perfect pairings.
Open for dinner only. Reservations required. Wine Experience surcharge applies.
Room Service
After a day of enriching shore excursions ashore or various activities onboard, you may dine in the privacy of your suite or stateroom. An extensive Room Service menu is available around the clock. Enjoy breakfast, lunch or dinner on your private veranda, as you take in spectacular seascapes.
Complimentary room service is available 24 hours a day.
Casinos At Sea
Casinos At Sea Rewards Program
Welcome to our Casinos At Sea rewards program. Elevate your game and your card status will follow with exclusive perks and privileges. Casinos At Sea reward points can be earned for many benefits, from free play, to complimentary drinks and exciting promotional offers. The more you play, the more you are rewarded.
Earn Casino Points
Getting started is easy. Stop by the casino cage and pick up your Oceania Cruises casino player card and start earning points today, by inserting your player card while playing your favorite slot machines and table games. The more you play, the more you earn!
REEL & VIDEO SLOTS For every $5 coin-in, receive 1 point.
VIDEO POKER For every $10 coin-in, receive 1 point.
TABLE GAMES Points are based on average bet, session play or hands played and game type.
Redeem Casino Points
You've played. You've earned. Now you're ready to redeem. Downloading points for play is quick and easy. Redeem your casino points for play right at your machine by following the on-screen prompts or stop by the casino cage – the choice is yours.
Casino Cash & Credit
Front Money deposits are accepted for gaming in the form of cash, traveler's checks, cashier's checks and wire transfers delivered to us prior to embarkation. All cashier's checks require prior verification.
Cashless Wagering
Charge gaming to your onboard account directly from your game of choice or at the casino cashier, using your stateroom key card. Convenience fees, daily limits and cruise limits apply. Euros may be exchanged at the casino cashier, exchange rates apply. All gaming is in US Dollars.
Credit
Casino Credit is available to all players with an existing reservation. The minimum application amount is $10,000.00 and a personal check is required onboard to activate the credit line. Applications are processed 1 month prior to sailing. The application process is easy and there is no fee to apply.
CASINOS AT SEA
Action packed casinos designed with style
Table game limits for players of all levels
Diverse array of reel slot, video slot and video poker machines
Earn points for all your casino play
Redeem points for play right at your machine
Cashless wagering allows you to game with your key card
Casino credit available
Dedicated and knowledgeable casino staff
Industry leading player tracking system
Free gaming lessons
Dining
Grand Dining Room
Handsomely decorated in rich woods, designer tapestry fabrics and oversized armchairs, the expansive dining area exudes classic splendor. The Grand Dining Room's formally attired and classically trained wait staff graciously serve course after course of European-inspired cuisine or delectable alternatives such as healthy Canyon Ranch signature dishes. As variety is essential, menus change daily with a brilliant choice of at least ten appetizers, soups and salads and twelve entrees at dinner.
Polo Grill
Polo Grill embodies all the elements of a classic steakhouse, expressing them with timeless reverence. Mindful of tradition, the decor features crisp, white linen tablecloths, dark wood furnishings and supple, high-back, burgundy leather chairs. Each course stands as the very definition of time-honored favorites, most notably the beef dishes, all of which are USDA Prime and dry-aged for 28 days to enhance tenderness and flavor. Succulent seafood dishes such as Grilled Swordfish and Whole Maine Lobster Gratinee are also classics in their own right. The Classic Caesar Salad, too, is prepared according to tradition, tableside and with gusto.
Open for dinner only. Reservations required.
Toscana
In Italian, Toscana means Tuscan, and just as Tuscan cuisine evolved from rich family traditions, many of our recipes originated with the mothers and grandmothers of our own Italian culinary staff. Presented on elegant, custom-designed Versace china, masterfully prepared dishes exemplify the essence of Tuscany and celebrate Italy's culinary passion. Perhaps the evening begins with an appetizer of Octopus Carpaccio with Champagne Vinaigrette or the Artichoke and Parmesan Cheese Timbale with Black Truffle Sauce. Classic dishes from other regions of Northern Italy are featured as well, such as the Minestrone alla Genovese, Lasagne al Forno alla Bolognese and Osso Buco alla Milanese.
Open for dinner only. Reservations required.
Jacques
Exquisitely decorated with heirloom antiques, pickled wood furnishings and art from Jacques Pepin's personal collection, Jacques was modeled after a Parisian bistro. Comfortable and eclectic, the ambiance is pure French, as is the cosmopolitan yet wonderfully embraceable cuisine. Luscious aromas waft from the gleaming show rotisserie, where chicken, duck, pork, beef and veal roasts slowly turn. Each dish is a classic, ingeniously reinterpreted by Master Chef Pepin. This is Coq au Vin beyond the imagination. Rotisserie-roasted chicken falls off the bone, bursting with flavor. His Steak Frites pairs the succulence of prime beef with the crisp sweetness of pommes de terre. Jacques is absolutely magnifique!
Open for dinner only. Reservations required.
Red Ginger
Red Ginger's chefs have created contemporary interpretations of Asian classics. The interior simply glows with ebony woods, a soothing waterfall wall and striking, modern Asian artworks. To complement the stunning decor, Red Ginger's chefs have created contemporary interpretations of Asian classics. Begin with a Salad of Spicy Roast Duck and Watermelon with Cashews, Mint and Thai Basil. Savor a Malaysian Beef Penaeng with Coconut Rice and Paratha Roti. Or try Thai Vegetable Curry with Sweet Potatoes, Aubergine, Mushrooms and Basil in Green Curry Sauce. In Red Ginger, the gustatory pleasures are as striking as the visual ones.
Open for dinner only. Reservations required.
Terrace Cafe
Informal and carefree, the Terrace Cafe is wonderfully inviting any time of day–feel free to dine inside or alfresco at one of the shaded teak tables on the terrace. First thing in the morning, enjoy sumptuous breakfast selections. Come lunch, the expansive menu of international-inspired dishes changes entirely, beautifully complemented by flavorful roasted and rotisserie meats and the magic of the pizzeria's oven. Feel free to dine inside or alfresco at one of the shaded teak tables on the terrace. Evenings, the impeccably clad wait staff shines, and the cuisine takes on a more sophisticated flair. Lobster tails and lamb chops are prepared to order, and freshly made hand-cut sushi and sashimi await your selection. Tomorrow, an entirely different series of menus awaits the opportunity to delight you.
Waves Grill
Sometimes, the ultimate luxury is casual dining on all-American favorites, a style laid-back Waves Grill epitomizes. Located in a spacious, shaded area steps from the swimming pool, Waves Grill offers an extensive and mouthwatering luncheon menu. Watch the chefs grill gourmet burgers, tangy barbecue and succulent seafood to order in the open galley, accompanying them with side dishes like garden-fresh salads and crispy, hand-cut truffle fries dusted with grated aged parmesan. Then top it off with a decadent dessert such as a creamy homemade gelato, a made-to-order hot fudge sundae or a thick, hand-dipped milkshake.
Open for lunch and afternoon dining only. No reservations required.
Afternoon Tea
Few tea times are as anticipated and inspired as ours, a celebratory daily event that irresistibly draws guests to Horizons at four o'clock sharp. As a classical string quartet plays softly in the background, our staff glides through the room presenting bountiful four-tiered pastry carts filled with freshly made finger sandwiches, colorful petits fours, richly textured scones with clotted cream, and wonderfully sinful desserts.
Daily at 4pm. No reservations required.
Baristas
This delightful coffee bar offers java lovers complimentary illy espressos, cappuccinos and lattes prepared by our master baristas, as well as the delicious pastries, finger sandwiches and homemade biscotti that draw so many to Baristas throughout the day.
Open daily until early evening. No reservations required.
Privee
Host a private party for up to 10 privileged guests in our most exclusive onboard dining venue, Privee. The exquisite setting is adorned with Baroque millwork and a custom-built table designed by the famed Dakota Jackson, illuminated by a golden Venini chandelier. The cuisine is equally superb, as each guest may select any number of courses from Polo Grill, Toscana or a combination of both.
Reservations required. A room reservation surcharge applies.
Lifestyle and Activities
Artist Loft
For budding artists, there is the Artist Loft enrichment center, where talented artists-in-residence offer step-by-step instruction. Under their watchful eye, you may paint with oils or watercolors, sketch or create collages. The courses change continually and are designed with every level in mind, so everyone from beginners to seasoned professionals will find the classes engaging and enriching. With the masters' guidance, your talents will quickly blossom.
Entertainment
Casino
Delight in the sounds of the action-packed slot machines, followed by the lucky cheers of your fellow travelers as you roll a hot pair of dice at the craps table*. Ante up at the poker table, double down in a sizzling game of blackjack or place a bet on your favorite number and watch the roulette wheel spin your way. Whatever you play, get ready to ride a lucky streak at Oceania Casino.
*On select ships.
World Beat
This musical voyage around the world will let you feel the percussive beats of Irish tap dancing to the rhythmic cadences of the New York City streets. You will be moved by the soulful drums of Africa and the dramatic Kodo rhythms of Asia. Experience this international journey as we bring to you….World Beat.
That's Entertainment
From the Golden Age of cinema to the glitz glamour of current pop culture, That's Entertainment is inspired by the talent and excitement of showbiz icons. From Sinatra and Monroe to Elvis and Madonna, join the Oceania Cruises Riviera Production Cast as they bring to life the hits of yesterday and today in…..That's Entertainment.
The Look of Love
The Look of Love – The Music of Burt Bacharach tells the story about a group of friends who witnesses a marriage proposal and decides to take an impromptu trip to Las Vegas. Though the bachelor and bachelorette parties go their separate ways, they end up together at the San Jose Bar. The Look of Love explores the push and pull of love and relationships. You can't help but fall in love again as if it's the first time.
Lights, Camera, Music!
In this elegant tribute to the greatest moments of the Hollywood Movie Musical, see your favorite cinematic classics come to life from the romantic glamour of the 1940's to the high-kicking can-can of the Moulin Rouge! So curtain up…light the lights….as we proudly present….Lights, Camera, Music!
Afternoon Tea
Tea Takes Center Stage
A ritual that dates back to 19th century England, afternoon tea is still a cherished tradition the world over. But few tea times are as anticipated and inspired as ours, a celebratory daily event that irresistibly draws guests to Horizons at four o'clock sharp. As a classical string quartet plays softly in the background, our staff glides through the room presenting bountiful four-tiered pastry carts filled with freshly made finger sandwiches, colorful petits fours, richly textured scones with clotted cream, and wonderfully sinful desserts. Of course, a tempting selection of traditional and herbal teas is the essential centerpiece of this splendid afternoon pastime.
Daily at 4pm. No reservations required.
Bon Appetit Culinary Center
For those enthusiasts seeking enlightenment beyond that found in a library or a lecture, Riviera and Marina offer the first custom-designed and truly hands-on cooking school at sea. At The Culinary Center, you will learn how to prepare a variety of exquisite dishes at your own fully equipped workstation in a state-of-the-art teaching kitchen. Master Chefs from around the world offer guidance and inspiration to fine-tune your techniques, but you will actually prepare the dishes yourself. It's the ultimate way to learn and truly absorb every step of each recipe, especially since at select ports you may accompany the instructor chefs while shopping for fresh ingredients ashore at local markets on our exclusive Culinary Discovery Tours.
Canyon Ranch SpaClub
More Than a Spa
Healthy living and spiritual awareness are at the very heart of the Canyon Ranch philosophy. Pushing the boundaries of spa services well beyond the traditional, its award-winning health resorts have been transforming lives since 1979, when the first one was created in Arizona's spectacular Sonoran Desert. Oceania Cruises and Canyon Ranch have recreated that unique, inspiring environment on board our ships. Through fitness, exquisite Canyon Ranch cuisine and a multitude of healing therapies, you can discover ways to unleash your untapped potential and make positive changes in your life. Of course, the star element of any Canyon Ranch experience is a spa treatment that will leave you wondering how anything could feel quite so perfect.
Restore and Revitalize
Lose yourself in deep relaxation with a signature Canyon Stone Massage or perhaps a Thai Massage, which originated in Buddhist monasteries. Ease into the soothing waters of the private, open-air whirlpool spa. All Concierge Level and Suite guests enjoy FREE unlimited access to the beautifully appointed Canyon Ranch SpaClub private Spa Terrace. More opportunities await you in the state-of-the-art fitness center, where you may exercise on the latest fitness equipment or join a class in indoor cycling, aerobics, Pilates or yoga. We encourage you to attend complimentary presentations on how to enhance nutritional balance and spiritual wellness.
BEAUTY & WELLNESS
Canyon Ranch SpaClub signature treatments
State-of-the-art fitness center
Yoga, Pilates, indoor cycling, aerobics, private and group fitness classes and personal training
Kinesis exercise wall*
Private Spa Terrace featuring thalassotherapy pool or whirlpool tubs
Sauna*, steam room, fitness track and beauty salon
Canyon Ranch cuisine served in the Grand Dining Room and Terrace Cafe
Nutrition and lifestyle consultations; wellness presentations
Relaxation room and heated ceramic loungers*
* Available on board Marina & Riviera
Facts
Riviera: 2012
Tonnage: 66,084
Length: 784.95 feet
Beam: 105.646 feet
Maximum Draught: 24 feet
Stabilizers: Yes
Cruising Speed: 20 knots
Guest Decks: 11
Total Decks: 16
Electric Power or Voltage: 110, 220 AC
Guest Capacity: 1,250 (Double Occupancy)
Staff Size: 800
Guest to Staff Ratio: 1.567 to 1
Nationality of Officers: European
Nationality of Staff: International
Country of Registry: Marshall Islands