MSC Fantasia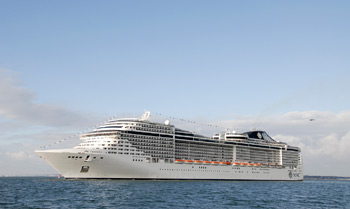 73
Starting Price, Per Night*
MSC Fantasia Cruises
The ship that launched a new experience
MSC Fantasia launched an entirely new vision – becoming the cruise ship that provides guests with the most authentic Mediterranean experience at sea.
At its heart, you'll find a real stone piazza complete with an espresso bar serving freshly-baked pastries and Italian-inspired gelati.
Designer-themed lounge bars bring a metropolitan vibe to the onboard experience. There's never a dull moment with the gourmet specialties and entertainment, including a piano bar, jazz bar and Sports Bar with video games and live event screenings.
The Monte Carlo Casino is stunning. The panoramic Liquid Disco and futuristic Broadway-scale theater, offers an array of world-class performances.
From the grand Il Cerchio d'Oro to the intimate Red Velvet with real Murano glass chandeliers and the lively El Sombrero's tongue-tingling Tex-Mex and cocktails, expect to enjoy a capital dining experience.
There are many sports facilities abound, from tennis, basketball, mini-golf, a jogging track and gym along with the Aqua Park Pool Complex, the thrilling Formula 1 simulator and a 4D Cinema.
Like every great city, MSC Fantasia offers worlds within worlds for the entire family. From restorative havens in the adults-only Top 18 sun deck and exotic MSC Aurea Spa to the fantastic facilities and clubs for kids and teens, everyone finds their happy on board.
The ultimate in exclusive luxury is the stunning MSC Yacht Club, a unique ship-within-a-ship boasting its own Concierge Reception, 24-hour butler service, private lounge and oasis-style pool deck.
There's always more to discover as you make your way around the world on MSC Fantasia.
Bars and Lounges
La Cantina Toscana

True connoisseurs can find the most renowned Italian wines at La Cantina Toscana, a wine bar that welcomes guests into an environment inspired by the peaceful Tuscany hills and Chianti vineyards. Every day, special wine tastings are accompanied by different bites of food, such as fried polenta with cream cheese, bruschetta and other specialties.
Sports Bar

A sports-inspired menu is available at the Sports Bar, featuring international dishes and imaginative snacks, such as grilled Yorkshire ham delicacies or Greek shrimp kebabs. It also serves a wide selection of the most popular international long drinks and beers.
Manhattan Bar

The drinks list of the Manhattan Bar is inspired by jazz music: rare whiskies, cognac, aged grappa, the best brands of vodka and gin, and aged tequila.
Piazza San Giorgio

Sample the delights of Piazza San Giorgio. With its bar ice-cream parlour, pastry and chocolate shop, a world reminiscent of Willy Wonka's chocolate factory awaits our guests. Dishes include creme bavaroise with almonds and berries, chocolate semifreddo, vanilla and rose macaron cream, cannoli, baba and meringues.
Il Cappuccino

At the Il Cappuccino Coffee Bar, the interior design is inspired by the scent of chocolate, evoked by the walls shaped like chocolate bars.
Entertainment
MSC Cruises' uncompromising dedication to its passengers is nowhere more evident than the unrivalled entertainment programmes and facilities offered on board MSC Fantasia, with its state-of-the-art 1600 seat L'Avanguardia Theatre, futuristic Liquid Disco, the Casino delle Palme with over 1000 square metres of casino gaming and Virtual World, video games room.
Dining
Red Velvet Restaurant

Red Velvet restaurant is distinguished by the attention paid to the details of its furnishings, from red velvet cushions to Murano glass chandeliers, refined porcelain to crystal glasses and silver flatware. Every evening, Red Velvet offers a different menu to celebrate an Italian region with its typical cuisine and most renowned wines.
Il Cerchio d'Oro Restaurant

Il Cerchio d'Oro restaurant, on the ship's stern, features a breathtaking panorama which inspired the theme of transparency and light used in the restaurant design. This restaurant offers an assorted Mediterranean menu, including light choices and options that are always available, to satisfy those who know what they want each day.
L'Etoile Restaurant

L'Etoile, the private restaurant at the exclusive service of MSC Yacht Club members, provides guests with a gourmet dining experience principally inspired by the Italian and French culinary traditions. Refined ingredients such as foie gras, truffles and scallops combine with delicacies such as quail eggs, guinea fowl and pigeon breast to create dishes that are both sophisticated and minimalistic. The sparing use of decoration serves as foil to highlight the scrupulously selected raw ingredients.
The restaurant offers a connoisseur wine list of some fifty superb Italian, French and Spanish wines, including Louis Roederer Cristal Brut Millesime, Soldera Case Basse Brunello di Montalcino Riserva DOCG and Chateau Figeac Saint Emilion Premier Grand Cru. Ably assisted by the expert Head Wine Waiter who is always in attendance, MSC Yacht Club guests can choose the perfect accompaniment to the chef's creations, exploring some of the finest wines in the world.
Tex Mex El Sombrero restaurant

For lovers of spicy food, Tex Mex El Sombrero is the right choice. Sample all the tastes of Mexican cuisine: from Texas steaks to enchiladas, fajitas to burritos and tacos, guacamole to tortillas, all accompanied by Mexican beer, Tequila and Margaritas. The full-view kitchen completes the traditional atmosphere of this restaurant.
Fun
The fun is never-ending by day or night.
Italians are known for l'arte di vivere – the art of living and enjoying life. And so you will discover an endless array of pleasures and fun activities onboard.
Perhaps you'll begin with an invigorating yoga class, volleyball game, tennis or miniature golf. Stop by the Internet Cafe or international library while the kids enjoy the fun of our complimentary youth program that includes art, dancing and games for kids of all ages. Enjoy shopping in our onboard boutiques, or enrich your mind with an Italian lesson.
When evening arrives, la notte magica – the night is magical. Inspired entertainment brings standing ovations for our unique brand of exotic theatricality. We offer different shows in our theater each night, such as passionate flamenco dancers from Spain for a touch of the Mediterranean.
Your enchanted evening continues with dancing in our disco and live performances throughout the ship, from a classical string quartet to jazz and piano. Or have fun singing along to your favorite Italian songs. And in the European gaming tradition, we invite you to try your luck in our casino. Then end your evening with a romantic stroll on the pool deck where le stelle brilliano luminose – the stars shine bright.
Facts
Gross Tonnage: 137,936
Number of Passengers: 4,363
Crew Members: About 1,370
Number of Staterooms: 1,637, incl. 43 for guest with disabilities or reduced mobility
Length / Beam / Height: 1,083 ft. / 124 ft. post panamax / 222 ft
Decks: 18, incl. 14 for guests
Maximum speed: 22.87 Knots
Average speed: 18 Knots
Environmental technology: AWT -Advanced Water Treatment, Energy Saving & Monitoring System, Clean Ship 2