MSC Seascape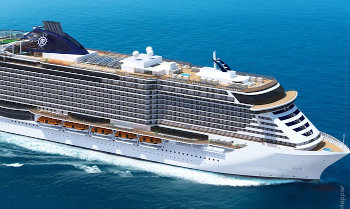 128
Starting Price, Per Night*
Bucket-list destinations are moments away on MSC Seascape cruises
Bring brand-new accommodation spaces, delectable dining locales, and thrilling onboard activities, MSC Seascape cruises have truly pushed the envelope when it comes to cruising the seas. With direct inspiration of its name coming from the stunning oceans that ships sail across every day, a MSC Seascape cruise is all about showcasing the wonders and excitement that comes with a cruise holiday. From wonderful evenings at flavour-packed specialty dining venues like Butcher's Cut, to family-fun days at Pirates Cove Aquapark while you laze by the poolside, your time aboard MSC Seascape cruises promise to be one you'll cherish for many years to come.
Just like its sister ship, MSC Seashore, every MSC Seascape cruise itinerary is jam-packed with a wealth of bucket-list destinations we're sure you'll love. Whether it's bustling cities just waiting to be explored, quiet port towns boasting unique specialty cuisine, or marvellous hidden gems with awe-inspiring natural views, MSC Seascape cruises will undoubtedly have something for every kind of traveller. Kick start your next holiday today and check out the latest MSC Seascape cruise packages now!
View all MSC Seascape cruises or view more options for MSC cruises.
Maiden Voyage departs in
MSC Seascape Accommodation options
MSC Seascape cabins are all about providing guests with all the comforts one would need to feel worry-free for their entire voyage. With most MSC Seascape cabins featuring an outdoor space or outside view, it's safe to say that guests are also offered a direct connection to their destination for the entirety of their adventure. Plus, with wheelchair-accessible options available for some cabin categories, every traveller onboard is well accounted for and taken care of.
Cabins:
With all the essentials needed for a stress-free holiday, the Interior cabin is a great pick for guests who plan to spend their voyage exploring the ship or destination. Fitted with a comfortable sofa and lounge area, the MSC Seascape Oceanview cabin also comes with a window directly facing out towards the blue horizon. Fantastic for voyagers who prefer a bit of privacy while outdoors, the Balcony cabin features an additional outdoor space great for the quiet moments of the trip.
Booking as a family and want to keep your children nearby? Or are you planning your MSC Seascape cruise with a group? Then, the SuperFamily Balcony or SuperFamily Plus Balcony cabin is naturally the right choice for you! MSC Seascape SuperFamily Balcony cabins are two or three interconnected rooms with plenty of room for a group of travellers to enjoy. Hurry, these options are limited in availability so be sure to book early.
Suites:
Offering guests an extended outdoor space, the Balcony suite is a wonderful option for those who might want a bit of extra space to stretch and do some meditation before a big day of travel. The Seascape suite takes this up a notch, with your very own outdoor balcony whirlpool and an even larger indoor lounge space. Spacious and packed with more than just the essentials, the MSC Yacht Club Interior and Deluxe suites are a splendid option for guests who love a little bit of luxury throughout their MSC Seascape cruise.
However, the best MSC Seascape suite onboard is the 2-Bedroom Grand suite or the MSC Yacht Club Royal suite! As you might suspect, the 2-Bedroom Grand suite is a magnificent selection, coming with an additional dining space that could even welcome a small group of guests for an evening. In comparison, the MSC Yacht Club Royal suite levels up the luxury with an additional outdoor whirlpool plus an outdoor dining space.
Dining options on MSC Seascape
HOLA! Tacos and Cantina
Bursting with flavour, HOLA! Tacos and Cantina will have you exclaiming "holy guacamole!" with every bite. Choose from a brilliant menu of family-style tacos that will keep you coming back for more throughout your entire MSC Seascape cruise. What's more, with additional options including nachos, enchiladas, rice bowls, and just chips with salsa, HOLA! Tacos and Cantina accounts for all types of appetites. Whether you're in the mood for a feast or a snack, this taqueria has exactly what you need.
Butcher's Cut with Al Fresco Dining
In the mood for a delicious steak? Then head straight to Butcher's Cut! An interpretive America-Style-Steakhouse, Butcher's Cut offers guests an approachable and comfortably furnished venue that celebrates American heritage. With an excellent menu for lunch and dinner, choose between various cuts including, rib-eye, sirloin, filet mignon, and more. For those with lighter appetites, Butcher's Cut additionally has a remarkable menu of appetizers, soups, and entrees including wild salmon, slow roasted chicken, and even the simple Caesar salad! A favourite amongst guests, make a booking at Butcher's Cut on your next MSC Seascape cruise!
Cafes & Bars:
Top 19 Bar
Loft Café
Cocktail Bar
Horizon Bar
Sky Bar
Sports Bar
Uptown Lounge
Wine Cave Bar
Jungle Beach Bar
Venchi 1978 Chocolate Bar
Other Dining Options:
Kaito Teppanyaki
Kaito Sushi Bar
Marketplace Buffet Restaurant
Ocean Cay Restaurant
The Green Way Restaurant
Aurea Restaurant
Yacht Club Restaurant
Main Dining Restaurants
Marketplace Buffet & Restaurant
Ocean Cay by Ramon Frexia
Fusion Restaurant
Bistrot
Chef's Court
VIP Restaurant
Tribeca Restaurant
5th Avenue Restaurant
Manhattan Restaurant
Activities & Things to do
F1 Simulators
No matter what team or driver you're a fan of, the F1 Simulators aboard MSC Seascape are a blast for those who truly love the sport. Hop in the driver's seat of a F1-inspired race car and go for a spin around a virtual track against other players. This state-of-the-art simulator seamlessly immerses you into the Formula One world, and in but a matter of moments you'll feel like a real driver racing against feisty competitors. Get your heart racing and cross the finish line first by trying out the F1 Simulator yourself!
Chora Theatre
For electrifying theatre productions to enchanting performances from talents across the globe, the Chora Theatre is an entertainment venue that'll be a mainstay for many voyagers throughout their MSC Seascape cruise. With each itinerary featuring a varied and unique entertainment programme, every evening will be just as exciting as the next. Grab your closest friends and check out the Chora Theatre when you sail on MSC Seascape!
Other Activities and Things to do:
Pirates Cove Aquapark
Le Cabaret Lounge
Baby Club
Teens Club
Piazza
Rafting Simulator
5D Cinema
Bowling
Atrium
Art Gallery, Photo Gallery and Shop
Spa and Wellness Complex
Solarium
MSC Gym by Technogym
MSC Business Center
Liberty Plaza
Jungle Pool
MSC Sports Arena
Facts
Inaugurated: 2025
Length: 339 m
Beam: 41 m
Height: 72 m
Passengers: 5,887
Crew: 1,648
Gross Tonnage: 169,500 gt.
Maximum Speed: 22 knots