Disney Dream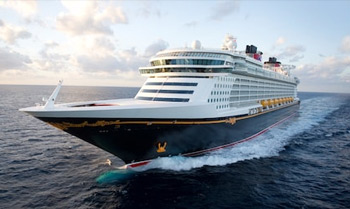 298
Starting Price, Per Night*
Disney Dream Cruises
A Dream Come True
Let your imagination set sail. Be front-and-center at original Broadway-caliber live shows, dine on artfully prepared meals in wondrously themed restaurants and make a splash on the AquaDuck. Combining classic beauty and modern luxury with legendary Disney storytelling, the award-winning Disney Dream invites you to embark on an unforgettable voyage where dreams really do come true.
View more options for Disney cruises.
Entertainment
Offering Broadway-Caliber musical live shows starring some of your favorite Disney Characters in the Walt Disney Theatre, and first-run movies in the Buena Vista Theatre, entertainment on the Disney Dream is sure to delight and inspire everyone in your family.
Sailing Away:
Jumpstart your vacation to lively beats and interactive dance numbers at this deck party extravaganza. Mix and mingle with other Guests while enjoying a show that features some of your favorite Disney Characters.
Disney's Believe:
Enjoy a spellbinding musical about a workaholic father who reconnects with his daughter through a little Disney magic.
Buena Vista Theatre:
From blockbusters to Disney classics, see a movie in state-of-the-art comfort-and style.
Character Greetings:
Kids and adults can meet and greet Disney Characters, occur throughout the Disney Dream, both in designated places and during special surprise appearances.
The Golden Mickeys:
A dazzling tribute to the enchanting movies of Walt Disney-complete with red carpet!
Villains Tonight!:
Catch a hilarious musical comedy dedicated to the best of the worst Disney villains-on the Disney Dream.
The Walt Disney Theatre:
Live performances shine in this glitzy high-tech theatre palace at sea.
Dining
Dining aboard the Disney Dream promises a culinary confection of fresh, expertly prepared dishes with a dash of Disney magic. Offering diverse menus, wondrously themed restaurants and Disney's innovative Rotational Dining where you can enjoy a different restaurant every night of your cruise, Disney Cruise Line invites you to feast on the finest dining at sea.
Animator's Palate:
Feast your eyes on the magic of Disney animation at this restaurant that serves up a unique dinner show starring Disney characters.
Cabanas:
Stroll along a beach boardwalk boasting fresh food favorites for lunch and dinner-or savor table-service dining nightly.
Eye Scream Treats and Frozone Treats:
Find frozen sweet treats at two quick-service venues conveniently located near Donald's Pool on Deck 11. Frozone Treats – named after the ice-creating superhero in the Disney"Pixar movie The Incredibles – mixes delicious fruit smoothies. Eye Scream Treats – inspired by Mike Wazowski from the Disney"Pixar animated feature Monsters, Inc. – offers soft-serve ice cream with your favorite sundae toppings.
Enchanted Garden:
Savor a market-style menu of flavors from around the world at this restaurant inspired by the gardens of Versailles.
Flo's Cafe:
Looking to top off your tank? Make a pit stop at this outdoor eatery, home to 3 food stations-Luigi's Pizza, Tow Mater's Grill and Fillmore's Favorites-inspired by Disney Pixar's Cars. Guzzle burgers, chicken, pizza, salads and sandwiches.
Palo:
Savor classic Northern Italian cooking with a modern twist at this chic adult-exclusive restaurant-it's a feast for the senses!.
Preludes:
Set the stage for an evening of unforgettable entertainment at this snack bar located outside the Walt Disney Theatre. Pick up cookies, candy, cocktails and popcorn before the show-or enjoy wait-staff service from your seat inside the theater.
Remy Dinner:
Offering the most luxurious dining onboard, Remy is an adult-exclusive restaurant serving the finest French fare for dinner.
Room Service:
Feast on fresh, made-to-order dishes in the comfort of your stateroom 24 hours a day-with most meal items included in the price of your cruise.
Royal Palace:
Dine like royalty on French-inspired, continental fare at this enchanting restaurant inspired by classic Disney Princess films.
Senses Juice Bar:
Replenish and recharge at this nutritious refreshment haven near Senses Spa & Salon at Deck 11. Serving blended beverages bursting with fresh fruit and vegetables, Senses Juice Bar provides a vitamin-infused, protein-filled boost after a vigorous workout or massage.
Vanellope's Sweets & Treats:
Race on down to this decadent dessert shop inspired by the super-sweet arcade game from Disney's Wreck-It Ralph. Enjoy a "Sugar Rush" with hand-scooped gelato, fresh waffle cones, baked treats and candy in a wide variety of delicious flavors.
Pools
Disney Cruise Line pools aboard the Disney Dream include 3 themed freshwater pools – one for kids, one for adults and one for families – and an exciting standalone waterslide open each and every day of your cruise vacation.
AquaDuck:
Get ready for a quacking good time as you careen through a water-gushing acrylic tube that takes you all over the ship!
Donald's Pool:
One of 3 freshwater pools on the Disney Dream, is designed for families and located on Deck 11, Midship. Guests can enjoy a dip in the pool's refreshing water or relax poolside where they can soak up some sun.
Funnel Puddle:
Sit back or splash it up at this family wading pool located on Deck 12, where kids can play while adults dip their toes.
Mickey's Pool:
A fun Mickey design, a winding waterslide and a shallow depth make this pool a splashing good time for kids.
Nemo's Reef:
Splash around, cool off and make new friends at this whimsical water play area for children 8 years of age and under.
Satellite Falls:
Move in your own tranquil orbit at this adult-exclusive wading pool aboard the Disney Dream. Satellite Falls is the perfect place to cool off after an afternoon in the sun.
Quiet Cove Pool
An adults-exclusive pool located at Deck 11, Forward. Luxuriate in a calming environment in this sparkling-blue pool that's designed for Guests 18 years of age and older.
Spa and Fitness
The Disney Dream offers a full service spa, hair salon and fitness center for women and men at the immaculate Senses Spa & Salon – an impressive sanctuary, spanning Decks 11 and 12, Forward of the Disney Dream. Indulge in soothing spa treatments, attain a new look with a complete makeover, or feel the burn on our state-of-the art cardiovascular and weight machines.
Senses Spa & Salon:
Experience high-end salon services and treatments inside an elegant spa boasting an ocean view.
Chill Spa
At Chill Spa, teens are invited to indulge in soothing beauty treatments created just for them.
Fitness Center
Enjoy a fully loaded workout facility sporting numerous group exercise classes, weight machines and cardiovascular equipment.
Goofy's Sports Deck:
This open-air activity center features a miniature golf course, virtual sports simulators and a basketball court.
Virtual Sports Simulators:
With virtual sports simulators at Goofy's Sports Deck, an outdoor activity center located on Deck 13, Aft aboard the Disney Dream, you can play soccer, baseball, basketball and golf without leaving the ship.
Youth Clubs
Disney Cruise Line provides Disney-themed kids clubs, areas and immersive interactive programs and activities designed to allow your child's imagination to soar aboard the Disney Dream.
Edge:
At this activity center just for tweens, watch movies, play games, craft and more with other cruisers your age.
"it's a small world" nursery!:
Kids can romp, rest and do everything in between at this internationally themed childcare center.
Disney's Oceaneer Club:
Children 3 to 12 years old can interact with Disney characters-and each other-as they explore multi-themed magical lands.
Disney's Oceaneer Lab:
Children 3 to 12 years old can play and learn at sea through imaginative themed activities and games, offered daily.
Vibe:
At this teens-exclusive space, chill out, listen to music, watch TV, play group games and more with cruisers your age.
Nightclubs and Lounges
Disney Cruise Line nightclubs and lounges aboard the Disney Dream are wondrously themed areas where adults and kids can dance, enjoy live music and participate in games and activities.
Pub 687:
A sports-fan's paradise, this lounge is outfitted with huge flat-screen LCD TVs to view live broadcasts via satellite.
Bon Voyage:
Toast to a good journey with a refreshing beverage at this sophisticated Art Deco retreat located in the grand Atrium. Serving cocktails, coffees, juices and sodas, this full-service bar is a great place to meet up with loved ones while at sea.
Cove Café:
Anchor yourself at this relaxing, adults-only, indoor/outdoor lounge overlooking Quiet Cove Pool. Find refuge with gourmet coffee, mixed drinks and baked goods, or simply peruse a magazine, watch the flat-screen TV or surf the Internet.
Currents:
Ride a wave of relaxation at this open-air bar perched high on Deck 13. Offering commanding views of the sea, shore and sunset, this breezy hotspot is the perfect place to sip a cocktail or beverage and simply take it all in.
District Lounge:
Gather together and drop in to District Lounge, a relaxed piano bar featuring entertainment and live music nightly.
D Lounge:
Sing, dance, play games and enjoy live entertainment as a family at this high-energy entertainment venue.
Evolution:
Evolution is a butterfly-themed hotspot celebrating all styles of music. During the day, Guests of all ages can partake in a number of fun-filled games and activities; while at night, adults are invited to dance, enjoy a mixed drink or sing karaoke.
Meridian:
Imbibe in a pre- or post-dinner cocktail at this sophisticated indoor and outdoor lounge situated between Palo and Remy.
Pink: Wine and Champagne Bar
It's sparkly, fizzy fun at Pink: Wine and Champagne Bar, an intimate space with cozy nooks to provide the ideal romantic setting.
Skyline:
Sip a drink and sightsee from your seat at this chic sky bar serving sweeping views of the world's most scenic horizons.
Vista Cafe:
Set your sights on this Art-Deco-inspired café and Internet hotspot. Enjoy coffee and pastries in the morning or a pre- or post-dinner cocktail at night.
Facts
Gross tonnage: 130,000
Length (ft.): 1,115
Total Staterooms: 1,250
Registry: The Bahamas
Home Port: Port Canaveral, Florida