Enchanted Princess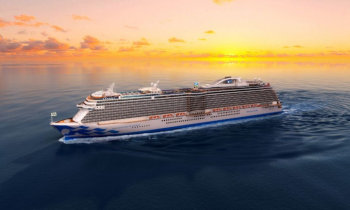 109
Starting Price, Per Night*
Leave your stress at home on Enchanted Princess!
The fifth in line of Princess' impeccable Royal-class ships, Enchanted Princess exudes spectacular style and decadent luxury like previous vessels, but introduces new exciting attractions that will bring anyone back on board. Featuring delectable dining options such as the signature dishes at Crafted by Curtis Stone or the thrilling entertainment venues such as the remarkable new Princess Live! And Café, Enchanted Princess is guaranteed to amaze.
Enchanted Princess will be embarking on enchanting journeys through the gorgeous world of the Mediterranean, with cruises departing from fantastic cities such as Athens, Barcelona, and Rome. With elegant cruises taking guests to outstanding destinations, with immersive shore excursions that bring passengers up close to the local cultures, and a stunning ship fitted with convenient facilities, taking a holiday on Enchanted Princess is simply spectacular.
View all Enchanted Princess cruises by clicking the cruises tab, or alternatively click here for all Princess cruises.
Maiden Voyage Departs in…
Accommodation on Enchanted Princess
Upon boarding the magical Enchanting Princess, guests are immediately welcomed by friendly and attentive staff who strive to make you feel right at home. There are eight styles of accommodation present on Enchanted Princess: Interior, Premium Oceanview, Balcony, Deluxe Balcony, Mini-Suite, Club Class, Suite, and Sky Suite. Each of these lodgings feature a satellite TV, 24-hour room service, and plenty of space to unwind after a long day of exploring the magnificent destinations. The Club Class in particular comes in a similar style of the Mini-Suite, but with VIP benefits such as priority embarkation and expedited seating in an exclusive area of the Main Dining Room.
There are additionally wheelchair-accessible staterooms for travellers with limited mobility. These include a roll-in shower, an easy to access closet to place your clothes and a nifty accessible desk.
Dining
Enchanted Princess is brimming with a vast array of tantalising dining options and specialty restaurants that are sure to keep any traveller coming back for more. Prepared day and night by professional chefs dedicated to creating an unforgettable culinary journey, Enchanted Princess is guaranteed to impress.
Bistro Sur La Mer by Emmanuel Renaut
Created by Chef Emmanuel Renaut, who has the impressive title of Chef of the Year by Le Chef and a three Michelin star restaurant Flocons de Sel, Bistro Sur La Mer offers mouth-watering French bistro-style dining with an amazing modern twist. Whether the unforgettable red snapper and scallop mousseline piques your interest or the flavoursome filet mignon is your meal of choice, dining at Bistro Sur La Mer will undoubtedly impress.
Gigi's Pizzeria
For a fresh and classic-style Italian pizza, Gigi's Pizzeria is the best place to go. With a welcoming sit-down venue and a delectable menu of enticing pizzas along with a selection of beers and wines, Gigi's Pizzeria is great for those looking to connect with a new group of friends or to have a warm and intimate night with a loved one.
Other dining options:
Chef's Table Lumiere
Sabatini's Italian Trattoria
The Salty Dog Gastropub & Salty Dog Grill
Crown Grill
Ultimate Balcony Dining
Main Dining Room
World Fresh Marketplace
International Café
Ocean Terrace
Slice Pizzeria
Afternoon Tea
Gelato
Onboard activities & things to do
Throughout the day and night, the Enchanting Princess is packed with entertainment to keep you busy for the entirety of your dream holiday.
Lotus Spa
Want to be completely pampered? The Lotus Spa is the best place to go! Offering a variety of comforting treatments ranging from facials to aroma stone therapy massages, passengers are provided with a tranquil space to unwind and relax. Additionally, patrons can go to The Enclave at The Lotus Spa, an expansive thermal suite that can help detoxify and purify the bodies of anyone who visits. Moreover, active travellers can head to the Lotus Spa Fitness Center that provides all the wonderful exercise and personal training equipment needed to keep in shape.
Princess Live!
Bring down your friends and family down to the spacious Princess Live! for a night of hearty laughs and unending smiles. Take part in an exhilarating game show or enjoy a hilarious comedy as you have a quick bite to eat from the nearby café. New to Princess Cruises, Princess Live! Is a must-see for those looking to spend some time being entertained with your closest friends and family.
Other onboard activities and things to do:
The Piazza
Pools
Vista Show Lounge
Casino
Take Five Bar
Princess Theater
Crooners
Original Musical Productions
The Voice of the Ocean
Movies Under the Stars
Festivals of the World
Discovery at SEA Programs
Art Gallery & Auctions
Platinum Photography Studio
Sports Court
Featured Guest Entertainers
Phantom Bridge Escape Room
The Sanctuary
Facts
Debuting: 2020
Guests: 3,660
Crew: 1,346