Valiant Lady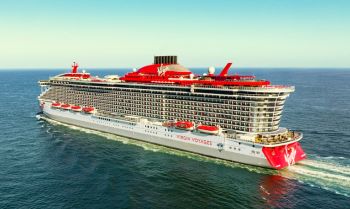 114
Starting Price, Per Night*
Unlock your sense of adventure with a Valiant Lady cruise!
Pushing the boundaries of modern luxury to unanticipated levels, Virgin Voyages have introduced the magnificent Valiant Lady. A sister ship to the equally as impressive Scarlet Lady, Valiant Lady has all the hallmarks of a remarkable ship purpose-built to craft cherished memories. Boasting delightful dining venues, action-packed onboard activities, and creatively designed accommodation options, Valiant Lady seeks to revolutionise luxury cruising.
Valiant Lady will set sail to the sun-soaked and adventure-filled coastlines of the Mediterranean. The ship will be tempting curious explorers with seven-night cruises to idyllic locales in Spain such as Barcelona and Ibiza, as well as Monte Carlo and Gibraltar. With every extraordinary holiday having no kids, no buffets, and no limits, Virgin Voyages have crafted an experience that sails luxury cruises into the 2020's. Organise your next relaxing escape with Valiant Lady cruise today!
View all Valiant Lady cruises here on the cruises tab, or alternatively click here for all Virgin Voyage cruises.
Accommodation on Valiant Lady
Virgin Voyages has strived to carefully craft accommodation options on Valiant Lady that feature state-of-the-art technology while simultaneously ensuring guests can feel more than comfortable. One thoughtful inclusion was the use of eco-centric presence sensors, an environmentally safe feature that detects when a passenger has left their cabin, immediately transitioning into energy conservation mode by setting the air-conditioning to an eco-friendly temperature as well as closing the blinds. For all guests on Valiant Lady, every cabin is fitted at a minimum with a pristine 4K TV, a regularly replenished mini-bar, and a booming entertainment system.
Valiant Lady accommodation options are categorised into the intimate Insider cabin, the noteworthy Sea View cabin, the dazzling Sea Terrace, and the luxurious RockStar Suites. An essential choice for adventurers searching for an executive-level of modern luxury, RockStar Suites possess an abundance of space none-like any of the other cabins. Moreover, these suites feature additional complimentary amenities and services including access to the exclusive private lounge known as Richard's Rooftop, a premium Wi-Fi connection, and private transfer from the ship.
Dining
Virgin Voyages have the unique yet enticing choice of having no main dining room, no buffets, no set dining times, and no dress code. This provides Valiant Lady passengers with an unparalleled level of freedom and choice to wine and dine at their own pace and schedule. Guests on Valiant Lady instead of worrying about arriving on time and what to wear only need to decide one thing: where to eat next. With a plethora of fantastic dining venues throughout the ship, guests will never go wanting on Valiant Lady.
The Galley
Heavily inspired by food halls where sailors try out a variety of cuisine from across the globe, the award-winning design studio Softroom have crafted for Valiant Lady The Galley. The wonderful venue sports a worldly mix of eight delectable shops strategically located across the space and adorably food-truck style carts ensuring seated patrons can access even more food. With each shop and truck having a different cuisine and its own signature dishes, The Galley offers passengers with satisfying meals for every kind of palate and taste. Whether you want a small snack or a hearty meal, head down to The Galley for an enticing feed.
Gunbae
Gunbae offers up a flavour-filled Korean BBQ experience, perfect for groups of friends seeking a social setting to spend an evening. With a selection of mouth-watering meats to choose from and a delectable range of sides to boot, guests will be amazed and delighted as they fire up the grill. Whether you're the master chef cooking up a storm or the taste-tester making sure everything is up to snuff, Gunbae is an incredibly social experience that will entertain all who visit during their Valiant Lady cruise.
Other dining options:
The Wake
Pink Agave
Razzle Dazzle
The Test Kitchen
Lick Me Till Ice Cream
The Dock
Dock House
Extra Virgin
The Pizza Place
Grounds Club
Draught Haus
Sip
On the Rocks
Loose Cannon
Onboard activities & things to do
Valiant Lady cruises are more than just the destination, with Virgin Voyages attentively implementing a slew of exciting onboard activities and things to do as passengers sail to their destination in the Mediterranean. From relaxing spas, exhilarating night clubs, to the unique tattoo parlour, Valiant Lady will keep you overjoyed and entertained for days.
Gym & Tonic
After spending some time traversing the various facilities on the ship, voyagers can spend some time unwinding at the luxurious Gym & Tonic. With plenty of space to lay down, an amazing well-being pool, and an outstanding bar serving fresh cold-pressed juice, Gym & Tonic has all the tools and features need to have a break.
The Groupie
Looking to belt out your favourite anthem with some of your closest friends? The Groupie is exactly what you need. An adorably designed karaoke room, The Groupie allows you and your mates to sing along to tunes that span decades, genres, and varying levels of difficulty. Whether you want to burst into an electrifying performance or a romantic duet with your significant other, The Groupie more than accommodates for you. Book into a private session during your Valiant Lady cruise for phenomenal classics and unforgettable memories.
Other activities & things to do
The Manor
The Athletic Club
Aquatic Club
The Red Room
Voyage Vinyl
B-Complex Gym
Redemption (Spa)
Squid Ink (Tattoo Studio)
The Perch (Outdoor Yoga)
The Runaway (Jogging Track)
Gym & Tonic