Disney Magic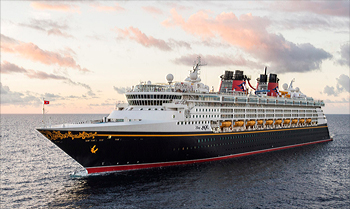 244
Starting Price, Per Night*
Disney Magic Cruises
Magic at Sea.
Designed with families in mind, Disney Cruise Line staterooms aboard the Disney Magic are equipped with innovations that ensure the ultimate in comfort and relaxation for Guests of all ages. From an imaginative inside retreat to a spacious and abundantly appointed suite, our world-class accommodations let you and your loved ones travel the high seas in high style.
Check out other options for Disney cruises.
Pools
Disney Cruise Line pools aboard the Disney Magic include 4 themed freshwater pools-one for kids, one for adults and two for families-open each and every day of your cruise vacation.
Goofy's Pool
One of 3 freshwater pools on the Disney Magic and Disney Wonder, Goofy's Pool is destination number one for watery family fun.
AquaDunk
Climb your way to the ship's highest point then plunge 3 stories on this must-ride body slide aboard the Disney Magic.
AquaLab
Fun is always in the works at this sprawling water playground sure to delight every member of the family!
Quiet Cove Pool
Luxuriate in some relaxing alone time at this refuge expressly for Guests 18 and over.
Spa & Fitness
Disney Cruise Line offers a day spa, beauty salon, fitness center and recreational sports courts for Guests at the immaculate Senses Spa & Salon-a dazzling 10,700-square-foot retreat located on Deck 9, Forward of the Disney Magic. Among the myriad services for relaxation, rejuvenation and beautification, you can indulge in massages, manicures and pedicures, hairstyling, aerobics, personal training and much more. Discover lavish spa treatments, reveal a "new you" with a professional makeover, or satisfy all your exercise needs with state-of-the art cardiovascular and weight machines.
Senses Spa & Salon
Experience high-end salon services and treatments inside an elegant spa boasting an ocean view.
Chill Spa
At Chill Spa, teens are invited to indulge in soothing beauty treatments created just for them.
Fitness Center
Enjoy a fully loaded workout facility sporting numerous group exercise classes, weight machines and cardiovascular equipment.
Wide World of Sports
The Wide World of Sports Deck is the ideal spot for a pick-up game, ping-pong match or enjoying breathtaking ocean views.
Youth Clubs
Disney Cruise Line, the leader in children's cruise entertainment, provides a vast array of clubs, lounges and interactive programs aboard the Disney Magic that you won't find anywhere else-designed to keep your child having fun each and every moment of your cruise vacation.
Disney's Oceaneer Club
Children 3 to 12 years old can interact with Disney characters – and each other – as they explore multi-themed magical lands.
Disney's Oceaneer Lab
Children 3 to 12 years old can play and learn at sea through imaginative themed activities and games, offered daily.
Edge
At this activity center just for tweens, watch movies, play games, craft and more with other cruisers your age.
"it's a small world" nursery!
Kids can romp, rest and do everything in between at this internationally themed childcare center.
Vibe
At this teens-exclusive space, chill out, listen to music, watch TV, play group games and more with cruisers your age.
Entertainment
Entertainment on the Disney Magic includes an almost endless array of fantastic offerings that everyone in your family is sure to love. Behold Broadway-caliber, song-and-dance spectaculars starring some of your favorite Disney Characters daily in the Walt Disney Theatre and watch first-run movies in the Buena Vista Theatre.
Adventures Away!
Jumpstart your vacation to lively beats and interactive dance numbers at this deck party extravaganza. Join in the official cruise countdown punctuated by a mighty roar from the ship's horn. Then kick up your heels, clap your hands and party down!
Buena Vista Theatre
From blockbusters to Disney classics, see a movie in state-of-the-art comfort – and style.
Character Greetings
Meet some of Disney's most beloved Characters aboard all Disney Cruise Line ships.
Disney Dreams – An Enchanted Classic
Delight in this musical about the power of dreams and family, starring a cavalcade of Disney characters.
Remember the Magic: A Final Farewell
Commemorate the end of your cruise at this live show featuring songs and characters from Disney animated classics.
Tangled: The Musical
The animated classic comes to life in this masterpiece of dazzling production numbers and captivating music.
Twice Charmed: An Original Twist on the Cinderella Story
Immerse yourself in a live Broadway-style song-and-dance extravaganza aboard the Disney Magic.
Walt Disney Theatre
Live performances shine in this glitzy high-tech theatre palace at sea.
Dining
Dining aboard the Disney Magic is sure to satisfy the appetites of your entire family-thanks to fresh, expertly prepared dishes made available 24 hours a day. Featuring diverse menus, distinctly themed restaurants and Disney's innovative Rotational Dining system where you can enjoy a different restaurant every night of your cruise, Disney Cruise Line invites you to experience the finest dining at sea.
Animator's Palate
Feast your eyes on the magic of Disney animation at this restaurant that serves up a unique dinner show starring Disney characters.
Cabanas
Stroll along a beach boardwalk boasting fresh food favorites for lunch and dinner – or savor table-service dining nightly.
Eye Scream and Frozone Treats
Find frozen treats at these 2 quick-service venues conveniently located near Goofy's Pool on Deck 9. Frozone Treats serves up delicious fruit smoothies while Eye Scream offers soft-serve ice cream.
Carioca's
Savor a festival of American and South American flavors at this jubilant restaurant inspired by Disney's The Three Caballeros.
Daisy's De-Lites
Indulge those between-meal cravings at this poolside eatery serving flavorful food items that are both well-balanced and delicious. Choose from salads, sandwiches, wraps and fruit – health-conscious treats sure to satisfy the pickiest of palates.
Lumiere's
Impeccable dining and a touch of enchantment from Disney's Beauty and the Beast make Lumiere's light up-morning, noon and night!
Palo
Savor classic Northern Italian cooking with a modern twist at this chic adult-exclusive restaurant-it's a feast for the senses!.
Pete's Boiler Bites
Sink your paws into a scrumptious selection of tasty treats at this breezy eatery. Featuring classic American fare like burgers, hot dogs and tacos, Pete's Boiler Bites is a great place to enjoy a quick meal for lunch, dinner or anytime in between.
Pinocchio's Pizzeria
Savor a slice of sizzling pizza throughout the day at this outdoor eatery located next to Goofy's Pool. Make your heart's desire come alive with pepperoni or let your conscience be your guide as you choose between vegetarian, Hawaiian or plain cheese.
Preludes
Set the stage for an evening of unforgettable entertainment at this snack bar located outside the Walt Disney Theatre. Pick up cookies, candy, cocktails and popcorn before the show – or enjoy wait-staff service from your seat inside the theater.
Room Service
Feast on fresh, made-to-order dishes in the comfort of your stateroom 24 hours a day – with most meal items included in the price of your cruise.
Royal Court, Royal Tea
Enjoy a whimsical teatime in an idyllic storybook setting adorned with sparkling chandeliers and fanciful icons. The Royal Tea Hostess and Royal Pastry Chef are pleased to make your acquaintance and regale you with stories, dance, sing and encourage you to join in the fun. Feel like royalty and delight in a very special meet-and-greet with some favorite Disney princesses!
Nightclubs and Lounges
Disney Cruise Line nightclubs and lounges aboard the Disney Magic are uniquely themed spaces where children and adults can listen to live music, dance and participate in games and activities.
D Lounge
Sing, dance, play games and enjoy live entertainment as a family at this high-energy entertainment venue.
Cove Café
Anchor yourself at this relaxing, adults-only, indoor/outdoor lounge overlooking Quiet Cove Pool. Find refuge with gourmet coffee, mixed drinks and baked goods, or simply peruse a magazine, watch the flat-screen TV or surf the Internet.
Fathoms
Peer out of portholes, party and submerge into a nightclub inspired by the ocean's mysteries.
Promenade Lounge
Mixed drinks, fun recreational offerings and live entertainment are always being served at this classy yet casual refuge.
Keys
Hit a high note at Keys, an adults-only lounge inspired by the famed piano bars of Hollywood's heyday.
O'Gills Pub
Share a pint and watch all your sports teams on TV at this rollicking, shamrock-sprinkled Irish pub and sports bar.
Signals
Answer the call for rest and refreshment at this breezy bar next to the Quiet Cove Pool. Offering views of the sea, shore and sunset from Deck 9, Signals is a superb spot for breathing easy and savoring a mixed drink.
Facts
Ship Built: Fincantieri Shipyards in Italy
Bow Built: Ancona
Stern built: Marghera
Gross tonnage: 83,000
Registry: Bahamas
Length: 964 feet
Width: 106 feet
Draft: 25.3 feet
Cruising Speed: 21.5 knots
Maximum Speed: 24 knots
Staterooms: 875
Crew Size: 945
Anchor: 14 tons
Propeller: 18.8 tons
Horsepower (One Engine): 15.448