Disney Wonder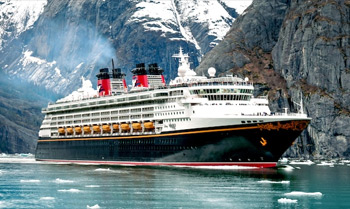 283
Starting Price, Per Night*
Be charmed by Disney Wonder cruises
Sailing away on magical journeys perfect for all ages, Disney Wonder cruises promise spectacular moments from the moment you step onboard. Encounter iconic Disney princesses, interact with Marvel superheroes, stand beside out-of-this-world Jedi and Sith Lords from Star Wars – all this and so much more awaits your friends and family on Disney Wonder cruises. Furthermore, you'll quickly be enchanted by the fantastical onboard experiences happening across the ship. From Frozen, A Musical Spectacular, Mickey's Sail-A-Wave Party!, to dining at Tiana's Place from Princess and The Frog, you'll be left amazed at what's in store on any Disney Wonder cruise.
In truly marvellous news for Disney fans down under, the delightful Disney Wonder cruise ship will be sailing to Australia on a limited local season starting in 2023 and wrapping up in 2024. Additionally, by popular demand, Disney has also released a selection of majestic Disney Wonder cruises 2024 and 2025. If you're in the market for Disney Wonder cruises 2023 departing from Sydney, Brisbane, Melbourne, and Auckland, this is the place to be! Boasting an extraordinary selection of planned itineraries, it's safe to say that these Disney Wonder cruises will be sold out quickly. So, be sure to book as soon as possible.
The Australian/New Zealand Disney Wonder cruises 2023, 2024, and 2025 are available right now. You can book directly through this page! Discover your dream family adventure today.
See more options for Disney cruises.
Disney Wonder Accommodation options
Staterooms
No matter where you stay onboard, Disney Wonder cabins and staterooms are destined to please the most particular of groups and families. For a cosy getaway, we can't go past the Inside staterooms. Fitted with Egyptian cotton linens and paired with excellent furnishings, the Inside stateroom is a wonderful choice for guests who plan the majority of their voyage exploring the shore and ship.
Offering a sublime amount of space alongside one or two charming porthole windows, the Oceanview stateroom gives you 24/7 sights on the mesmerising blue horizon. Enhancing your stay further is the Verandah staterooms. Easily the most popular choice for most Disney Wonder explorers, Verandah staterooms offer sweeping views as well as a spacious private balcony. In addition, both Verandah and Oceanview staterooms come with accessible options, ensuring every kind of voyager can experience the wonders of Disney magic.
Concierge Suites
For guests who need a Disney Wonder cruise experience unlike any other, the Concierge suites are a match made in heaven. By far the most spacious and decadent options available on the ship, Concierge suites also come with a treasure trove of amenities including priority tendering, access to the exclusive Concierge Lounge, and a dedicated Concierge Agent. Plus, with elevated features including a walk-in closet and immaculate dining space, as well as complimentary Wi-Fi, sailing the seas with your family has never been this luxurious.
Dining options of Disney Wonder
Tiana's Place
For an unforgettable evening onboard Disney Wonder, we strongly recommend making a reservation at Tiana's Place. Featuring a mouth-watering menu packed with Louisiana-inspired cuisine, Tiana's Place immediately transports you into the New Orleans world from The Princess and The Frog. Moreover, with toe-tapping live jazz music performances and exciting storytelling happening throughout the night, Tiana's Place is a bouncing venue perfect for all ages. Get a taste of delicious southern cooking and make a reservation at Tiana's Place on your voyage.
Animator's Palate
If your group wants a magical dinner that brings to life iconic Disney and Pixar characters, then head on over to Animator's Palate. Turning detailed sketches of famous scenes and characters into interactive pieces in their dinner show "Drawn to Magic", Animator's Palate is a sensory delight for guests young and old. Plus, with a tantalising menu that superbly fuses Pacific Island cuisine, Asian flavours, and Californian style, Animator's Palate paints a culinary picture which guests of all "palettes" are destined to love. Whether you want something sweet, savoury, or anything in between, you'll never leave disappointed when you spend an evening at Animator's Palate.
Bars and Cafes:
Crown & Fin Pub
Cove Café
Other Dining Options:
Royal Court Royal Tea
Pinocchio's Pizzeria
Triton's
Palo
Pete's Boiler Bites
Daisy's De-Lites
Preludes
Cabanas
Eye Scream Treats
Room Service
Disney Wonder Entertainment & Things to do
Frozen, A Musical Spectacular
The enchanting tale from the record-breaking animated movie comes to life as you've never seen it before in this musical spectacular in Frozen. This heart-warming tale about two sisters, a summer-loving snowman, and a dashing prince is told through bombastic musical numbers and with exhilarating special effects. Boasting an award-winning crew with talents all across Broadway and production scenes from across the globe, Frozen is guaranteed to be a magical night for all members of the family. Sing a long to your favourite tunes and be sure to grab a seat for Frozen, A Musical Spectacular.
Walt Disney Theatre
Whether you're popping in to watch a classic Disney flick during the day or rounding up the family to watch one of the outstanding Broadway-inspired productions, the Walt Disney Theatre is the place to be for entertainment. Whether it's the enchanting Disney Dreams – An Enchanted Classic, the exceptional tribute to Disney movies of old with The Golden Mickeys, or the aforementioned Frozen, the Walt Disney Theatre is bound to have a brilliant event that'll have you cheering in no time.
Other onboard activities and things to do:
Disney Dreams – An Enchanted Classic
The Golden Mickey's
AquaLab
French Quarter Lounge
Cadillac Lounge
Azure
Signals
Mickey's Sail-A-Wave Party! A Bon Voyage Celebration
Pixar Pals Party
Frozen Deck Party
Senses Spa & Salon
Chill Spa
Animator's Palate
Quiet Cove Pool
Very Merrytime Cruises
Halloween on the High Seas
Character Greetings
Disney's Oceaneer Club
Disney's Oceaneer Lab
Pirate Night
Buena Vista Theatre
Goofy's Pool
Mickey's Mainsail
Sea Treasures
White Caps
Bibbidi Bobbidi Boutique
Shutters Photography Shop
Vista Gallery
Fitness Center
Wide World of Sports
Edge
Vibe
"it's a small world" nursery!
Facts
Date Launched: 08/15/1999
Officers: International
Crew: International
Gross tonnage: 83,000
Length (ft.): 964
Registry: The Bahamas
Home Port: Port Canaveral, Florida
Passengers: 2,400
Stability Rating:
Dinner Seatings: 2
Cuisine: Various
Dress Code: Traditional
Room Service: Yes
Total Staterooms: 877
No. of Suites: 22
Singles Surcharge: 175 – 200%