Explora II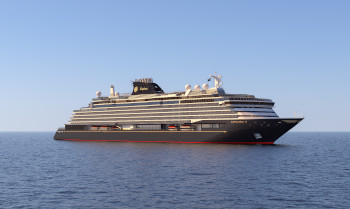 782
Starting Price, Per Night*
Explora II cruises aim to redefine luxury sailing
The perfect follow-up of a stunning ship, Explora II cruises aims to reach the pinnacle of luxury exploration. From its cutting-edge technological features to the opulent suites and residences, Explora Journeys has curated an unparalleled luxury cruise experience. Indulge your senses with nine extraordinary dining experiences and immerse yourself in a variety of enriching onboard activities. With its unrivalled offerings, Explora II is undoubtedly a must-sail destination for avid cruise enthusiasts worldwide. Discover a world of luxury and embark on an extraordinary voyage with Explora II cruises.
Embark on extraordinary explorations with Explora II cruises, as they journey to a myriad of coveted destinations worldwide. Whether you yearn for a captivating Mediterranean getaway or a serene South Pacific voyage, you'll find the perfect itinerary to suit your desires. What sets Explora II apart is its commitment to environmentally conscious practices, ensuring that the places it visits remain preserved for generations to come. Cruise with peace of mind, knowing that your Explora II cruise not only offers unforgettable experiences but also contributes to the preservation of these remarkable locales. Discover the world in style and sustainability with Explora II cruises.
View all Explora II cruises or view more options for Explora Journeys cruises.
Explora II Accommodation
Ocean Suites & Ocean Penthouses
Experience the epitome of elegance and refinement when you stay on Explora II's meticulously designed Ocean suites. From the moment you step inside, you'll be captivated by the luxurious touches that have been thoughtfully incorporated into every detail. Indulge in the pleasure of destination-facing private balconies, allowing you to take in breathtaking views from the comfort of your own suite. For an even more elevated stay, consider the Ocean Terrace suites or Ocean Grand Terrace suites, offering expanded space to unwind and magnificent floor-to-ceiling windows that bathe the suite in natural light.
Step into the world of indulgence and luxury on Explora II Ocean Penthouses. These exquisite accommodations are reminiscent of a stylish city apartment, offering ample room for relaxation and entertainment. Quench your thirst for adventure and creativity by crafting delightful cocktails from your well-stocked mini-bar. For moments of tranquillity, retreat to your private balcony and lose yourself in the pages of a captivating book. The Ocean Penthouse is your personal haven, allowing you the freedom to create unforgettable experiences tailored to your desires.
Ocean Residences & Owner's Residence
Unlock the epitome of comfort and luxury with our Ocean Residences aboard Explora II. These extraordinary accommodations redefine the concept of a home away from home, providing you with unrivalled panoramic views that will take your breath away. Enjoy the convenience of a dedicated butler service, ensuring that every request and question is swiftly attended to with meticulous care. For an unparalleled level of indulgence, the Ocean Residences is an absolute must for those seeking to pamper themselves and create lifelong memories.
Indulge in unparalleled elegance with a stay at the prestigious Owner's Residence. This exclusive and extraordinary accommodation represents the pinnacle of luxury offered by Explora Journeys. The expansive outdoor balcony, complete with its own infinity pool, invites you to soak up the breathtaking views and bask in serenity. Your stay in the Owner's Residence will transport you to a realm where your accommodation becomes a destination, a sanctuary of refined luxury and unmatched grandeur.
Dining
Anthology
Embark on a culinary journey like no other at Anthology, where every dish is masterfully crafted as a work of art. Indulge in a curated collection of heavenly meals that pay homage to diverse cuisines and cultures from around the world. Created by renowned global chefs and complemented by a meticulously curated wine menu from seasoned winemakers, Anthology presents a dining experience that is truly exceptional. Prepare to be captivated by the extraordinary culinary delights that await you at Anthology.
Sakura
Taste the flavours of Asia at Sakura, a culinary haven that pays homage to the region's rich heritage. Named after the symbol of renewal and hope, Sakura offers an exquisite selection of authentic dishes from Japan, Vietnam, Thailand, and beyond. Drawing inspiration from Japanese traditions, Sakura seamlessly weaves together the vibrant cultures of Asia. Indulge in a dining experience that delights all your senses, from the seamless service to the modern Asian music playing in the background.
Other Bars & Cafes:
Crema Café
Lobby Bar
Explora Lounge
Malt Whiskey Bar
Journeys Lounge
Astern Lounge
Astern Pool & Bar
Atoll Pool & Bar
Helios Pool & Bar
Sky Bar on 14
The Conservatory Pool & Bar
Other dining options:
Marble & Co. Grill
Med Yacht Club
Emporium Marketplace
Fil Rouge
In-Suite Dining
Chef's Kitchen
Gelateria & Creperie at The Conservatory
Onboard activities & things to do
The Spa
At the heart of Explora Journeys' "Ocean State of Mind", immerse yourself in a state of pure relaxation and rejuvenation at The Spa. Here, your mind, body, and soul are nurtured and restored to their natural balance. Indulge in a wide array of exquisite facial and body treatments, tailored to your specific needs and desires. The Spa offers a holistic wellness experience, allowing you to embark on your personal wellness journey in a way that resonates with you. Discover why The Spa on Explora II is a must-visit destination during your cruise, where relaxation and well-being converge to create an unforgettable journey of self-care.
Explora Lounge
Serving as the main hub for the ship, the Explora Lounge invites you to connect with fellow adventurers and embark on unforgettable journeys together. Bathed in natural light streaming through floor-to-ceiling windows, this inviting space offers breathtaking panoramic views of your destination, setting the stage for exciting explorations to come. Whether you're planning your next adventure-filled day or simply savouring the awe-inspiring vistas, the Explora Lounge is where unforgettable memories are made. Engage in captivating conversations with fellow guests, sharing tales of exploration and creating lifelong connections. Alternatively, find solace in the serenity of the lounge as you marvel at the breathtaking sights unfolding before your eyes.
Other onboard activities and things to do:
Ocean Wellness Fitness
The Beauty Studio
Yoga
Art Gallery
Casino
Journeys Lounge
Astern Lounge
Astern Pool
Atoll Pool
Helios Pool
The Conservatory