Royal Princess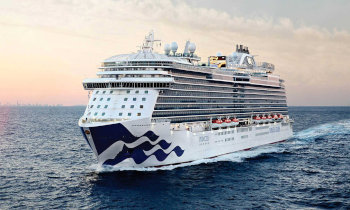 87
Starting Price, Per Night*
Royal Princess Cruises
Exploring Australia and New Zealand has never been better than on a Royal Princess cruise. Stunningly designed with gorgeous accommodation options, delectable dining venues, and exciting onboard activities, sailing away on the marvellous Royal Princess cruise ship might be the best decision you'll ever make. What's more, with amazing staff through the entire Royal Princess cruise ship, every guest onboard will be well-taken care of for the whole length of the Princess voyage. From the moment you step aboard till the second you take your last step off Royal Princess, unforgettable moments are all but guaranteed.
Nevertheless, a Royal Princess cruise is more than just the ship itself, but also the itineraries and destinations it visits. Those looking to sail close-to-home will love this Princess cruise ship, with Royal Princess typically spending its summers down under conducting exquisite Australia, New Zealand, or South Pacific cruises. Take your friends and family, even those who've never been on a cruise before, and let them experience the best Royal Princess has to offer today. With some of the best Royal Princess cruise ship deals available online, Cruise Guru is easily the best place to go when booking your next holiday. Boasting reduced deposits, massive savings, and so much more, a Royal Princess cruise has never been more affordable than here!
Book your Royal Princess cruise today or view more options for Princess cruises.
Royal Princess Accommodation Options
Staterooms
No matter what kind of stateroom you decide to book on your Royal Princess cruise, comfort and relaxation are all but a guarantee. The Interior stateroom is the most wallet-friendly choice for guests, but it still comes jam-packed with all the essentials anyone could ever need for a stress-free Royal Princess cruise. Need a bit of sun as you unwind in your accommodation? The Balcony stateroom comes with its own outdoor space and floor-to-ceiling windows alongside all the amenities you'd come to expect with Princess Cruises. If you need a little extra space, the Deluxe Balcony staterooms provide just that as well as an enhanced sofa bed.
There are also Wheelchair Accessible staterooms available at a limited capacity for guests with limited mobility. Hurry, these staterooms tend to sell out fast so it's best to book in early!
Royal Princess Suites
If you want a touch of luxury and decadence during your Royal Princess cruise, then a Mini-Suite might just do the trick. With plenty of space to kick back and unwind, a Mini-Suite also comes with a complimentary glass of champagne and its very own lounge area. Now, if you really want unmatched luxury on a Royal Princess holiday, we can't help but recommend any of the Suites available onboard. Boasting the largest spaces on the ship as well as separate seating areas to entertain a few guests alongside a mini-bar setup, elegance and relaxation go hand in hand!
Entertainment on Royal Princess
Movies Under the Stars
Whenever you ask guests about the amazing things they'd do on a Royal Princess cruise, Movies Under the Stars will likely be near the top of their lists. Head up to their incredible open-air poolside amphitheater and enjoy some classic (both new and old) movies, all while under the stunning starlit sky. Grab yourself a delicious bucket of popcorn, wrap yourself inside a warm blanket and get snuggled up with a loved one on a spacious lounge chair. From hilarious romantic comedies, heart-pumping thrillers, to family-friendly animated films, there's always something to see during your Royal Princess cruise when you visit the Movies Under the Stars.
The Voice of the Ocean
Love the immensely popular talent show The Voice? Think you have the vocal chops and singing ability to win it all? Well, The Voice of the Ocean might be the first step you take in doing just that! Collaborating with the world-famous TV show, Royal Princess passengers can take part in a competition which features all the elements you'd come to expect with the singing competition. From the iconic blind auditions, enriching mentor sessions, to the exhilarating finale performances, The Voice of the Ocean lets you experience the wonders of the show all while having a spectacular voyage on Royal Princess.
Other Entertainment Options
Movies Under the Stars
The Voice of the Ocean
Princess Watercolor Fantasy Show
Original Music Productions
Vegas-Style Casino
Music and Dancing
Featured Guest Entertainers
Princess Theater
Club 6
Dining on Royal Princess
Chef's Table Lumiere
Delectable flavours, unparalleled service, fantastic company, there's no better dining experience aboard Royal Princess than at Chef's Table Lumiere. Get to know a small group of like-minded guests and take part in an exclusive behind-the-scenes tour of the galley while sipping on some champagne and trying out some delightful hors d'oeuvres. Then, be whisked away on a magnificent culinary adventure hosted by the ships executive chef as you dig into some truly delicious meals paired with just as flavoursome wines. The Chef's Table Lumiere is a fantastic dining experience and one we strongly recommend to those who love all things fine dining.
Vines Wine Bar
Grab your girlfriends or take your partner out on a romantic date to the Vines Wine Bar and taste some tantalising wines from across the globe. Featuring an impressive wine menu featuring champagnes, sparkling wines, and so much more, the Vines Wine Bar is a perfect way to spend an evening after a busy day of adventure. What's more, with any purchase of wine, guests receive complimentary antipasti and tapas. Named by USA TODAY as one of the "Best Wine Bars at Sea" it's easy to see why so many guests flock to this dining venue during their Royal Princess cruise.
Crafted by Curtis Stone
You know him from all the Coles advertising and Masterchef appearances, and here's your best chance to experience cuisine designed by the internationally acclaimed chef himself, at Crafted by Curtis Stone. Featuring an outstanding menu taking inspiration from the sea, home, and his own personal experiences, Crafted by Curtis Stone promises those who reserve a table a dining experience unmatched anywhere else on Royal Princess.
Other Dining Options
Sabatini's
Crown Grill
Crab Shack
Ultimate Balcony Dining
Anytime Dining
Traditional Dining
Chocolate Journeys
Alfredo's Pizzeria
Horizon Court
International Cafe
Trident Grill
24-hour Room Service
Activities
Discovery at SEA Programs
Working with the world-renowned Discovery Channel, the Discovery at SEA Programs onboard Royal Princess allow the younger guests to learn more about the wondrous and largely untouched oceans and all their inhabitants. With captivating activities happening every day and night throughout the entire ship, guests can take part in stargazing, talks with expert speakers in the field, as well as other hands-on things to do guaranteed to capture the imaginations of anyone. Perfect for those days on the ocean, the Discovery at SEA Programs are a fantastic way for the young ones to pass time as you unwind by the pool.
Festivals of the World
Looking for a bit of action during your Royal Princess cruise? Then we highly recommend checking out the Festivals of the World during your next voyage. As the world slowly grows closer and more connected together through globalisation, so does the need to discover and appreciate the cultures from other countries. That's where the Festivals of the World strides in! Featuring bucket-loads of fun times and action, every festival is different highlighting a different culture depending on where you sail to. From the enchanting Maori culture in the South Pacific, Rio Carnivals in South America, to King Kamehameha Festivals in the Californian Coast, guests can learn more about places from across the globe all while enjoying a rocking themed party. A highlight of any Royal Princess cruise, these are sadly only available on select voyages, so be on the lookout for when the Festivals of the World event happens and book away!
Other Activities on a Royal Princess cruise ship
The Seawalk
Princess Live!
The Piazza
The Shops of Princess
Art Gallery and Auctions
Platinum Photography Studio
Freshwater Pools and Hot Tubs
Sports Court
Internet Cafe and Library
Afternoon Tea
Frequently Asked Questions for Royal Princess 
How big is Royal Princess?
Royal Princess has a total length of 330m or 1,082ft and 8 inches. Now that's a mighty long cruise ship!
How many passengers can fit on Royal Princess?
Royal Princess has a maximum capacity of 3,560 passengers, with a total of 19 decks. A maximum of 1,780 guests can be onboard on any Royal Princess voyage, with an additional 1,346 crew capable of sailing onboard as well!
Facts
Passenger Capacity: 3,560
Tonnage: 141,000
Inaugural cruise: June 16, 2013
Christener: Her Royal Highness The Duchess of Cambridge
Length: 1,083 feet
Height: 217 feet
Service Speed: 22 knots
Decks: 19
Guest Cabins: 1,780