Seabourn Sojourn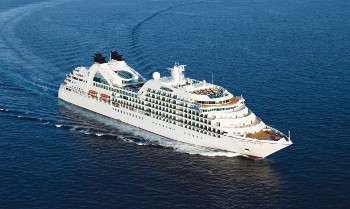 482
Starting Price, Per Night*
Seabourn Sojourn Cruises
Seabourn Sojourn is ready to introduce you to stunning ports and harbours in pure luxury.  In America, cruise from Seward or Vancouver to the icy landscapes of Alaska, or cruise coast-to-coast with a bucket-list itinerary through the Panama Canal.
The second of Seabourn's new class of ships, Seabourn Sojourn, was also built at T. Mariotti yard in Genoa. Her debut was on June 6, 2010 in the middle of the River Thames in London. Seabourn Sojourn's godmother was the English fashion icon and actress Twiggy. Like her sisters, Seabourn Sojourn enchants her guests with an array of public areas scaled to encourage a relaxed sociability.
One of the most unusual features of Seabourn Sojourn and her sisters is Seabourn Square, an ingenious "living room" that replaces the traditional cruise ship lobby with a welcoming lounge filled with easy chairs, sofas and cocktail tables. An enclave in its centre houses knowledgeable concierges discreetly seated at individual desks, ready to handle all sorts of business or give advice and information.
The Spa at Seabourn is the largest on any ultra-luxury ship, 11,400 square feet encompassing indoor and outdoor space over two decks. A variety of open terraces are scattered over seven decks, offering places to gather with a few friends or spend an isolated hour with a book.
Enternaiment & Nightlife
The inviting sound of music, laughter and conversation accompanies the setting of the sun on board our ships. One thing is certain. The day is only just beginning when night falls aboard Seabourn.
Movies Under the Stars
Watch the stars, both on the big screen and twinkling overhead, as you snuggle up for a Hollywood classic or a big hit on the pool deck.
Evening Under the Stars
Dancing anywhere is fun, but dancing outdoors under the stars is something entirely different.
Observation Bar
A stunning round lounge with a square bar and panoramic views. Early Risers' Coffee and Tea is served here every morning, and piano music makes it a great choice for drinks and conversation before and after dinner.
Sky Bar/Grill
If dining outdoors is a favorite of yours, visit the Sky Grill. There, Seabourn chefs serve up casual, al fresco fare. The Sky Grill is the perfect place for a delightful lunch as you watch the world pass by from the top level of the ship. The grill is also open for occasional dinners featuring grilled specialties such as steak and lobster.
The Patio Bar
A favorite place for an early dinner is the Patio Grill. Open even if it is a bit chilly outside, crew members carefully wrap passengers in blankets, if needed.
Grand Salon
The ship's main showroom can accommodate all guests, though it seldom does because of the variety available. Lectures, cooking demonstrations, movies and other gatherings are held here in the daytime. In the evenings, live music for dancing before dinner gives way to vocal production shows, cabaret performances, comedy, and classical recitals, as well as more dancing later.
Casino
You will find the casino located on deck 5.
The Club
In The Club, bring your dancing shoes and show off your moves or watch others trip the light fantastic to the live band.
Dining Venues
The Restaurant
Before Seabourn, open-seating dining on a cruise ship was unheard of. Come when you like, with whom you please, and be seated as you wish. The room is beautiful, the cuisine is exquisite, and the service is simultaneously flawless, friendly and fun.
Restaurant 2
So named because….well, because it is a delightfully different alternative. More intimate and innovative, R2 offers nightly tasting menus presenting diner with flights of small plates, combining an array of fascinating flavors and fanciful presentations in to a creative, delicious and memorable meal.
The Colonnade
The Colonnade is a more casual alternative with indoor/outdoor seating, sumptuous buffets and daily specials for breakfast and lunch. The Colonnade serves regionally-themed, bistro-style dinners with table service nightly aboard Seabourn Odyssey, Seabourn Sojourn and Seabourn Quest.
The Patio
Aboard Seabourn Odyssey, Seabourn Sojourn and Seabourn Quest, the Patio offers casual poolside dining featuring grilled specialties, salads and sides for lunch and dinner, and freshly baked pizzas throughout the afternoon. Lunches and dinners are offered at the Sky Grill, serving grilled specialties and simple sides.
Activities
Helping you create the perfect day is something we take to heart at Seabourn. It's why our lounges and decks are open and inviting, the ambience relaxed and the variety of activities offered plentiful. You'll find plenty of ways to create the perfect day, over and over again, and all the time to enjoy it. After all, this is your journey, and you can make it anything you want it to be.
Seabourn Conversations
The art of conversation has always been central to the Seabourn experience. Our voyages attract interesting, interested people -people who enjoy talking together, sharing their interests, their adventures and discoveries, and their life stories with longtime and newfound friends. Their enthusiasms and curiosity are far-ranging, and these are what spark their desire to travel the world.
Shopping with the Chef
Shop a bustling Sicilian market, gather spices in Istanbul or explore the local wines of Tuscany and Provence. Wherever you are in the world, you'll enjoy an insider's look at unique regional markets with an expert Seabourn chef as your guide.
Seabourn Square
Seabourn's innovative "living room" replaces the conventional reception lobby with a welcoming lounge filled with comfortable sofas, easy chairs and cocktail tables.
The Spa at Seabourn & Salon
The award-winning Spa at SeabournSM center anywhere in the world we sail. Enjoy a thermal wrap surrounded by Antarctic icebergs, or exercise on a Kinesis Wall with views of Santorini's cliffs.
Card Rooms
Many veteran cruisers specifically choose cruises that provide at least a few days at sea. Seabourn Sojourn will be a great choice for the sea-loving cruiser who craves that languorous feeling of lazy leisure. There will be loads of on board activities during those days, including a great game of bridge. Quest has a beautifully designed card room on Deck 7, forward of Seabourn Sojourn.
Fitness Center
Our Fitness Center features high performance Technogym equipment for cardio and strength training. We also offer a series of complimentary classes including yoga, Pilates and Tai Chi. Or, if personal attention is preferred, our personal trainers will design a nutrition and exercise plan that will help you achieve results. Based on your body's particular needs, this personalized session will expose you to the wellness program that works best with your body.
Aboard Seabourn Odyssey, Seabourn Sojourn and Seabourn Quest you may try the Kinesis System. Using a tri-dimensional pulley system, our personal trainers will guide you through a series of exercises designed to improve balance, flexibility and strength.
9-Hole Putting Course
The Retreat – 9-hole contoured golf putting green found on Deck 11.
The Collection
The Seabourn Shop features shield-emblazoned logo wear. The Boutique offers fashions, cosmetics, scents and designers' luxury goods. The Collection is a curated selection of fine watches and jewelry including a private showroom for diamonds and other gemstones.
Watersports Marina
Enjoy an exclusive Seabourn Marina Day with complimentary kayaking, pedal boats and board sailing from a marina at the ship's stern or from a beach.
6 Outdoor Whirlpools & 2 Two Swimming Pools
Facts
Registry: The Bahamas
Crew: 330
Length: 650 feet
Guest Decks: 8
Maiden voyage: June 2010
Christened by: Twiggy
Guest capacity: 450
Tonnage: 32,000
Breadth: 84 feet
Cruising speed: 19 knots
Refurbished: Newly built