Sapphire Princess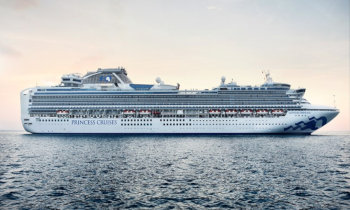 101
Starting Price, Per Night*
Step aboard a sublime Sapphire Princess cruise today!
Spectacularly designed and overflowing with exciting activities for the entire family, Sapphire Princess is a ship that every Princess voyager needs to experience. With a significant and successful refurbishment happening in 2018, Sapphire Princess has a plethora of charming entertainment venues, enticing dining options, and elegant staterooms and suites that exude luxury. All life onboard centres around the Piazza, an impressive multi-levelled hub that serves as an exceptional meeting point for your group before heading to the various facilities on the Princess Cruises ship. Whether you want to spend a special evening with a loved one by attending a Movie Under the Stars, or indulge in some extravagant decadence by dining at Sabatini's, the choices on a Sapphire Princess cruise are endless.
Sapphire Princess hosts an expansive selection of enticing itineraries across Australia and New Zealand. This will include a number of cruises from Sydney, cruises from Melbourne, cruises from Fremantle, and many more across the country. Destinations on these Australia cruises include but are not limited to Kangaroo Island, Airlie Beach, and Phillip Island. Additionally, there will also be a number of Sapphire Princess cruises through the unforgettable icy landscapes of Alaska, sailing to astonishing locales such as Glacier Bay, Hubbard Glacier, and Skagway. Gather all your friends or family and set sail on a majestic Sapphire Princess voyage today!
View all Sapphire Princess cruises by selecting the cruises tab, or alternatively click here for all Princess Cruises.
Accommodation on Sapphire Princess
Wonderfully furnished and undoubtedly sophisticated, Sapphire Princess cabins have been carefully crafted to ensure every guest's stay with her is pleasant and deeply relaxing. With an accommodating amount of space across all Sapphire Princess rooms, the ship is delightfully suited for any type of traveller. The Princess Cruises ship offers guests a refined selection of staterooms and suites, each providing a satisfying list of complimentary features and amenities.
The Interior stateroom is an affordable option for price-sensitive adventurers who prefer to spend their time exploring the destination or experiencing the various facilities on the ship. Adorned with a fantastic window, the Oceanview stateroom is a splendid choice for voyagers who appreciate being able to see their destination from the comfort of their own room. Elevating this view, the Balcony stateroom – as the name suggests – features a comfortable private veranda providing guests an incredible and secluded view of the ocean. There are also a limited number of Wheelchair Accessible staterooms with amenities optimised to accommodate those with limited mobility.
Travellers who want an added element of luxury can book into an elegant Mini-Suite, having an expanded level of space and additional complimentary features such as a complimentary glass of champagne on embarkation day. Additional Club Class complimentary benefits are available exclusively to the best-located Mini-Suites on Sapphire Princess, including an exclusive area of the Main Dining Room and the Princess Luxury Bed. Boasting an abundance of space that can host a small gathering, the Suites on Sapphire Princess provide guests excellent included features from complimentary laundry service and priority specialty dining and shore excursion reservations.
Dining
Sabatini's
Voted by USA TODAY as one of the "Best Cruise Ship Specialty Restaurants", Sabatini's is an authentic Italian restaurant that every Sapphire Princess passenger needs to experience. Dine on a selection of delectable dishes from the juicy roasted veal rack to the classic penne pasta. No matter the choice, every meal will never disappoint. Experience an unbelievable evening on your Princess cruise with a reservation in Sabatini's.
Sterling Steakhouse
Hungry guests looking to feast on a mouth-watering steak need to head straight over to the phenomenal Sterling Steakhouse. Sterling Steakhouse have an extensive range of premium meat cuts that promise to light up your tastebuds with every bite. From the mouth-watering filet mignon, the sensational porterhouse, to a flavour-filled New York strip, Sterling Steakhouse has a cut for everyone. Those who might not desire steak at the time can order up a Chilean Sea Bass or a shrimp and pancetta bisque as well. Book into an amazing evening at Sterling Steakhouse!
Other dining options:
Vines
Chef's Table Experience
Main Dining Room
Crafted by Curtis Stone
Chocolate Journeys
Alfredo's Pizzeria
International Café
Horizon Court
Trident Grill
Ultimate Balcony Dining
24-hr Room Service
Onboard activities & things to do
Discovery at SEA Programs
Working closely with renowned international TV channels Discovery and Animal Planet, Discovery at SEA Programs are a deeply enriching experience for all members of the family. Take part in an extensive range of activities and events which feature immensely popular shows such as MythBusters, Shark Week, and Deadliest Catch. Fun for the whole family, uncover the wonders of the planet by joining a Discovery at SEA Program on your next Sapphire Princess cruise.
The Sanctuary
A tranquil oasis on Sapphire Princess, the Sanctuary is a relaxing space that provides an escape from all the vivid sights and sounds across the ship. This adults-only space offers guests with a serene outdoor area that provides relaxing massages, tantalising beverages, and delightful healthy meals. Voyagers will never need to lift a finger at the Sanctuary with Serenity Stewards available at all times to provide observant attention to all your needs. Whether you want to read a book, socialise with some friends, or quietly watch the world sail by, there is no better place to relax and unwind than at the Sanctuary.
Other onboard activities and things to do:
Conservatory
Lotus Spa and Fitness Centre
Movies Under the Stars
Original Musical Productions
Live Music & Dancing
Festivals of the World
Featured Guest Entertainers
Princess Theatre
Skywalkers Nightclub
Club Fusion
Churchill's
The Piazza
Vegas Style Casino
The Shops of Princess
Art Gallery & Auctions
Freshwater Pools & Hot Tubs
Sports Court
Internet Café & Library
Frequently asked Sapphire Princess cruises questions
Does Sapphire Princess have Medallion?
In line with other smart ships including Coral Princess, Diamond Princess, and Majestic Princess, Sapphire Princess has been upgraded to now include the MedallionClass Experience! This means lucky guests who have booked Sapphire Princess cabins can experience various touchless technologies and other innovative features that are sure to simplify the seafaring journey. From touchless embarkation, contactless shopping, keyless stateroom entry, and so much more, sailing aboard Sapphire Princess has never been better.
How big is Sapphire Princess?
Sapphire Princess is approximately 290 metres in length, with a tonnage of 115,875. Capable of hosting 2,670 passengers, this Gem-class ship welcomes thousands of guests every year, sailing these lucky voyagers on spending adventures across the globe.
When was Sapphire Princess last refurbished?
Sapphire Princess was last refurbished by the cruise line in March 2018 with heavily improved accommodation options, enhanced onboard activities as well as elevated dining experiences. What's more, she was also upgraded recently to now incorporate MedallionClass smart technologies. This ensures that every Sapphire Princess cruise is as stress-free as possible!
Facts
Passenger Capacity: 2,670
Gross Tons: 115,875
Inaugural Cruise: May 16, 2004
Last Refurbished: February 2012
Christener: Nancy Murkowski, First Lady of Alaska
Number of Crew: 1,100
Registry: British
Length (ft.): 952
Height: 205
Number of Decks: 18
Guest Cabins: 1,337
Wheelchair Accessible Cabins: 27
Pools: 3
Whirlpools Spas: 8
Lifeboats: 16 lifeboats, 6 tenders, 2 rescue boats
Builder: Mitsubishi Heavy Industries, Nagasaki, Japan