Starting Price, Per Night*
Princess Cruises Australia departing from Sydney, Brisbane, Melbourne, & Perth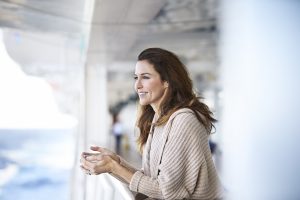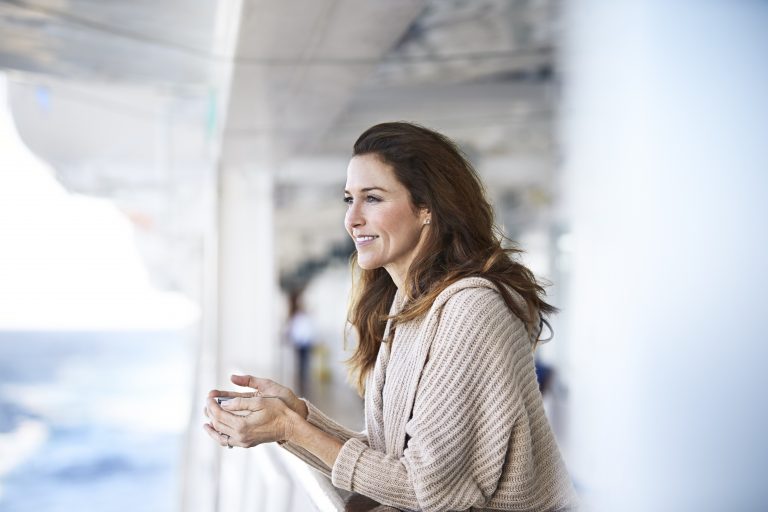 Why go with Princess Cruises Australia? Because you want to tell better stories. To immerse yourself in destinations near and far. To try new cuisines and encounter new cultures. To refresh your spirit and reconnect with those you love. And because you want more than the usual cruise experience, you want to come back 'new'. Whether you are looking for Princess Cruises from Brisbane or Princess Cruises from Sydney or departing from anywhere else in our beautiful land, you will find the perfect itinerary amongst the plethora of Princess Australia cruises.
Now one of the best-known names in cruising, the Los Angeles-based cruise line first set sail in 1965 with just a single ship cruising to Mexico. Then, the cruise line shot to fame by having its ships – Sun Princess and Pacific Princess to name a few – as the shooting location for the popular 70s show "The Love Boat". This show became the introduction of cruising for many viewers, and as The Love Boat catapulted up the ratings, so did the popularity of Princess Cruises!
Today, Princess Cruises from Australia year-round and the line has grown to be the third-largest in the world, renowned for innovative ships, an array of onboard options, and an environment of exceptional customer service. A recognised leading cruise line in the industry, Princess Cruises Australia carries 1.7 million guests each year to destinations around the globe ranging in length from two to over 100 days, allowing them to see the world and come back 'new'.
Cruise Guru offers fantastic prices on all Princess Cruises from Australia, and with our Price Guarantee, you can rest assured that you will be getting a deal that is excellent value for money. Whether you are looking for short Princess Cruises around Australia, or you wish to join one of several Princess round-world cruises, there is a voyage for everyone at Cruise Guru. Request a call back today and we will be happy to answer any questions that you may have about any Princess Cruise deals.
Whether you're in the market for Princess Cruises 2023 to the South Pacific with your closest friends and family or looking for Princess Cruises 2024 to Alaska with your best friend, we'll undoubtedly have what you need. So, what are you waiting for? Get started with your travel plans and book a voyage today!
Princess Cruises Last Minute Deals Australia departing from Fremantle & Melbourne
Cruise Guru has many last-minute deals available including many Princess Cruises last-minute deals that offer excellent value for money. You can choose the cruise port that suits you best with a choice of Princess Cruises from Melbourne, Sydney, Brisbane, and across the world. No matter what class ships you decide to sail on with Princess, it's all but guaranteed to be a time you won't forget anytime soon!
Whether you are looking for Princess Cruises from Fremantle or any departure city in Australia, New Zealand, or anywhere across the globe, we are confident that you will find a cruise that is perfect for you and your party at Cruise Guru, and whichever cruise you go on you will have a magical time. Take a look at some of our online reviews, and you will see why many people come back to Cruise Guru to book their Princess Cruises time after time.
Board one of the breath-taking Princess Cruise ships
From intimate small vessels accommodating only 800 to large Mega-Ships able to move up to 4,400 passengers, Princess Cruises' fleet is able to cater to a range of different cruisers, from singles to couples and even multi-generational families. Plus, with the many varying amenities and activities onboard there is something to entertain all age groups. The Princess cruising premise, no matter the ship, is the same though: immersive destinations, made-from-scratch cuisine, joyful rejuvenation, and world-class entertainment.
Whether you wish to unwind and watch a movie under the stars, book in for a restorative treatment at the Lotus Spa, or live it up and connect with like-minded travellers at the various lounges and bars, Princess will have something in store for you. There are many Princess Cruises deals to be had, and there are many luxurious cruise ships that you can travel on, including the and many more.
Princess Cruises: Last-Minute Cruise Deals and offers for everyone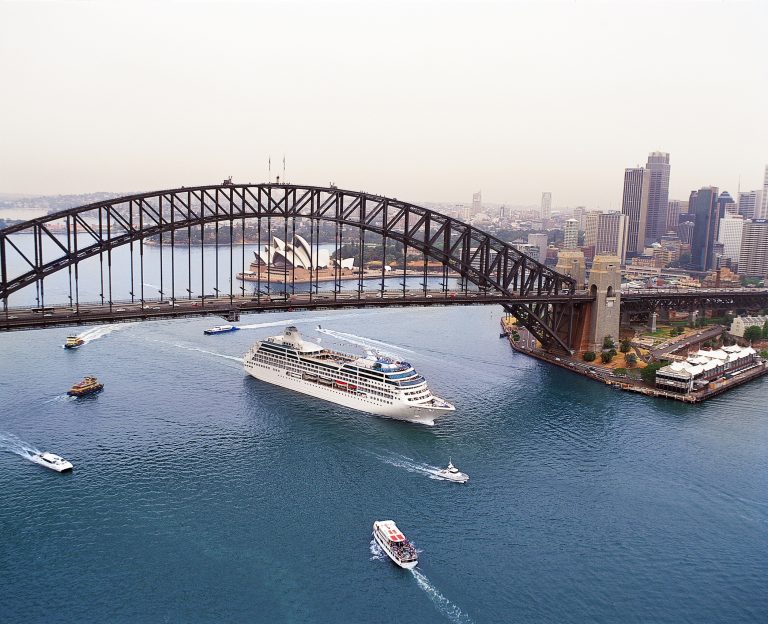 Princess Cruises Australia has a wide selection of cruises to choose from, and the amenities on board and available excursions will ensure that you and your party have an excellent holiday, no matter where you cruise. You will find a whole host of family-friendly activities, as well as entertainment for adults, and every ship can offer an exceptional dining experience.
Our Princess Cruises deals are also perfect for a romantic cruise for two, no matter what age you are. You can enjoy movies, cabaret shows, comedy, and magic shows, as well as a host of different excursions ashore that will ensure that you are never stuck for something to do. Princess Cruises from Australia are additionally never dull, and with so many things to do and like-minded people, you are sure to have an excellent time to hopefully make new friends along the way. For Princess Cruises' last-minute deals Australia, there is no better company to book with for value for money than Cruise Guru, Australia's favourite cruise booking company.
Why Cruise Guru Are the Best for Princess Cruises Australia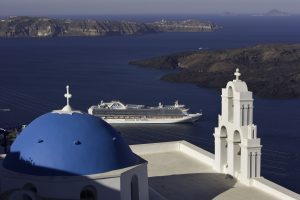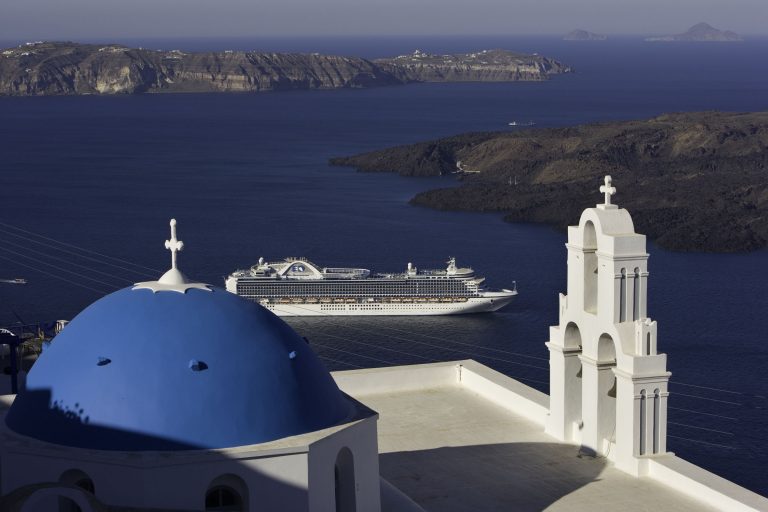 When it comes to selecting Princess Cruises, Sydney, Melbourne, Brisbane, and Perth are the best choices to start your next adventure in Australia. In addition, they also offer a whole host of eye-catching itineraries at well-known locations across the globe.
Naturally, the best place to go when organising your dream voyage is through Cruise Guru. We have over 35 years of experience in providing high-quality holidays and luxury cruises for our customers, and our long-standing relationships with cruise providers mean that we can provide the best value Princess Cruises Australia has available.
Book your holiday worry-free with our incredible Price Guarantee. Whether you are looking to book Princess Cruises from Melbourne, Princess Cruises from Fremantle, or anywhere else in Australia, we have exclusive offers that you will not find anywhere else. If you are looking to book a fantastic cruise with Princess Cruises, look no further than Cruise Guru and book your trip of a lifetime, today.
Frequently Asked Questions for Princess Cruises
Can you take alcohol on a Princess cruise ship?
While beer and liquor are not allowed upon embarkation for Princess Cruises, each passenger of drinking age can bring aboard one bottle of wine per voyage. Each bottle of wine you bring onboard a Princess cruise ship must be no larger than 750ml and won't be subject to a corkage fee if consumed in your cabin. If you do decide to bring your bottle to a restaurant, a $15 corkage fee will be incurred.
Want to bring more than one bottle of wine on a Princess Cruises Australia ship? Every additional bottle of champagne or wine will also incur an additional $15 corkage fee regardless of your location on a Princess cruise ship.
How much are drink packages on Princess Cruises?
The cost of your drinks package on Princess Cruises Australia depends on what type you decide to settle on. Don't drink alcoholic drinks or coffee? The Classic Soda Package which costs US$14.99 per person, per day, includes all your favourite fountain sodas, fruit juices, mocktails, and smoothies. If you're a caffeine lover, the Zero Alcohol Package costs US$29.99 per person, per day, features everything in the Classic Soda Package as well as hot chocolate, 'zero-proof' mocktails, bottled water, San Pellegrino, Evian and Red Bull Energy drinks plus specialty coffees and teas.
Nevertheless, easily the best choice on Princess Cruises is booking on a Princess Plus fare. This will include delectable cocktails, wine, beer, spirits, as well as non-alcoholic beverages plus many other inclusions such as desserts, fitness class, casual dining and Wi-Fi. For more inclusions, upgrade to the Princess Premier fare. By pre-booking can sail stress-free on Princess and order up your favourite drinks without needing to awkwardly pull out your wallet!
In summary, Princess Cruises' drink packages cost (per person, per day):
Classic Soda Package: US$14.99
Zero Alcohol Package: US$29.99
Whether you're sailing on Majestic Princess or Coral Princess, we highly recommend securing yourself a drink package as part of your fare when booking your cruise itineraries!
How is the dining on Princess Cruises?
Princess Cruises is evolving its dining program to offer the best value to passengers, introducing a new tier of specialty dining called Casual Dining, which is now included as part of the cruise packages. Alongside their classic Specialty Dining options, Casual Dining venues like Salty Dog Gastropub, Planks (BBQ), Steamers (seafood), Kai Sushi, O'Malley's Irish Pub, Alfredo's/Gigi's (pizza), and more await. For just $22.99 per person*, enjoy a delectable three-course menu. Complimentary Dining, including main dining rooms, International Café, top-deck pizzeria, grill, soft serve ice cream, and World Fresh Marketplace/Horizon Court buffets, remains available for all guests. Plus, kids aged 12 and under can dine at Casual and Specialty restaurants for 50% off the published price. Join Princess Cruises and embark on an unforgettable culinary journey.
What time do I board Princess cruise ship in Australia?
Boarding times vary differently based on which city you'll be departing on your Princess Cruises Australia voyage from. For example, while check-in times for Sydney typically start at around noon, at Brisbane check-in might only start a half hour before your Princess cruise. We highly recommend reviewing your itinerary on a case-by-case basis or contacting Cruise Guru or Princess Cruises Australia directly if you desire additional assistance.
Is there Wi-Fi on Princess Cruises?
Wi-Fi is available everywhere onboard any Princess Cruises ship, regardless of your location on the globe. Fast and reliable, you can share your photos and videos of your Princess Cruises Australia adventure without worrying about how long it'll take to upload. For the best value Princess Cruises internet package, we strongly recommend taking up the Princess Plus as you book. The Princess Plus fare includes unlimited Wi-Fi as well as a Plus Beverage Package as well and other value adds and is a great match for those looking for a truly worry-free holiday.
Contact Cruise Guru Today for Princess Australia Cruises
At Cruise Guru, we are passionate about everything to do with Princess Australia cruises and our team of Australian-based cruise experts is ready to answer any questions that you may have about any of our Princess Australia Cruises. If you wish to speak to us directly, you can fill out the call-back form to request one of our cruise advisors to call you back to discuss your holiday, or you can use our online contact form to ask any questions that you may have.
If you wish to keep up to date on all the latest cruise itineraries, competitions, and promotions at Cruise Guru, follow us on Facebook or Instagram. When it comes to Princess Cruises Australia, Cruise Gur has an unrivalled selection at prices that you cannot beat, so get in touch with us today and let us help you book a fantastic cruise that will give you memories for a lifetime.
Need help? Call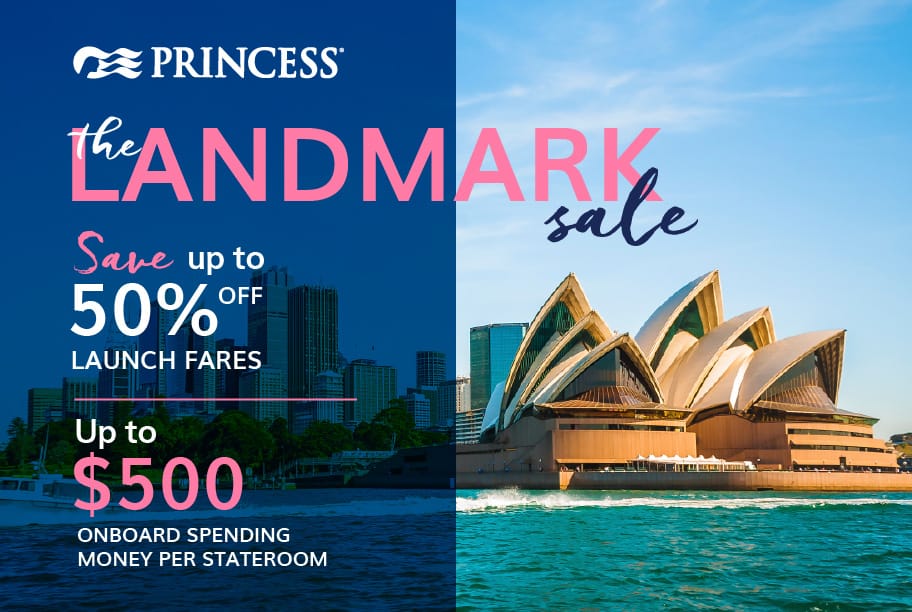 AUSTRALIA & NZ
Sail Princess Cruises locally and receive savings up to 50% + up to $500 onboard spending money per stateroom*
View Now
Included with your cruise fare
All onboard meals in the main dining room, buffet, 24 Hour International Cafe, Alfredo's Pizzeria and the Burger and Hot Dog Grill
A selection of onboard entertainment
If you upgrade to the Princess Plus fare (recommended), you'll also receive
Plus Beverage Package
Unlimited Wi-Fi (1 device per guest)
Unlimited juice bar
Premium desserts (2 per day)
Fitness classes (2 per cruise)
Casual dining meals (2 per cruise)
OceanNow & Room Service delivery
If both are bought separately, this is up to $164 per person in extra value!
The Premier Beverage Package includes
Premier Beverage Package
Unlimited Wi-Fi (4 devices per guest)
Unlimited juice bar
Unlimited premium desserts
Unlimited fitness classes
Photo package
Two specialty dining meals per guest
Reserved theatre seating
Unlimited casual dining meals
OceanNow & Room Service delivery
Included when you book in a suite
Priority embarkation and disembarkation
Priority disembarkation at tender ports
Priority onboard shore excursions reservations
Complimentary private portrait sitting with onboard photographer
Complimentary laundry and professional cleaning services
Exclusive Club Class Dining for dinner in the main dining room
Exclusive Elite Lounge with hor d'oeuvres on select ships
Complimentary in-suite afternoon tea service
*Inclusions are subject to change at any time