Overview
Ships
Destination
Promotions
Latest News
This summer, Carnival Cruises will have three ships calling Australia home! Carnival Splendor will join Carnival Spirit in year round cruises from Australia, while Carnival Legend will spend her last season in Australian waters before re-positioning back to Alaska and finally settling into her new home of Tampa, Florida from October 2019.
We are pleased to confirm that the Port of Brisbane and Carnival Australia have made a deal to build a new $158 million cruise terminal, likely operational by mid-2020, which will allow Brisbane and Queensland to have greater access to cruising.  Once completed, Carnival Spirit will migrate to cruise year round from this new Brisbane cruise terminal – check out Carnival Spirit's new Brisbane itineraries and Carnival Splendor's cruises in Australia.
Best Deals
Free upgrades? That's FUNBelievable! Book on the
FUNBelievable sale
and
save up to $800 per stateroom
* + enjoy
FREE cabin upgrades*
&
AU$100 bonus Cruise Guru shipboard credit
on select cruises*
Looking to cruise internationally? Well 3-2-1-FUN, now's the time and you can enjoy cabin category upgrades* when you book an International Carnival cruise on the 3-2-1-FUN sale.  Plus, book a cruise with Carnival to Europe or onboard the new Carnival Panorama and receive US$100 shipboard credit per stateroom*.
$10pp deposits* on Carnival Australia cruises departing after 14 September 2019* and Carnival International sailings departing after 16 June 2019* .  Hurry, ends 5 Mar 18.  View Carnival Australia $10 deposit applicable cruises or Carnival International $10 deposit applicable cruises.
Enjoy exclusive discounts* when you book online with Cruise Guru.
Take advantage of up to AU$100 bonus shipboard credit* on select local sailings.
View our handpicked Carnival cruise deals including exclusive discounts and $10pp deposits on select sailings.   Don't forget, book online to enjoy exclusive reduced rates! Contact us for other great deals including great value fly/cruise packages on Carnival cruises to/from Hawaii.  *Terms and conditions apply.
Carnival Cruises in Australia, New Zealand and the South Pacific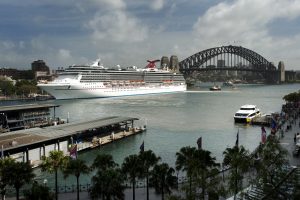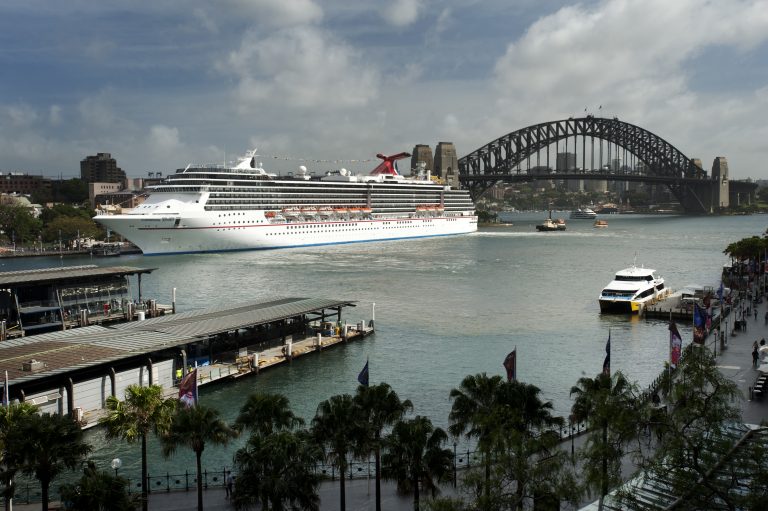 Carnival Cruises operate with year-round itineraries in Australia and the South Pacific aboard three popular Fun Ships, with a wide range of departures from Sydney, from Melbourne and new to Carnival's repertoire, from Brisbane.
HANDY TIP: When searching for South Pacific cruises, remember generally that 7-9 night Carnival cruises will take you to New Caledonia, 10-11 night Carnival cruises will likely combine New Caledonia with Vanuatu and you'll need a minimum of 12 nights if you are looking to visit Fiji on your next Carnival cruise.
Cruises within Australia give you the opportunity to visit lively ports up and down Australia's eastern coastline, including the gorgeous beach towns of Airlie Beach and Port Douglas in the north, or the bustling metropolises of Melbourne and Hobart in the south. Cruises to New Zealand are much more infrequent, so get in quick!
Carnival also have a number of short 2 – 4 night Sea Break cruises on offer for those looking for a quick getaway or if you're wanting to give cruising a try.  A lot of these itineraries are considered 'cruises to nowhere' where you simply cruise into the ocean, turn around, and cruise back, however Carnival's 4 night itineraries give you the opportunity to visit one port of call throughout your journey.
If you are looking for a value cruise deal, view Carnival cruises under $1,000 or last minute cruises.
Asia
In Asia, experience the magic of Carnival Splendor's inaugural voyage into Australia with a cruise from Singapore to Sydney departing 25 Nov 2019.
Europe
Carnival is returning to Europe in 2020.  Offering only a handful of cruises, Carnival Legend and Carnival Radiance will be departing from Dover, Barcelona or Venice and will be operating cruises to the Mediterranean, Western Europe and the Norwegian Fjords.
North America and the Caribbean
For Hawaii, each April a Carnival ship leaves Australian waters and makes her way from Sydney to Honolulu en route to spending the northern hemisphere summer season offering cruises exploring Alaska. In September of each year, the ships then return via Hawaii to Sydney or Brisbane to spend our warmer months introducing Australians to the picturesque South Pacific.  These cruises to and from Hawaii via exquisite tropical Pacific islands are extremely popular and sell out early, so our strong advice is to book as soon as possible!
Carnival cruises also provide an extensive range of cruises elsewhere throughout America, from the east coast to the west coast, Panama Canal and in between. On the west coast, Carnival cruises depart from Los Angeles, Seattle, Honolulu and Vancouver.  Cruises from Los Angeles offer an extensive program of Mexican itineraries.  Choose from 2, 3 and 4 night Baja Mexico cruises or longer 6 and 7 night Mexico Riviera cruises.   Also available are a selection of cruises through Hawaii of 10 nights or more departing from Los Angeles, Honolulu San Diego, San Francisco or Vancouver.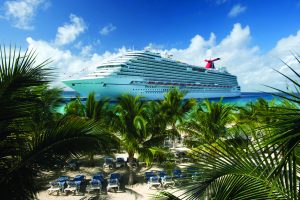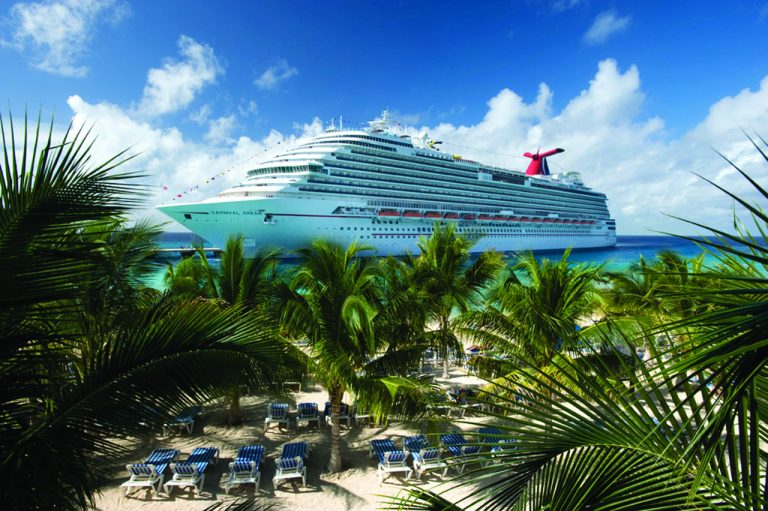 Carnival knows how to cruise the Caribbean, with hundreds of itineraries operating yearly from all over the west coast of USA, the most popular departure ports being Miami and Fort Lauderdale and almost exclusive departures from certain ports including cruises from Galveston, Texas and cruises from Tampa, Florida.  They have the largest range of Bahamas cruises from three night weekend getaways to longer cruises up to one week, and and a very comprehensive range of Caribbean cruises ranging from 4 to 6 night cruises heading to the eastern and western Caribbean, and 7 and 8 night itineraries which will also get you down into the Southern Caribbean. Carnival International have also introduced a small number of cruises to Cuba in their Caribbean repertoire, so be sure to check those out.  You can also tack a cruise onto your New York holiday with Carnival cruises from New York to Bermuda and the eastern Caribbean.
Central America
Sailing between coasts Carnival Cruises offers a number of both partial and full Panama Canal crossings from California, Texas and Florida.
MELBOURNE CUP CRUISE
Set your sights on the winning post with this unforgettable round trip to the Emirates Melbourne Cup. With exclusive special events from Sydney to Melbourne, you'll arrive in time for all the festivities of the Race that Stops the Nation. Your ticket includes general admission entry into Flemington on Melbourne Cup Day (plus transport to and from the racecourse) and general admission entry into Crown Oaks Day (transfers extra). Don't forget your frock, fascinator and form guide!
BOOK WITH $10PP DEPOSITS
Book your cruise for just $10 per person deposit*!